It is not uncommon to want to change the vibe of your bedroom. Sometimes, you just need a change of scenery, even in your own space. You can choose from a range of bedroom designs, but you may want to look into an aesthetic bedroom. Also known as esthetic, an aesthetic room allows you to use your creativity and interests to enhance the beauty of your space.
How To Make Your Bedroom More Aesthetic
You do not have to follow any strict rules to create an aesthetic room.
The definition of aesthetic is "concerned with beauty or the appreciation of beauty."
So, what do you find beautiful? Is it a certain color scheme? Lighting? Greenery? Maybe it is certain pieces of decor. You can make your bedroom more aesthetic by thinking about the elements you find beautiful, as well as the elements that boost your overall mood.
23 Aesthetic Bedroom Ideas For Your Space
There are so many aesthetic room ideas to consider for your space, we could not choose just one aesthetic design for this guide. Instead, we have chosen 23 aesthetic room ideas that fit various tastes and spaces, and this should make it easier to find an idea that catches work for you. In addition, we are including the aesthetic bedroom pictures to help you get a better idea of these beautiful designs.

Are you ready to change up the vibe of your bedroom? Use the following aesthetic bedroom ideas to draw inspiration for your space. 
Aesthetic Bedroom Decor with LED Lights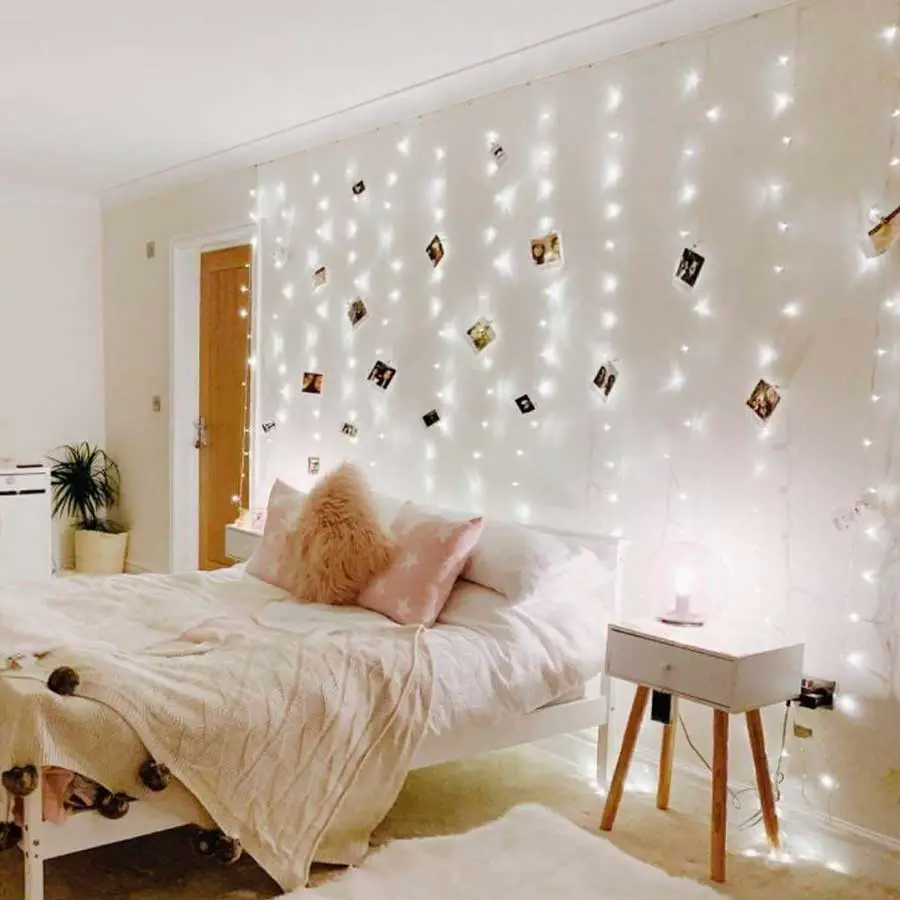 The lighting you choose can transform your space, especially when you look into aesthetic bedroom ideas with LED lights. Imagine LED string lights on the wall behind your bed and nightstand. By choosing decorative LED lights, you are creating a cute design that helps you save energy.
Boho Aesthetic Bedroom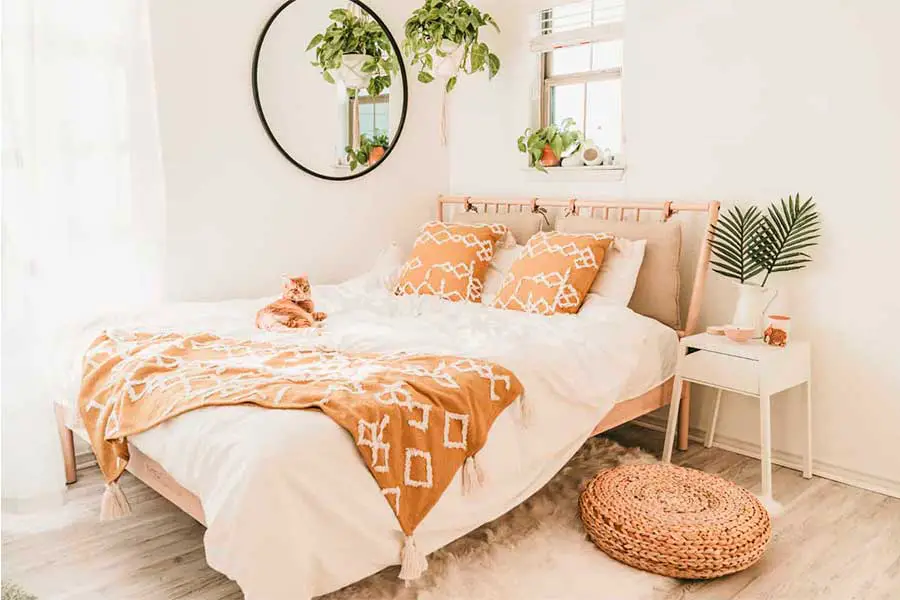 A small Boho bedroom is perfect if you are looking for a design that gives you the freedom to play with colors, patterns and textures. From bold colors to Bohemian chairs to gorgeous greenery, it is easy to find aesthetic room decor that fits the Boho design. You can be as creative as you want when coming up with a Boho aesthetic that makes you feel happy.
Neon Aesthetic Bedroom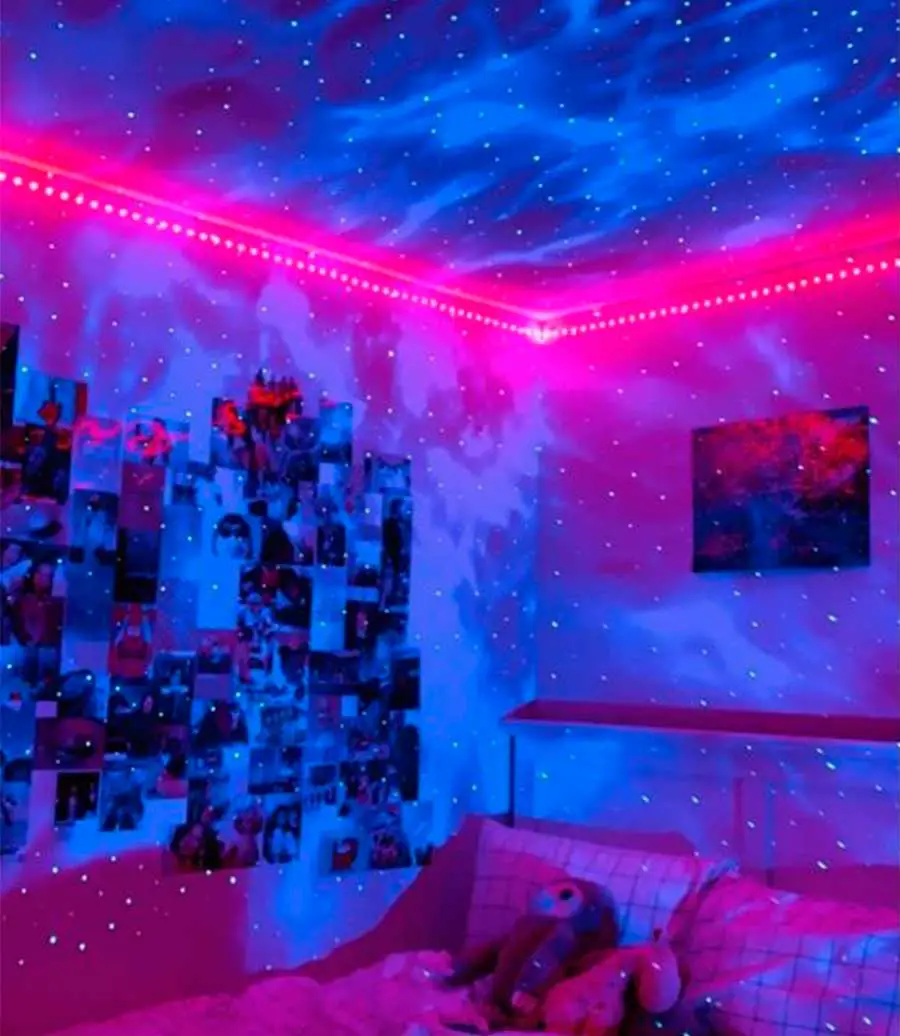 If you are a fan of neon lights, colors and designs, use these elements to create an aesthetic that is truly out of this world. You can go for an outer space feel rather than a neon-light look. One way to achieve your neon aesthetic design is to look into the LED Laser Star Projector, which is perfect for gazing at the stars from your own bed.
White Bedroom with Plants
Do you have a more simple taste than bold colors and string lights? Why not add greenery to a white bedroom? This design actually works for a small aesthetic bedroom because the white base makes the room feel bigger and brighter, while the greenery improves the air quality and adds color to your space. It is also a great way to create an oasis without overdoing it.
Aesthetic Purple Bedroom Makeover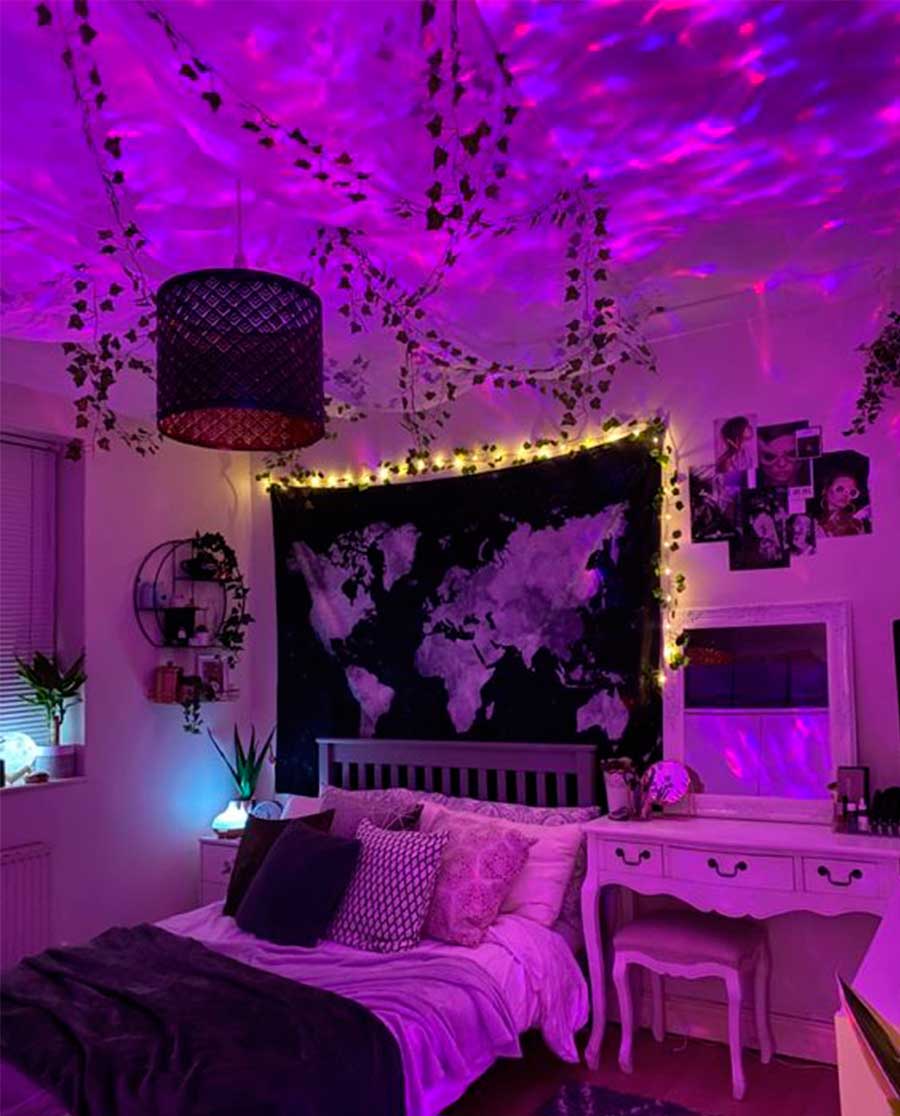 Your aesthetic may feature a specific color, and that is okay because this is a color you find beautiful. One example is an aesthetic purple bedroom. Purple is a color that represents bravery, wisdom and spirituality, which is perfect for enhancing your bedroom aesthetic and improving your mood. You can add purple accessories and decor such as blankets, throw pillows and rugs, but you can also take it up a notch with purple LED lighting.
Small Aesthetic Bedroom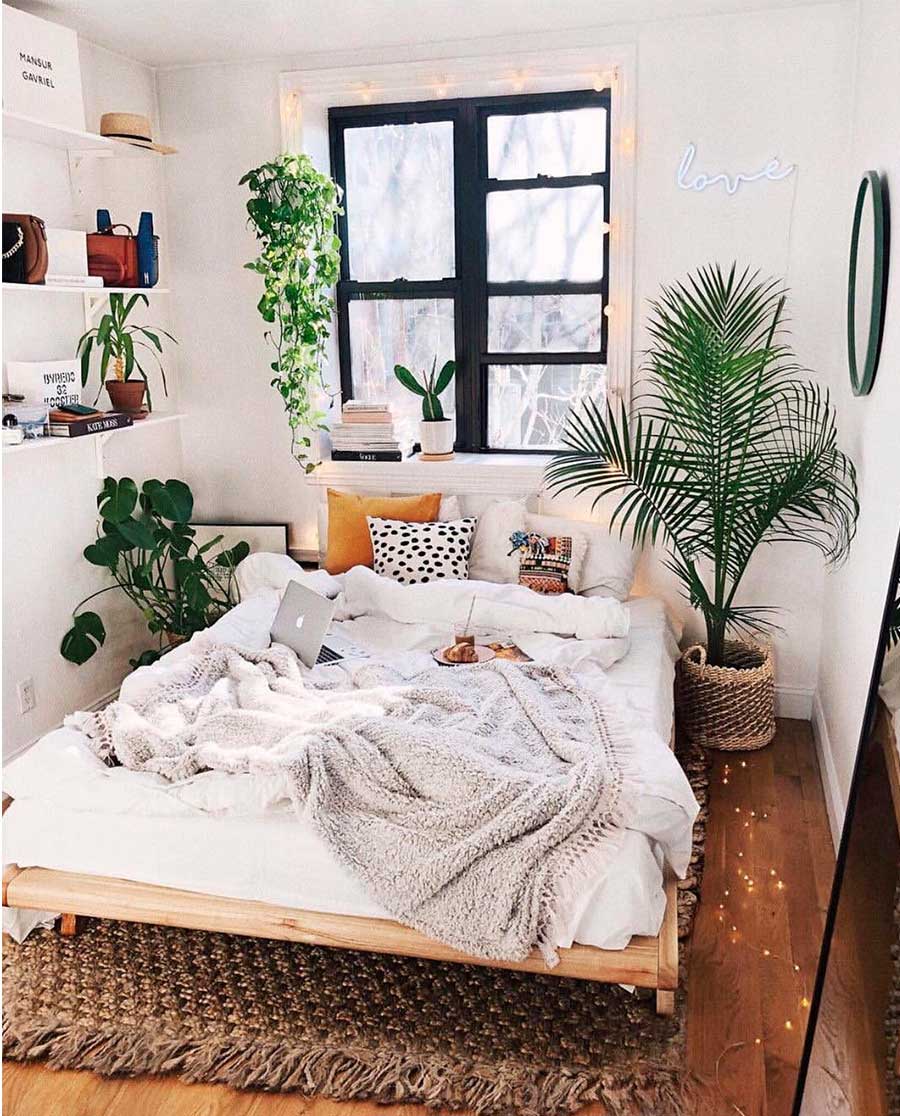 If you are looking for other aesthetic bedroom ideas for small rooms, look no further than a bedroom in a white base with hardwood flooring and calming decor. The room features plenty of greenery and neutral tones, with little pops of color through accessories. Your bedroom even has an aesthetic bed to create a comfy sleep space, complete with cozy bedding and colorful or patterned pillows.
Cozy Bedroom Ideas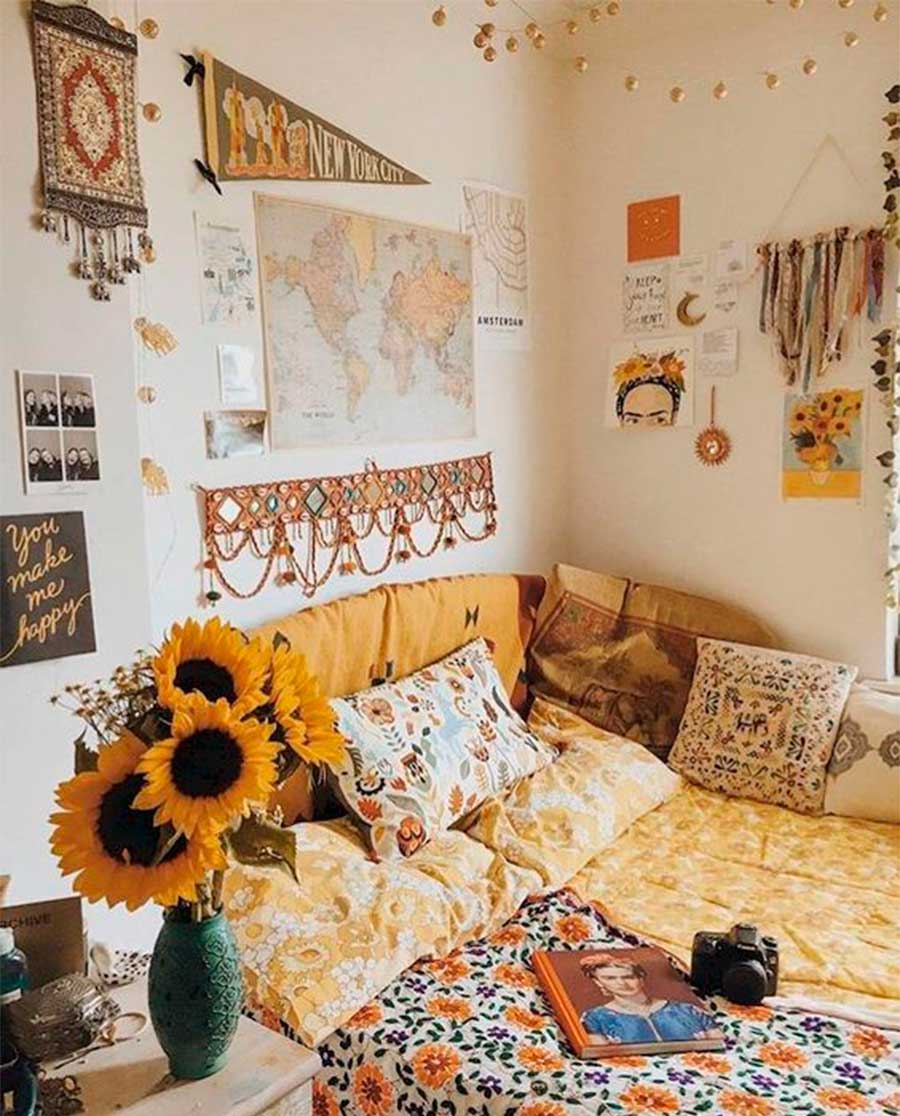 Maybe you want to create a cozy, comfortable bedroom that feels like home. Decorate your bedroom with warm tones, different textiles and personal items, as well as soft blankets and pillows in various colors and patterns on your aesthetic bed. Finish it off with a beautiful flower arrangement that matches your color scheme on the nightstand.
Blue Vintage Bedroom
Another idea for aesthetic bedrooms based on color, you can let your creativity shine in a blue vintage bedroom. The bedroom features dark blue walls, a light blue ceiling and hardwood flooring, as well as blue furniture, decor and accessories in various shades and patterns. You can finish it off with a wooden vintage drawer in its natural tone.
Earthy Vibes Room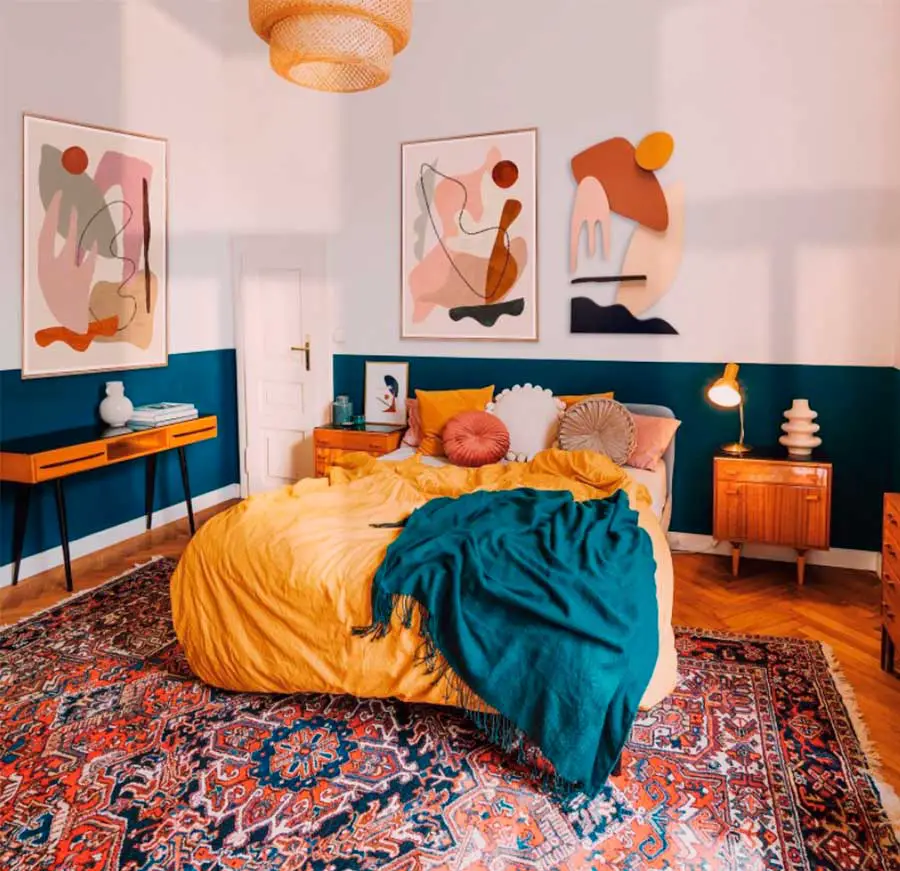 There is nothing like an earthy aesthetic bedroom to promote calmness and peace. Adorned in earth tones such as green, yellow-brown and white, you are sure to feel close to nature in this bedroom. Patterns are found through the artwork and large area rug, while the rest of the room is decorated in solid colors. A rattan lantern hangs from the ceiling to enhance the earthy vibe.
Jungle Canopy Bed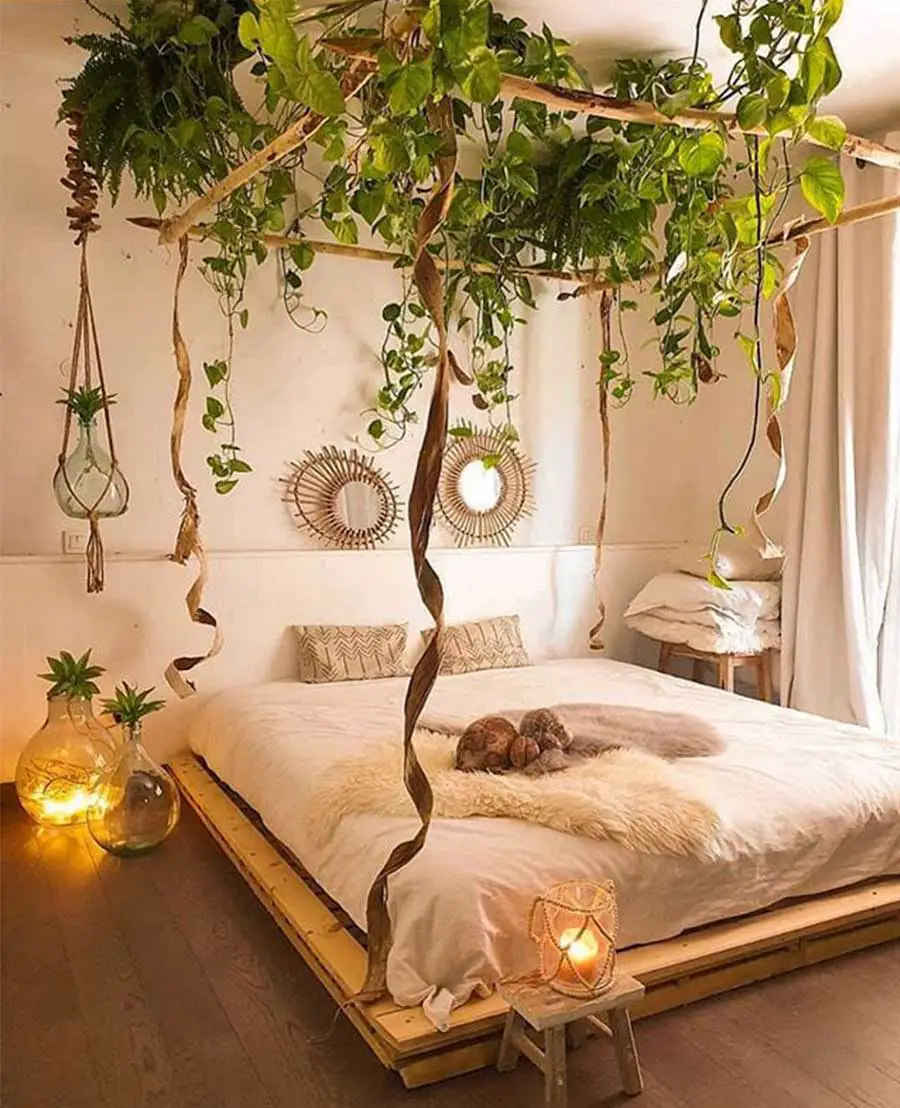 If greenery is your aesthetic, you are sure to love the idea of creating a jungle canopy over what is now your aesthetic bed. You can actually find a bed that has a wooden jungle-themed canopy frame to get your new design off the ground. Next, adorn the top of the canopy bed with indoor hanging plants and large leaves to create a retreat in your aesthetic bedroom.
Bedroom with Green Wallpaper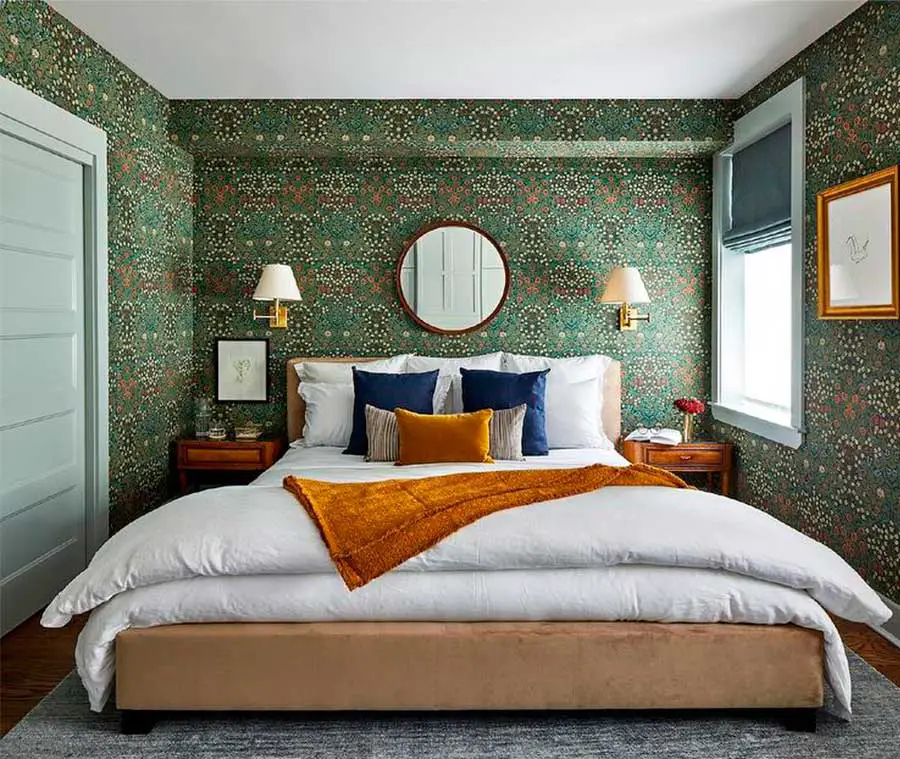 Maybe you enjoy the color green but do not want too much greenery. If this is the case, your aesthetic decor may include green wallpaper, as well as pops of blue, gray and brown or gold through random pillows, throw blankets or other pieces of decor. You can also add in a pop of color with a single pink or purple flower, which is sure to look lovely on a wooden nightstand in front of the green wallpaper.
Cool Teen Bedroom with World Map Wallpaper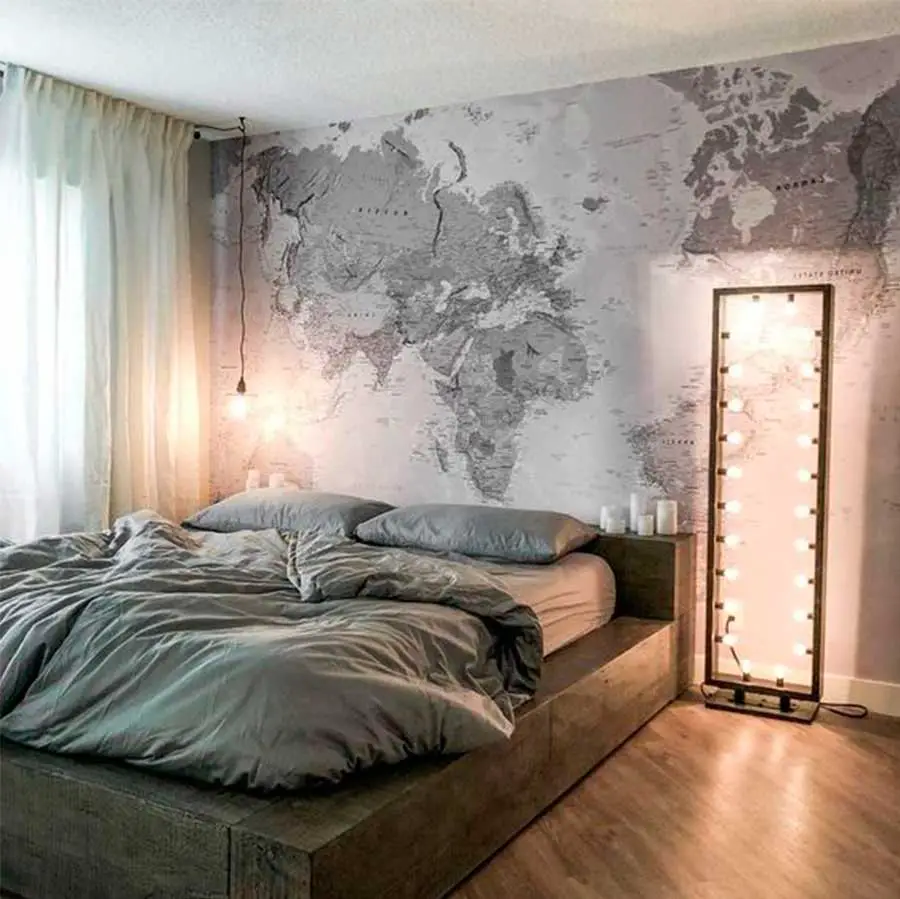 There is a good chance you are helping your teenager create an aesthetic bedroom, and of course, they are going to want this space to look calm, cool and collected. Cooler tones paired with a hardwood floor can be used to create the look they have in mind, but a world map wallpaper behind their bed is sure to make a statement. It is also a good choice for any teenager who has dreams of travelling the world.
Pink Aesthetic Room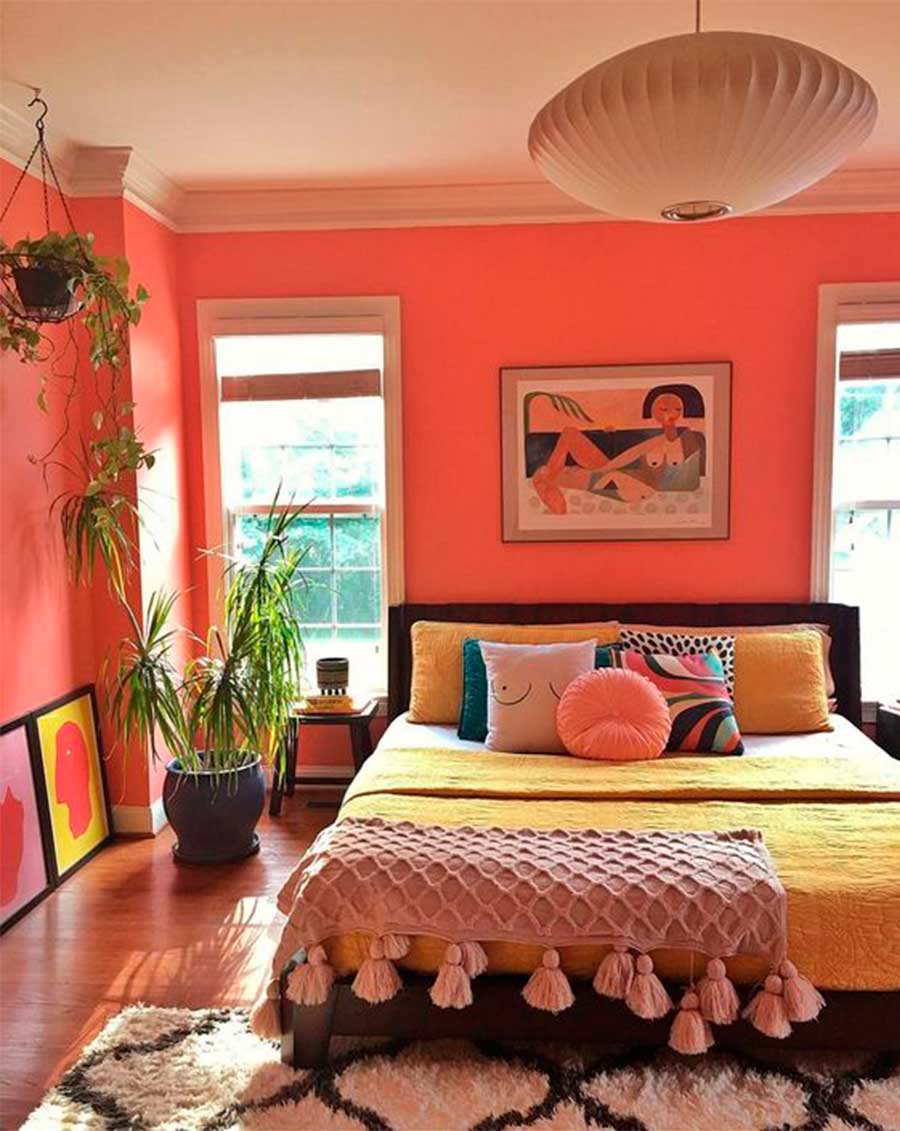 Instead of a cool space, your teenager may want ideas for cute aesthetic bedrooms. For this bedroom, you want to pair the pink walls with a hardwood floor and black and white chic rug. While you are going to showcase pink through elements such as a throw blanket, several pillows and artwork, you are also going to add pops of other colors through accents. For example, you may find a yellow comforter or dark green pillow on the bed.
Pink Bedroom with Wall Decor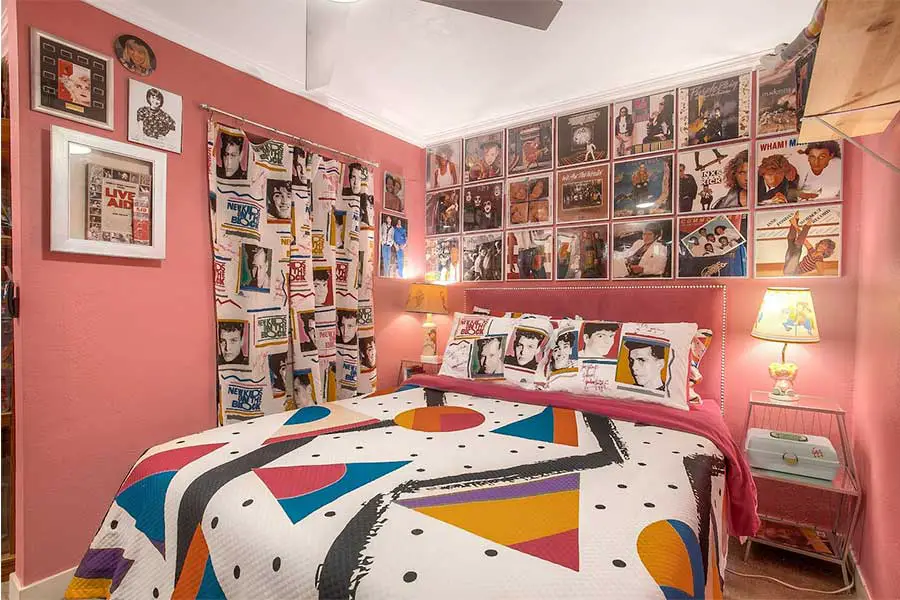 A cute aesthetic bedroom in pink can also become a time capsule for your pre-teenager or teenager, but that is okay because it is supposed to be a space that makes them happy. Start with pink walls with white trim, and pair the walls with a white ceiling and hardwood floor. On the walls are posters of her favorite musicians, actors and other celebrities, movies or plays. You can even encourage her to embrace her passion by splurging on bedding in her favorite color, pattern, character or celebrity.
Cute Retro Kids Bedroom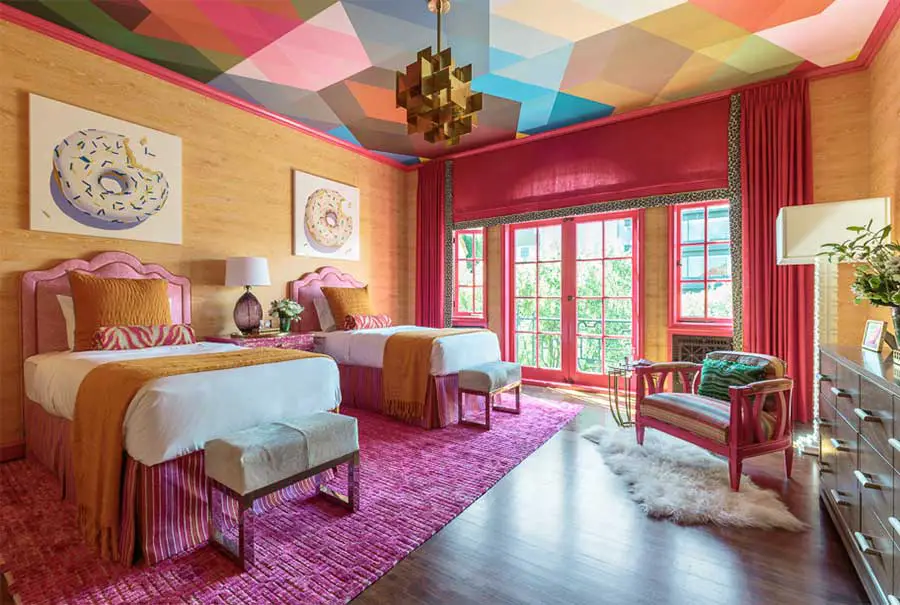 Of course, you also want to look into aesthetic bedroom ideas for your child, as they need a space that makes them feel good as well. They may enjoy a retro-style room in fun colors. Start by painting the walls in bright or bold shades, such as dark pink or burnt orange. Use accessories such as bedding, area rugs and window treatments, as well as retro-themed artwork, to add their favorite shades, patterns or illustrations to their space. You can even paint the ceiling in multiple colors to add more excitement to this retro-style room.
Artsy Hypnotical Bedroom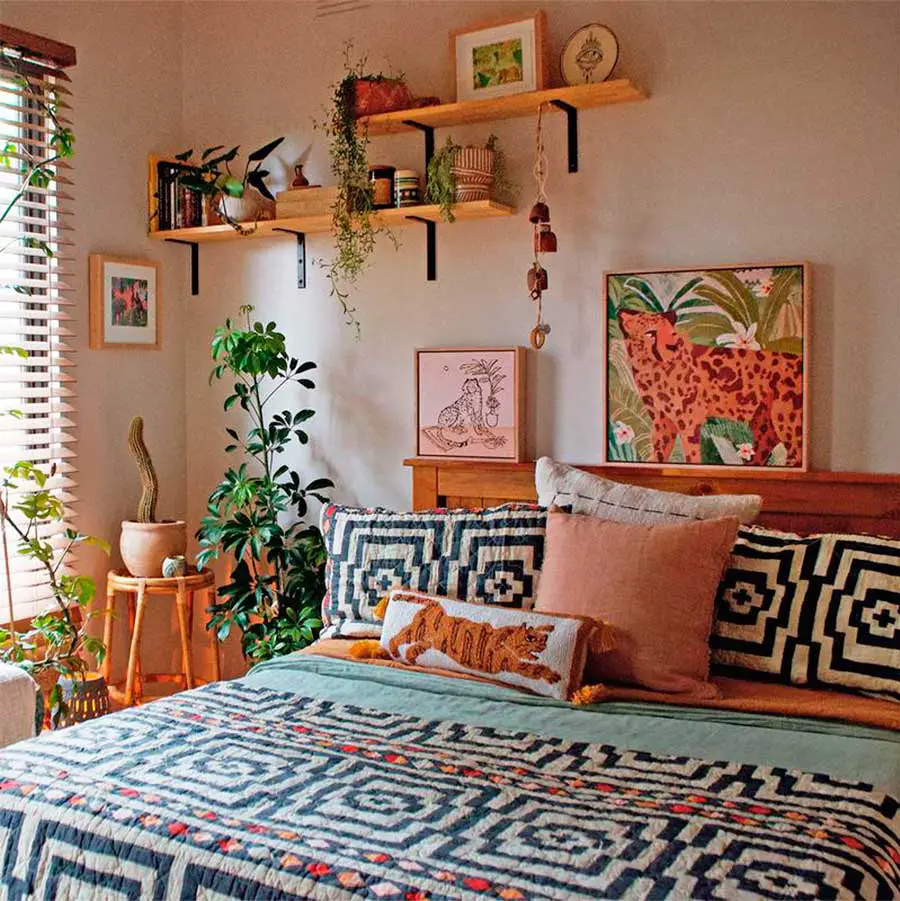 There are many elements that qualify as an aesthetic, as it is all a matter of what you find beautiful. You may find the creativity that comes with pops of color and artistic decor to be your aesthetic. A room with a neutral base is perfect for patterned bedding and colorful artwork, as it allows these elements to shine without becoming overwhelming. With wooden furniture and accessories and a little greenery, your artsy aesthetic bedroom becomes a place to relax after a long day.
Tiny Bedroom with Yellow Wall Color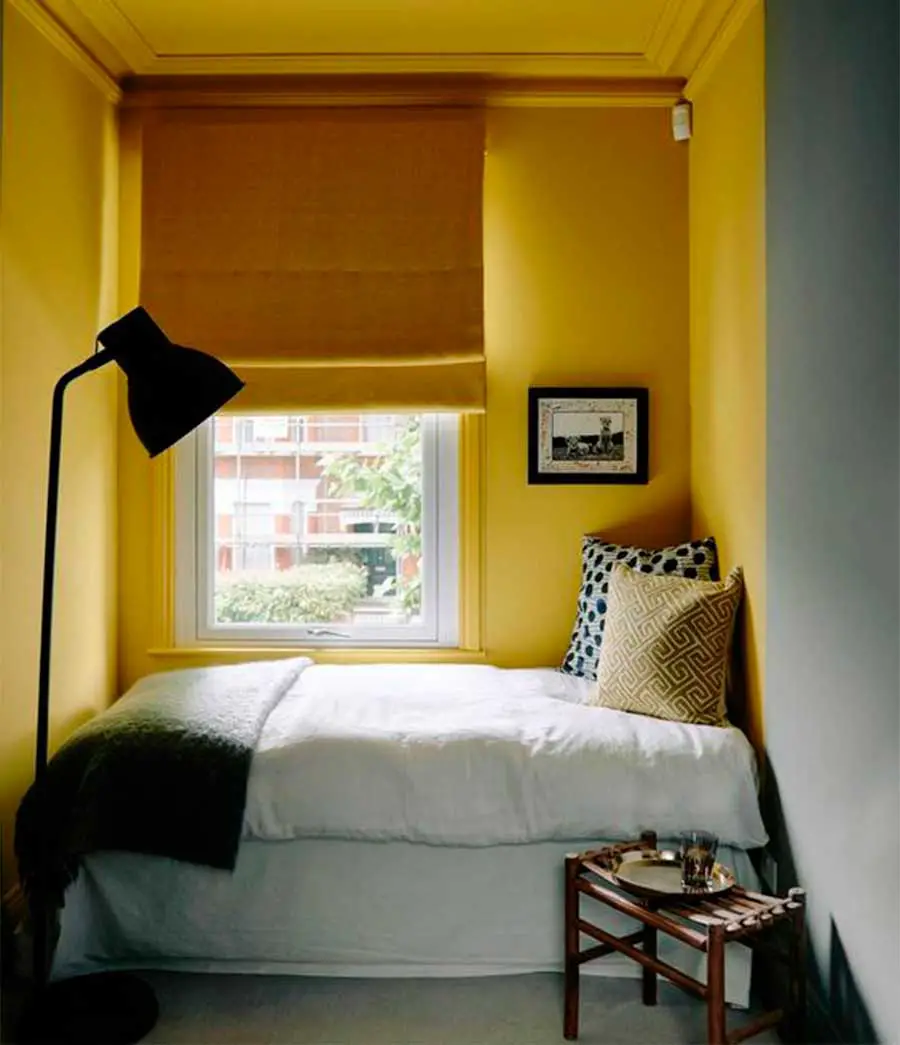 As you already know, the right colors and decor make it easy to create a small aesthetic bedroom. Imagine a small bedroom with a gray base and a bed by the window. Now, imagine the walls and ceiling by the bed painted in yellow. Not only does it make your tiny bedroom feel bigger and longer, but it also adds a cheerful vibe to what may otherwise feel like a dull space. Your white bedding includes a dark green throw blanket and colored or patterned throw pillows. You also want to add other splashes of color or texture throughout your space.
Simple Aesthetic Bedroom with Gray Wall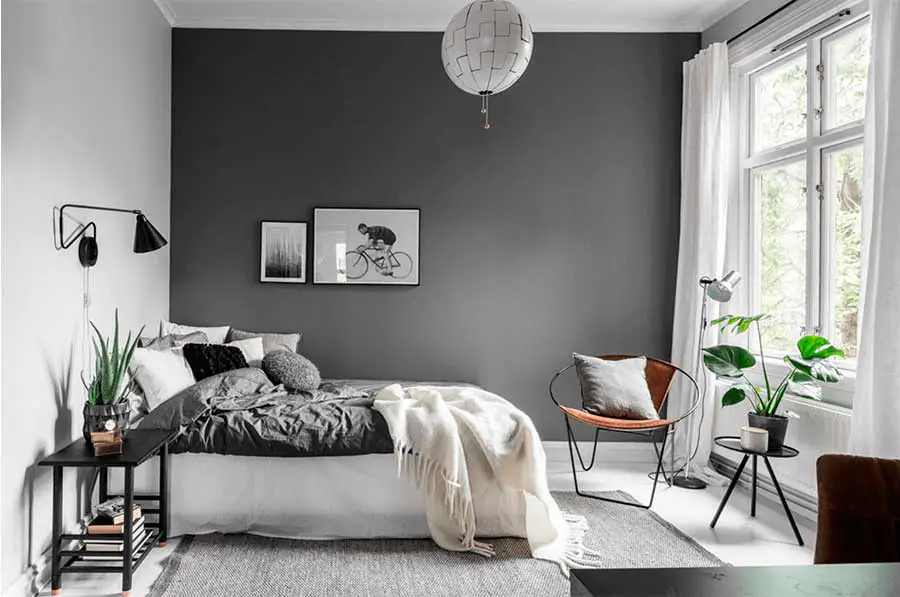 Then again, the color gray might be your aesthetic, and this is great for creating a simple bedroom design. Start by painting your room in light gray, but paint one feature wall in dark gray to make a dramatic statement. While you can add gray, black and white decor and accessories, you also want to add pops of color to keep up the visual interest of the room. For example, a beige-colored chair and greenery on a small table are perfect for adding color to a gray space.
Black and White Modern Bedroom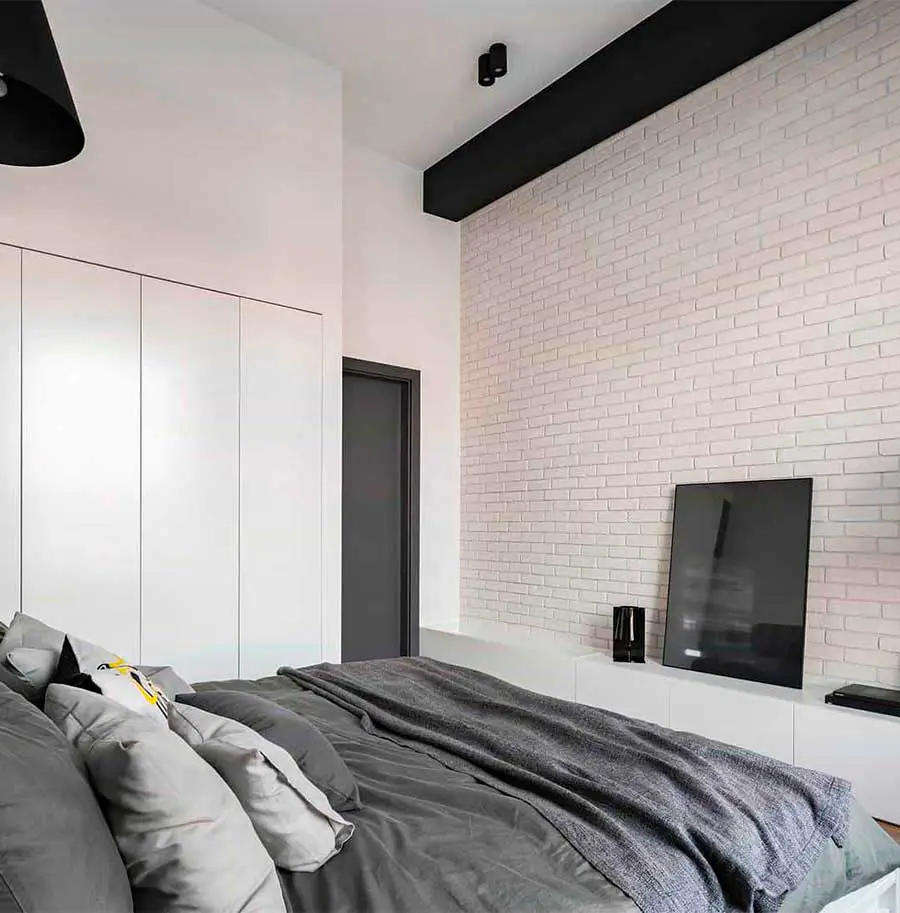 There is something about a black and white color scheme that adds a modern vibe to your space. This scheme can be used to create an elegant space as well. What is your aesthetic? Whether you want a modern or an elegant bedroom, you can easily achieve this aesthetic with white walls, black and white bedding and black decor and accessories. It is best to use a white base with splashes of black to keep your space from feeling dark or small, unless, of course, this look is your aesthetic.
Aesthetic Minimalist Room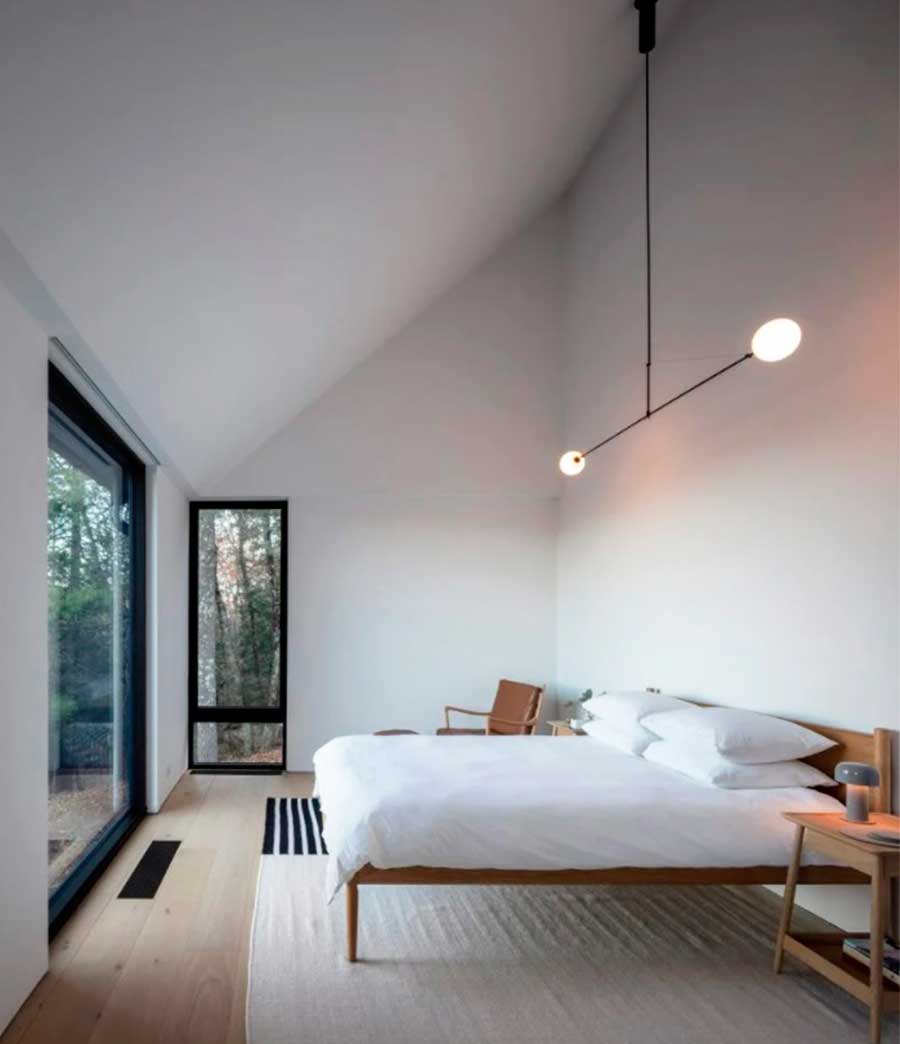 If you want an aesthetic that helps you clear both your physical space and your mind, a minimalist room is just the design for you. A minimalist room relies on a clean, clutter-free space, as well as minimal decor. The color scheme is usually simple, such as shades of gray with white and black, as well as wooden furniture and a hardwood floor. Letting in the natural light is a major plus in an aesthetic minimalist room. In addition, you can add a few simple accessories or a little greenery, but the key is to create a space that is not too loud or busy.
Dark Bedroom Wall Color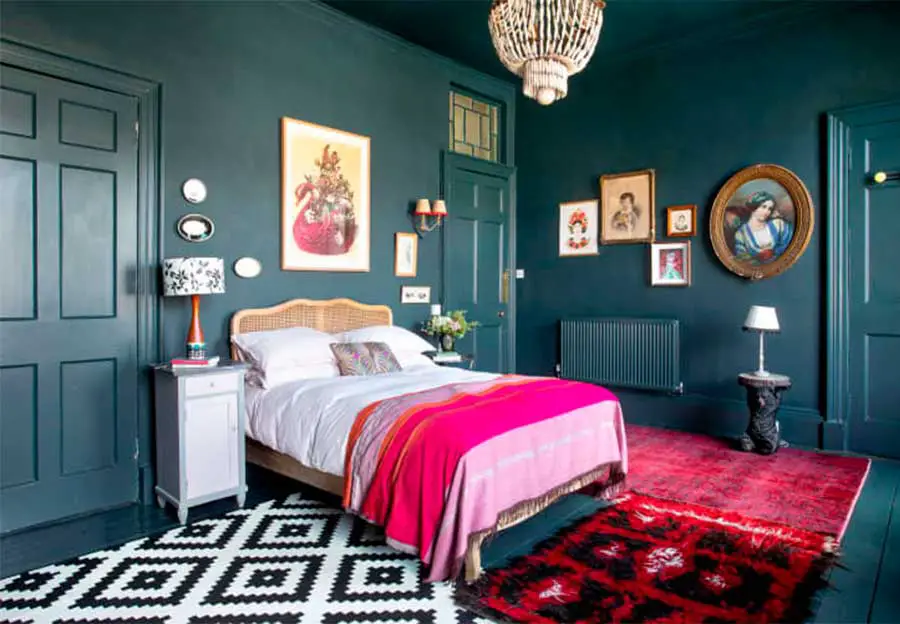 While a dark bedroom may feel like the opposite of the tips that suggest avoiding a dull or gloomy space, a dark aesthetic bedroom is anything but dull or gloomy. For example, you can add splashes of dark pink, white and gold, as well as various patterns and textures, to create an elegant, beautiful space. With the right elements, it may even feel like a Victorian-inspired room. Artwork or framed photos add a personal touch to your bedroom, while wall sconces and a chandelier or pendant light brighten up your space.
Wooden Aesthetic Room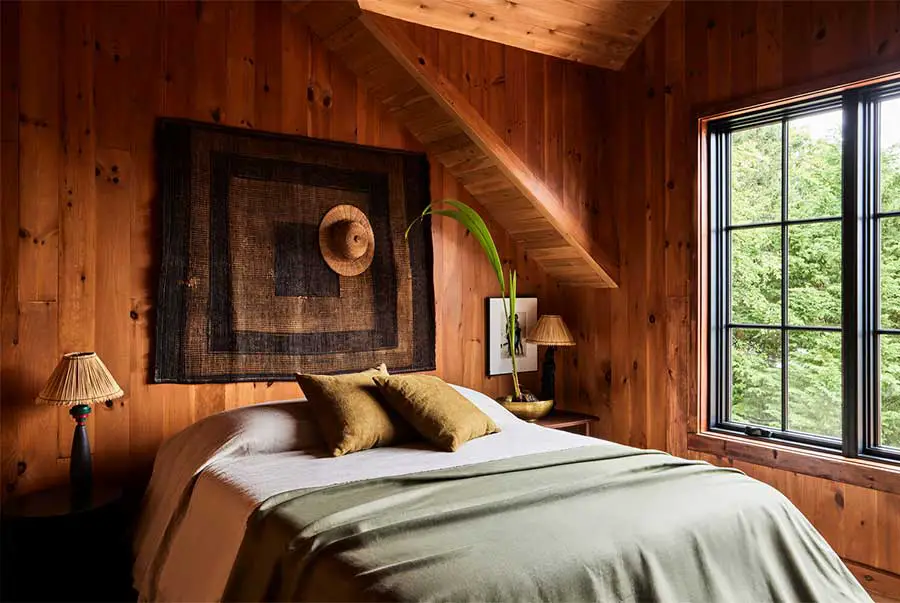 The warm, cozy vibe of a bedroom adorned in wooden elements is enough to be anyone's aesthetic. You may feel it has a rustic, cabin-inspired vibe, or maybe the atmosphere makes you feel as if you are in a farmhouse. Whether this space makes you feel happy or relaxed, you can achieve the look with wooden walls, hardwood flooring and even a wooden ceiling. Of course, your furniture and shelves are made of wood as well. Your bedding and accessories are neutral and comfortable, but a simple house plant adds a splash of color to your space.
Blue Master Bedroom with Closet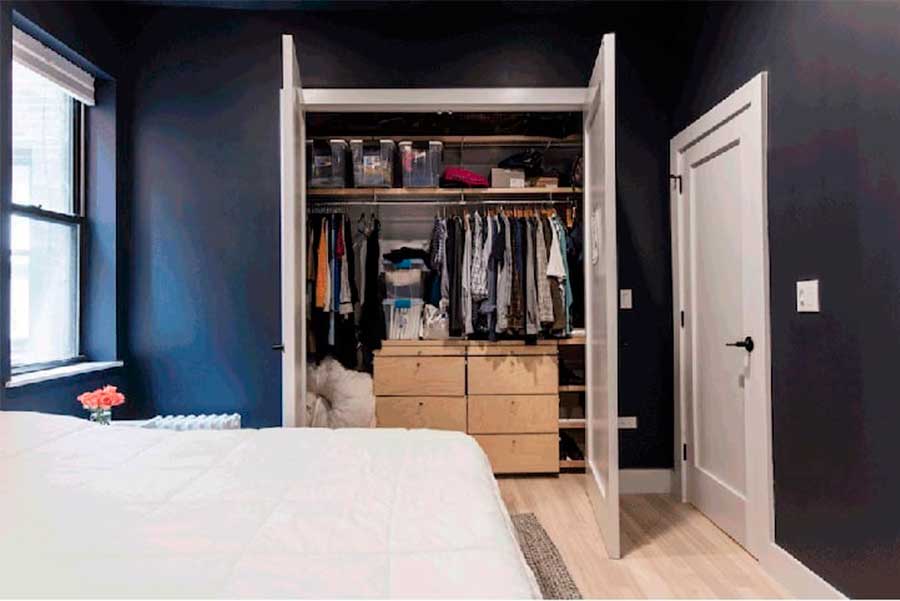 You can create a mature but pleasant aesthetic in your master bedroom with dark blue walls with white trim, doors and a ceiling and light-toned hardwood flooring. The bed features clean, white bedding, with a simple flower on the nightstand. While the room feels clear of various items, you can open your double closet doors to reveal a light-toned wooden dresser and colorful apparel and accessories. It is a simple but effective look in most bedrooms, especially if you love a blue and white color scheme.
As you can see, there are many aesthetic bedroom ideas to choose from for your space. You can focus on the lighting, play with color, patterns and textiles or add greenery to your bedroom. Whichever aesthetic design you choose, it is important to make sure you are choosing an aesthetic that suits your style and boosts your mood.