Designing small bedrooms is always tricky. We created eight different 10′ × 12′ sized small rectangular bedroom layouts for your inspiration. You can see the different door placement in each bedroom plan. However, the same furniture is available in almost every bedroom layout. We chose the queen size bed because the bedroom plan is small, We created two furniture mood boards for a small boho bedroom. You can see our boho furniture choices that you see in the layout at the end of the blog.
Also read: Aesthetic Bedroom Ideas
Six Things Every Small Boho Bedroom Must Have
A small bedroom does not have to feel dull or boring. You can decorate your bedroom in different themes to give it a new look, and one theme that is popular among many is boho, which is also known as Bohemian. It is an eclectic style that uses bold colors, patterns, fabrics and other elements to create a free-spirited space.
Some of the links on this page may be affiliate links, meaning we receive a little commission if you purchase through these links. You do not pay any extra, but the commissions help us to provide free information on this website.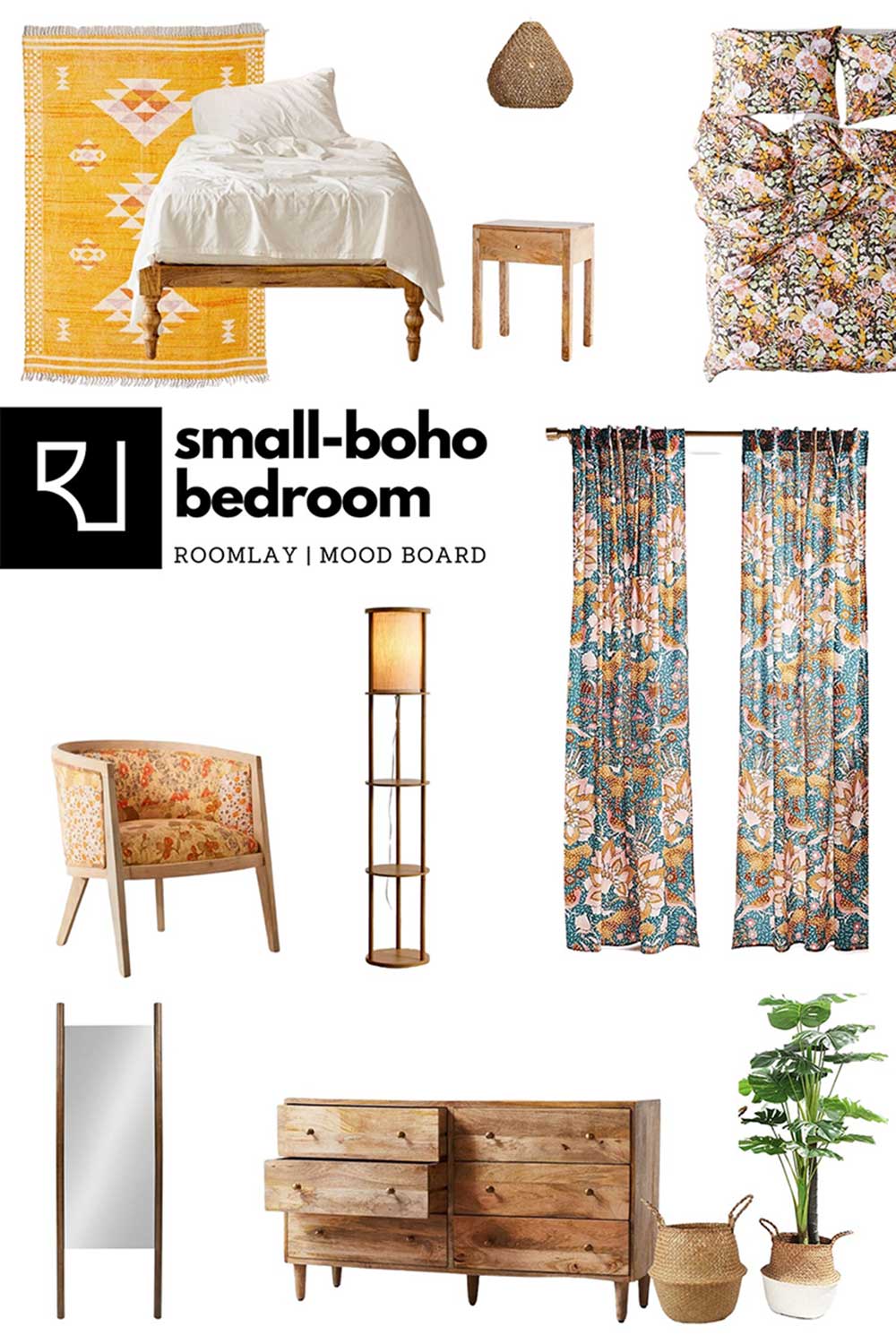 Rug | Bed | Nightstand | Pendant Lamp | Duvet Cover | Chair | Floor Lamp | Curtain | Mirror | Drawer Dresser | Baskets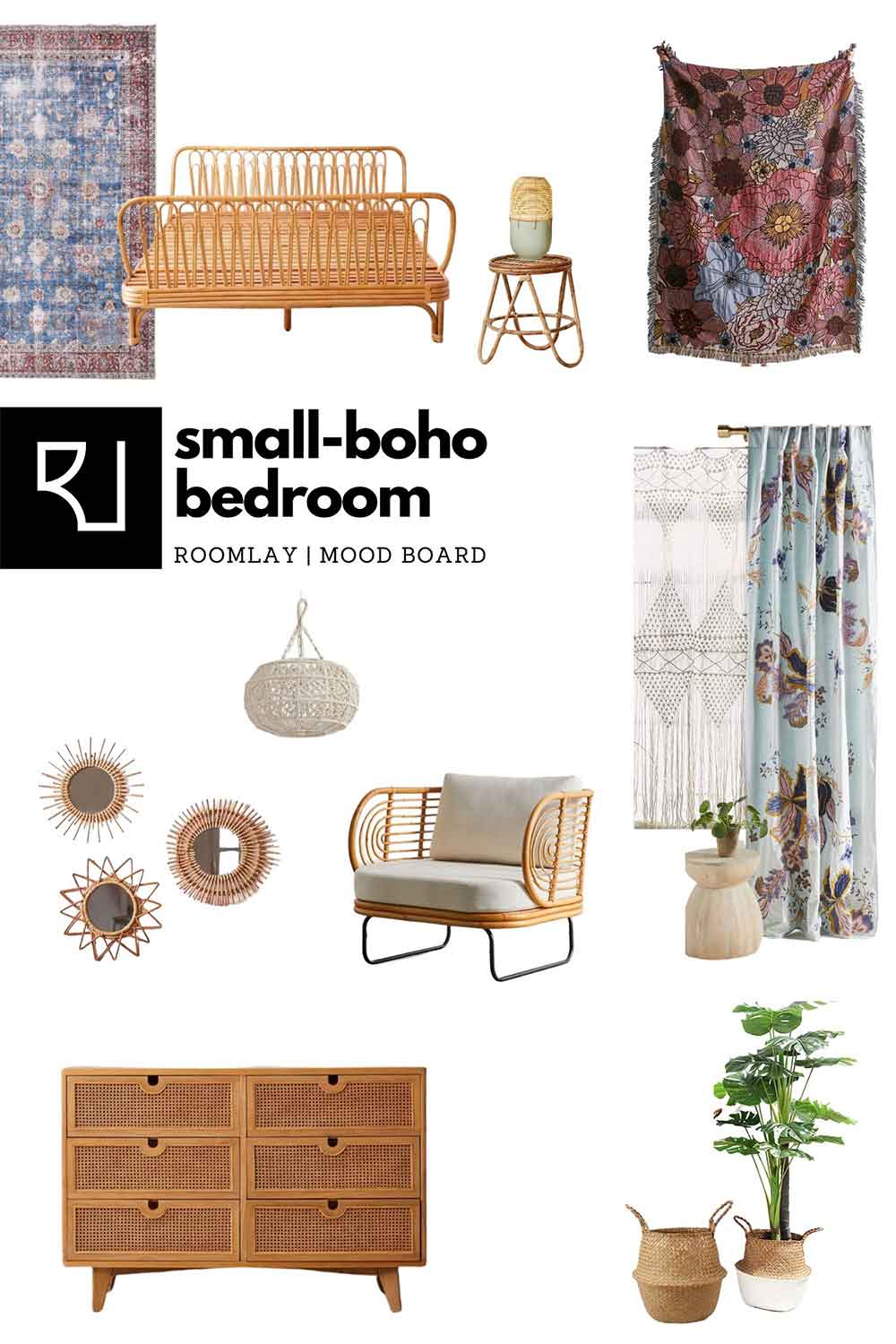 Rug | Rattan Bed | Rattan Stool | Accent Lamp | Blanket | Wall Mirror | Pendant Lamp | Rattan Chair | Macrame Curtain | Curtain | Drawer Dresser | Baskets
Are you looking to dress up your small rectangular bedroom layout in boho decor? Here are six things that should be added to every small boho bedroom.
Patterned Fabrics
Fabrics are the staple of every boho layout as they add bold colors, patterns, and textures to make your space stand out from the crowd. You can add a layer of patterned fabrics through area rugs, hanging tapestries, and curtains. Other fabrics may include upholstery, throw pillows, and bedding.
Upholstered Chairs
Speaking of upholstery, you can fit an upholstered chair in a small rectangular bedroom layout. The upholstery works with your fabrics, and it is even better if you can find a wicker or rattan boho chair. As for the chair itself, a single chair can be placed at the foot of the bed or near the door for putting on your shoes.
Wooden Pieces
Wooden pieces are also essential for creating a small boho bedroom. It adds a natural texture to your space and works with different patterns and colors. Place one small wooden nightstand next to your bed or two nightstands on either side of your bed for easy access. If you are adding a wooden dresser, place it near or adjacent from the bed.
Wicker Baskets
Wicker baskets are decorative, functional pieces that work in various spaces, and they are great additions to your boho bedroom. Like the wooden pieces, they add both a natural look and texture to your space. Use the basket for laundry, extra linen, or even faux greenery. You can place your basket at the foot of your bed or next to your dresser.
Greenery
You can also create a boho space by investing in greenery for your bedroom. In fact, you are going to find that most boho-inspired rooms have several plants to add a bit of nature, color and texture. You can place a houseplant in the corner of your room, or you can place a smaller plant on your dresser or nightstand. Another idea is to place a faux plant inside a wicker or rattan basket.
Wicker or Rattan Bed
A wicker or rattan bed is a great addition to your boho bedroom. The bed is gorgeous and durable, and it fits the boho style perfectly. You can fit a full-size or queen-size bed in your small rectangular bedroom layout. It should be placed against the long wall to leave space for movement and two sizeable nightstands, as well as the view outside your window.
We have provided eight illustrated samples to help you create your boho bedroom layout. If you keep the samples and above ideas in mind, you can easily create a small boho bedroom.