There is nothing like a boho living room to create an exciting atmosphere in your home. Imagine the bold colors, fun patterns and round furniture taking over your space. Of course, it helps to learn a bit about your living room layout before changing up the furniture and decor. One example is the size of your living room.
The average size of a living room in the United States is 330 square feet, but the size of a living room also depends on the size of the home. A smaller living room layout usually measures at 12×18 square feet, while a larger living room layout usually measures at 22×28 square feet.
Luckily, you can decorate a space in a Bohemian style regardless of the size of the room. Use the following tips to create a boho-style living room in your home.
Square and Rectangular Living Room Layouts
All layouts are drawn according to the size of the furniture on the mood board.
How To Decorate A Living Room In A Bohemian Style?
Invest In Wooden Furniture
When choosing your furniture, it never hurts to invest in wooden pieces. A wooden coffee table and shelving unit are perfect for a boho-style living room. If your living room also has a dining area, you may want to invest in a wooden picnic table with cushioned benches instead of a traditional dining table. It is best to choose a lighter tone for your wooden pieces, especially if you are pairing these pieces with a white or light-colored couch.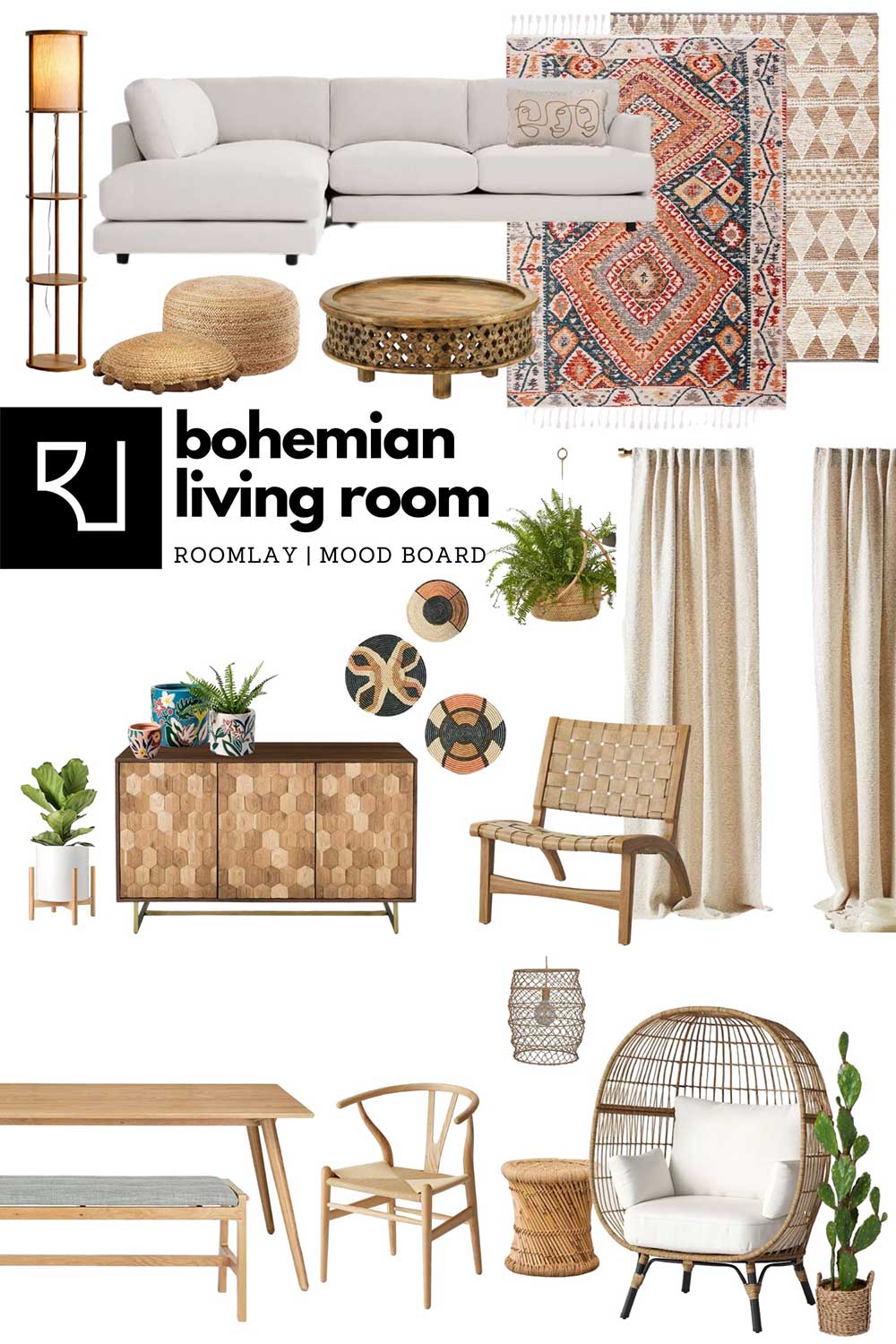 Floor Lamp | Sectional Sofa | Jute Pouf | Floor Pillow | Coffee Table | Rug | Floor Planter | Planter | Sideboard | Hanging Basket | Hanging Planter | Accent Chair | Curtain | Dining Table | Dining Chair | Bench | Pendant Lamp | Stool | Rattan Egg Chair | Cactus
Embrace Wicker Pieces
In addition to the wooden furniture, a boho living room is also full of wicker pieces. You may want a wicker accent chair or a cozy cushioned wicker chair to place near your couch. Wicker baskets make great decorative and functional pieces, and you can even find a wicker hanging pendant for your living room. Another option is a coffee table that is made of both wicker and wood. You are going to find that wicker and rattan pieces are a big part of the boho style.
Decorate With Fabrics
Fabrics are another staple of the boho style because they allow you to create a cozy space in your home. They also make it easier to add in your colors and patterns. You can create a layered look with fabrics such as bohemian rugs, upholstery, throw blankets or pillows and curtains. Hanging tapestries are also a fun addition to your boho-inspired living room. You can even add a wicker hanging chair for your throw pillows and blankets, which adds to both the layered look and wicker pieces.
Add In Some Greenery
Your boho-style living room is not complete without some greenery. It creates a relaxing space while adding a splash of color to your living room. You are not going to find many boho-inspired spaces without houseplants. Whether you are investing in table or hanging plants or placing a few faux plants in your wicker baskets on the floor, you are creating an oasis right in your living room. You can also add more colors and a fresh scent with flower arrangements.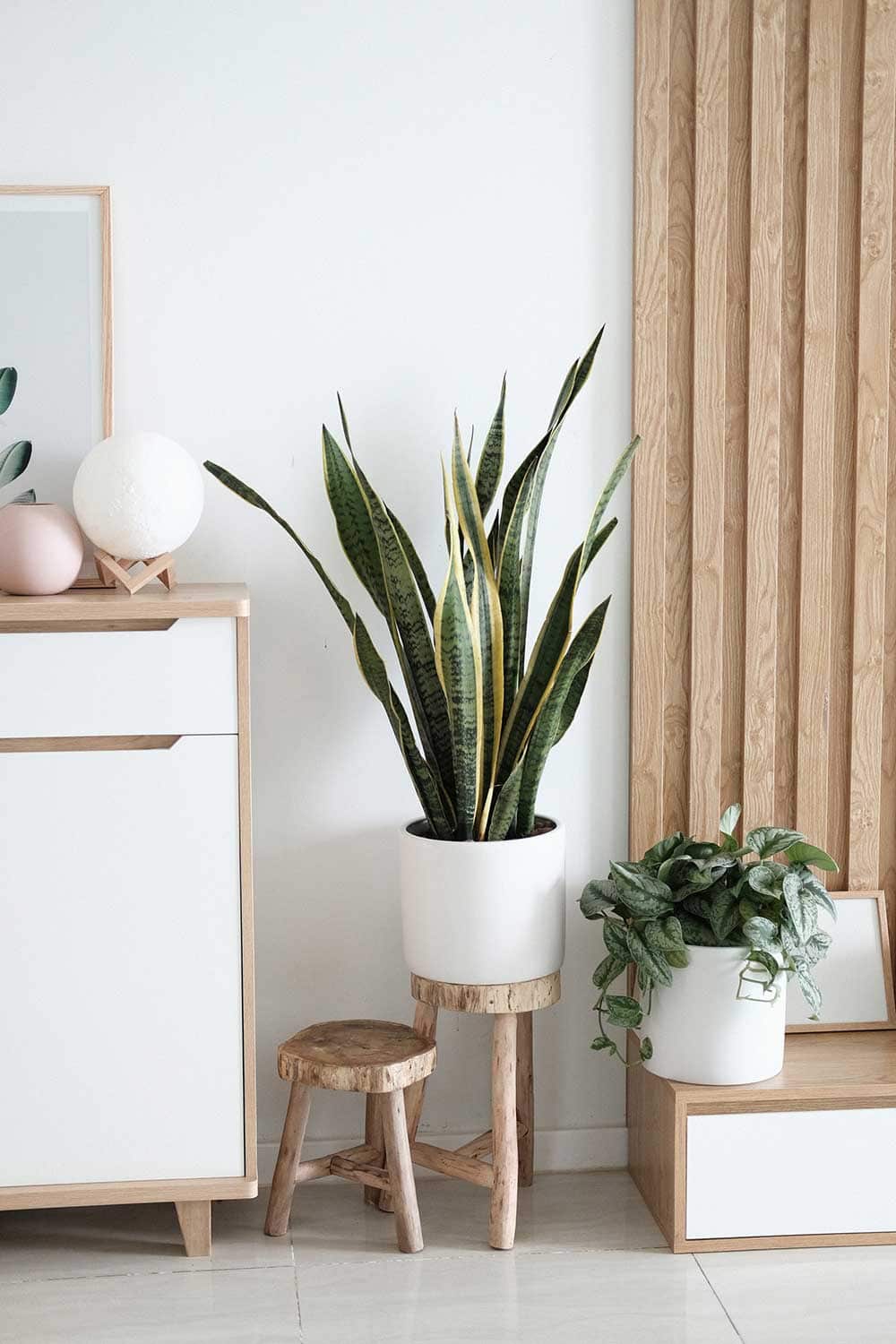 Consider Your Round Furniture
When evaluating your boho living room layout, you want to consider the round furniture you are going to be adding to your space. It is different from adding your square furniture because you are not measuring a lot of straight lines. You want to make sure a mixture of round, square and rectangular pieces are going to fit in your space. Luckily, round furniture works for a boho living room, plus the pieces create a little more room for movement because you are not dodging the corners. We offer several square and rectangular layout samples that include round pieces.
If you want to create a boho living room, be sure to keep the above tips and ideas in mind for your space.