If you are looking to create a home design that looks cool and requires little-to-no extra maintenance, consider an industrial living room. It is a design that mixes features such as wooden or metal beams and exposed bricks in one space to create an awesome style. Of course, the furniture and decor you choose can also create an industrial-style living room, even if your home does not feature elements such as beams and exposed bricks. You just need to know what pieces to choose for your space. This is why we offer a furniture mood board and living room layout ideas to help you get started on your new design.
We offer a few living room layout ideas to help you get started on your industrial-style space. Our samples include rectangular and square layouts to showcase different arrangements, some with additional space for a home office. Just like with a dining area, you can create an industrial home office by investing in wooden furniture such as an industrial rustic style desk with an office chair. You can look for wood and metal or solid metal desk for your workspace. While the furniture mood board is geared towards an industrial-style living room, the pieces also work for your industrial-style dining area or home office.
Use the following guide to determine what you need to create an industrial-style living room.
Four Things Every Industrial Living Room Must Have
Leather and Upholstery
A leather sofa adds an elegant touch to your industrial living room, while upholstered chairs add a little coziness to your space. There are several industrial-style living room layout ideas that use a sofa and two chairs. The most common arrangement is two chairs placed across from the sofa to encourage conversation. Complete the look with an ottoman to create extra seating or a way to relax, which you can place next to your sofa or chairs.
Wooden Elements
Wooden elements are perfect for an industrial-style living room. Start with a wooden coffee table with metal wheels in the center of your seating area. Another option is a wooden bench behind the couch to create additional seating or separate zones, as well as a wooden shelving unit or cabinetry for storage. If your living room features a dining area, consider a wooden table and chairs.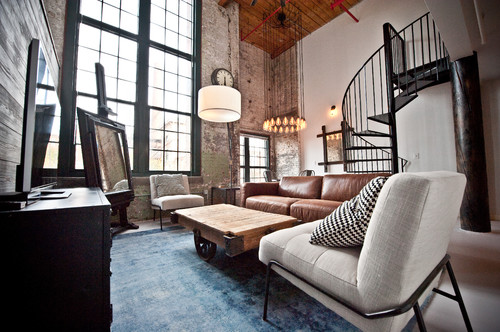 Metal Pieces
In addition to wooden elements, metal is another staple of an industrial-style space. Luckily, most of your wooden pieces are also going to feature metal elements. One example is your coffee table with metal wheels. Not only do the wheels enhance your industrial design. But they also make it easier to move the coffee table as needed. A metal end table paired with one of your chairs also works for this style. Your wooden shelves or cabinetry may also feature metal elements. Plus, you can opt for metal lamps and hanging pendant lights to brighten your space.
Decorative Accessories
You can also add decorative accessories to your industrial living room, such as a distressed world map on the wall. If you want to add a cozy layer with area rugs, keep in mind that you can add two rugs to your space instead of just sticking with one rug. Are you looking to add a splash of color to your industrial-style space? Consider a houseplant or flower arrangement on the coffee table. You can even place it in a silver or gold vase or wooden planter to enhance your home design.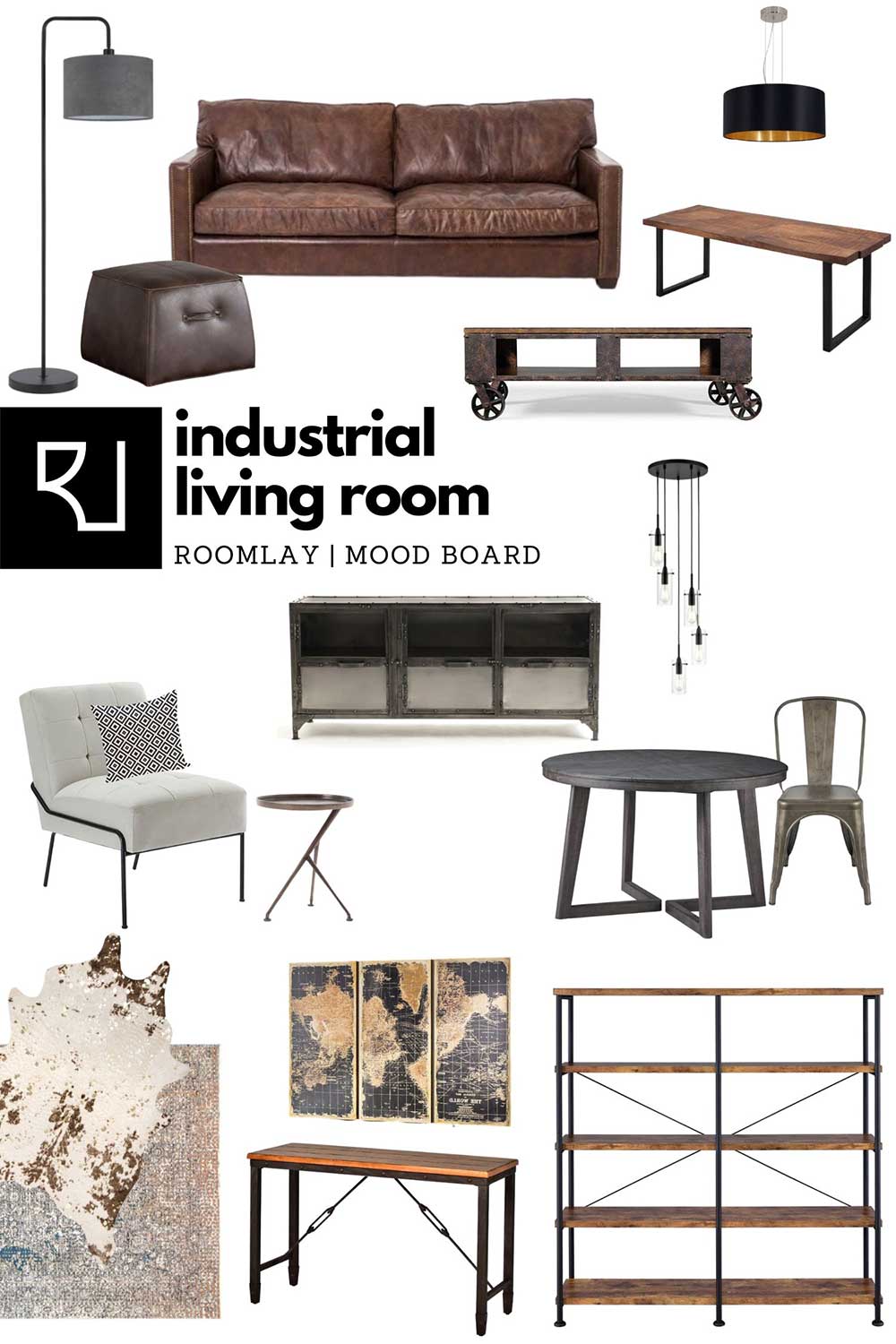 Floor Lamp | Ottoman | Leather Sofa | Wheel Coffee Table | Wood Bench | Pendant Light | Accent Chair | Pillow | Side Table | Media Cabinet | Dining Table | Dining Chair | Pendant Light | Rug-I | Rug-II | Console Table | Wall Art | Bookcase
If you are looking to create an industrial-style home, you can start with your living room. The above ideas can help you create an industrial living room that is comfortable and functional for everyone.