Your living room is the place you unwind in front of the television, curl up with a good book or chat with family or guests. Therefore, you want to ensure your living room is comfortable, functional and visually appealing, starting with your living room seating arrangement.
It is important to consider everything from your sofa placement to your coffee table to your lighting. After all, every element is going to bring the entire living room together, so you do not want anything that creates an uncomfortable or unappealing space.
Are you ready to create a living room that works for you? The following guide includes tips on how to arrange your living room seating.
General Living Room Seating Arrangement Tips
It is important to know where to begin when setting up your living room. This is why we are going to start by sharing a few general living room seating arrangement tips.
Create a Conversational Area
While most people use the television or fireplace as the focal point of their living room, it never hurts to create a conversational area. You are going to find it is especially useful if you live with other people or often entertain guests.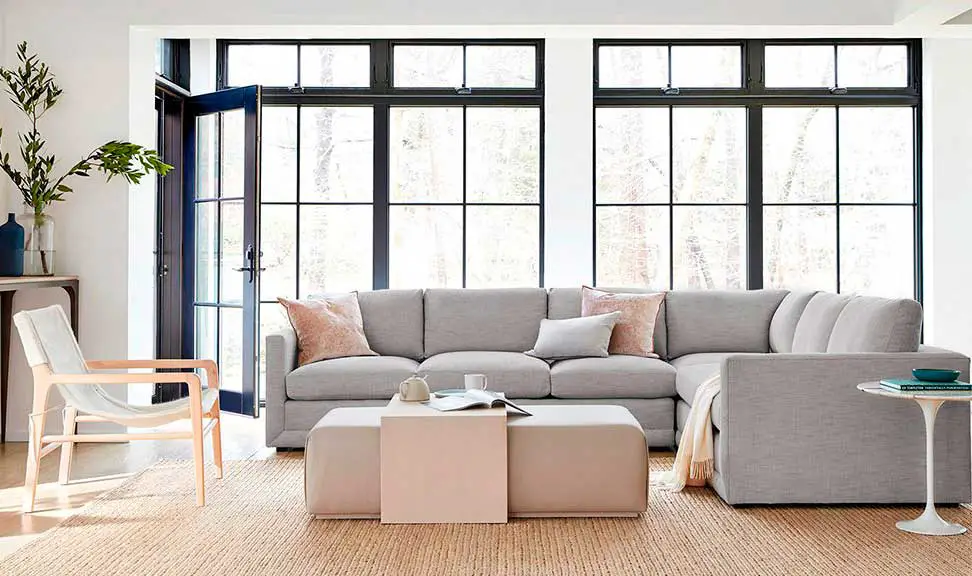 There should be no more than 10 feet between your living room furniture. This way, your family or guests do not feel crowded, but the furniture is not too far apart. If you need to fill in a space that is too open, consider a piece of low furniture behind the sofa.
Avoid Overcrowding Your Living Room
Whether it's a large or a small living room layout, the last thing you want to do is create a setup that is overcrowded. It can make the space feel cramped or small, plus it can make it harder to manoeuvre around the living room. 
A rule of thumb is to take measurements before you purchase your pieces to ensure they fit in your space.
In addition, you also want to avoid pairing the wrong pieces together. For example, do not pair an oversized coffee table with a divan sofa or chaise lounge, especially if the coffee table takes up the entire space in front of the sofa or chaise lounge.
Be Mindful of Your Sofa Color
You also want to be mindful of your sofa color. Believe it or not, there are some shades that do not work in certain spaces.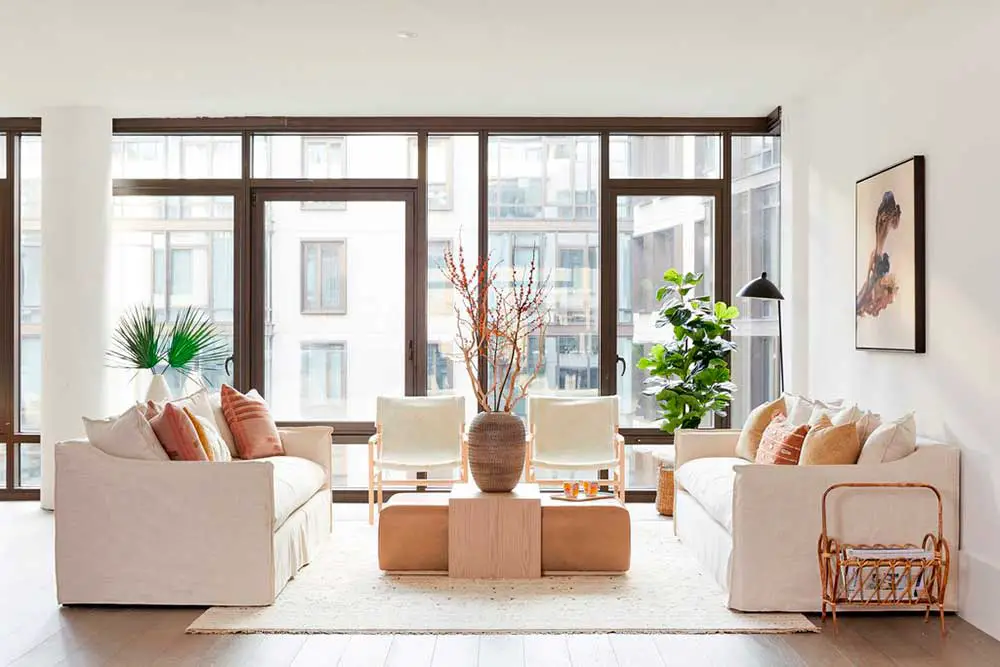 For example, if you are arranging a south-facing living room, you want to avoid a dark-colored sofa. The cover of a dark-colored sofa is eventually going to fade in the strong sunlight.
Also read; How to Brighten A Room With Dark Furniture
Creating Seating Layouts of Different Shapes
Now that you have learned a few general tips to get your furniture arrangement plan off the ground, we are going to share a few sofa placement tips by layout. You can usually find U-shaped, H-shaped and L-shaped seating layouts in a living room, so you want to be sure to create a living room arrangement that works for your space.
U-Shaped Seating Layout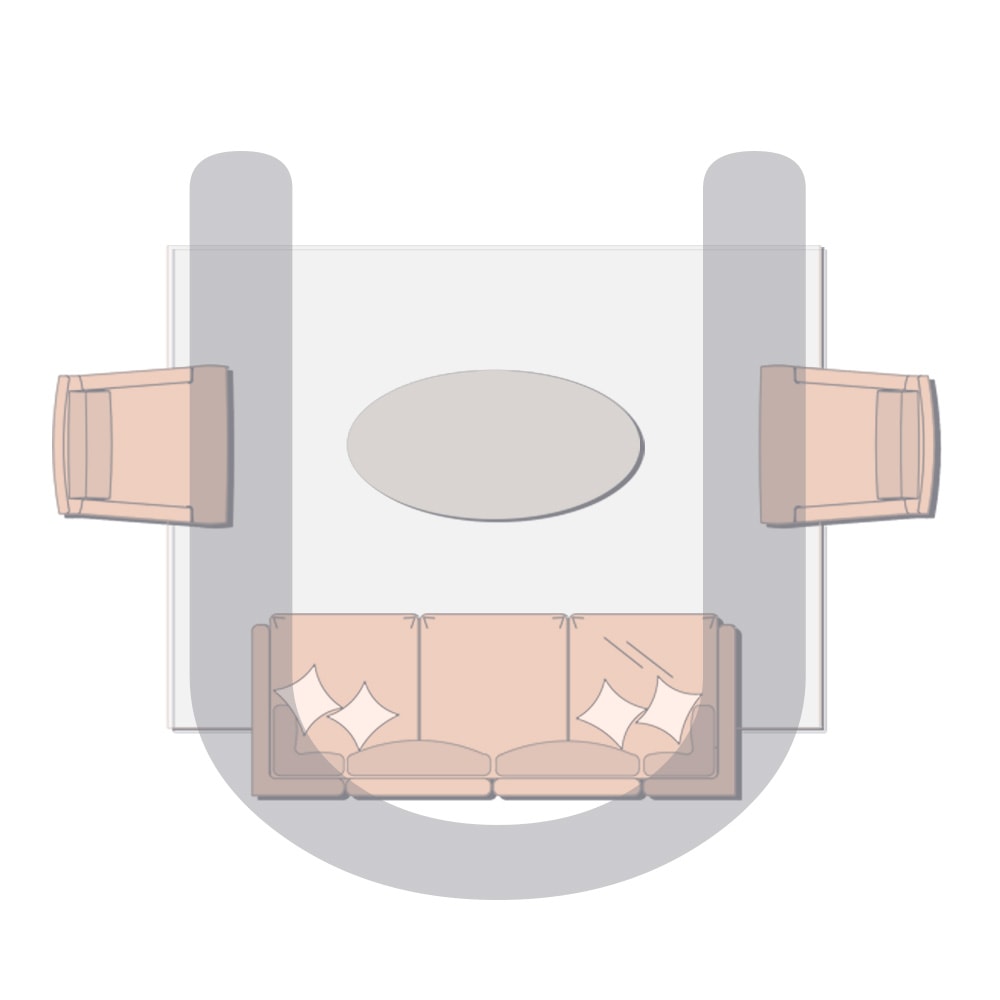 A U-shaped seating arrangement may include a sofa and two armchairs. The sofa is usually facing the television or fireplace, and the armchairs are usually near each end of the sofa, but facing one another. This way, anyone who wants to watch television or enjoy the fireplace has a place to sit, but the setup also makes it easier for people to interact.
For a fun idea, a U-shaped layout is perfect for movie nights where guests are going to be conversing during or after the movie.
H-Shaped Seating Layout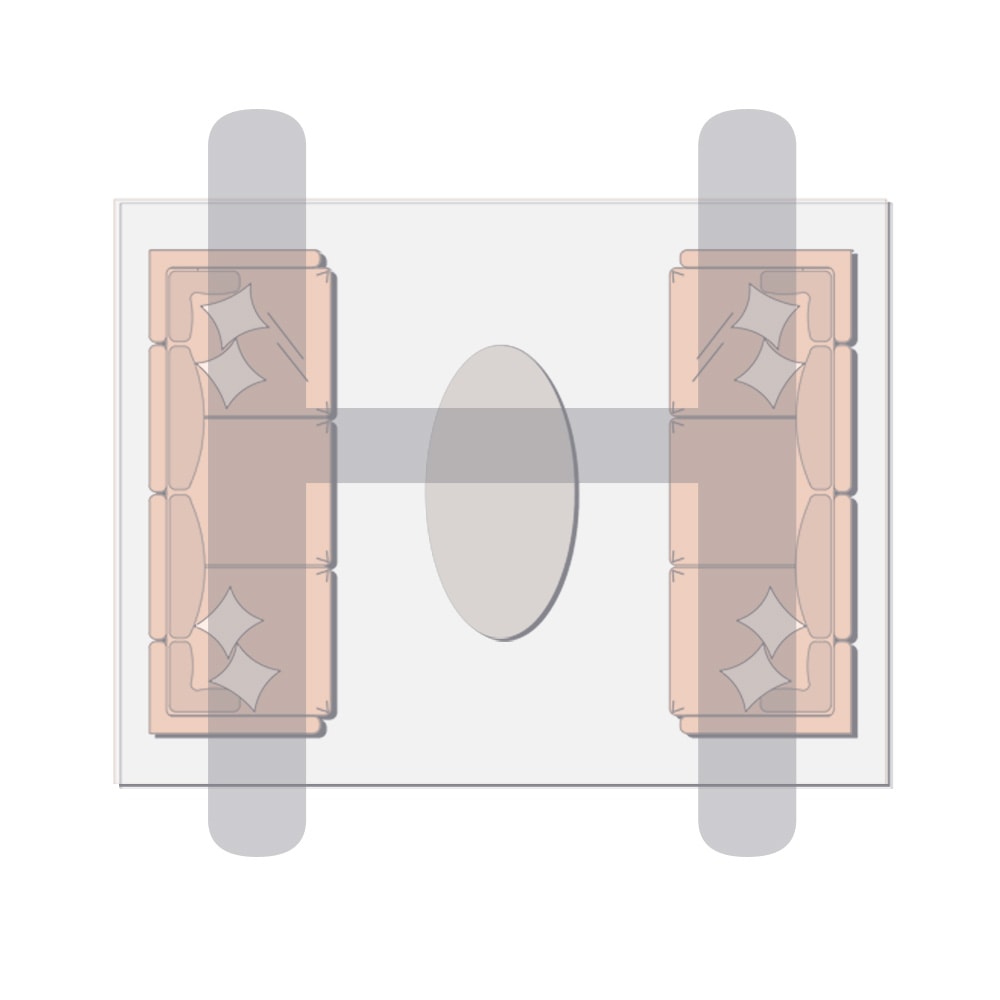 The next living room setup is an H-shaped layout, which features two seating arrangements face-to-face with one another. This may be two sofas facing one another, or it could be a sofa on one side and two armchairs on the other side.
In the center of the layout is an area rug, which helps to create an H-shaped seating arrangement.
You may enjoy this layout if your living room is mainly a conversational area. While the television or fireplace may not be the main focal point anymore, people can still see and enjoy these elements from their seats.
L-Shaped Seating Layout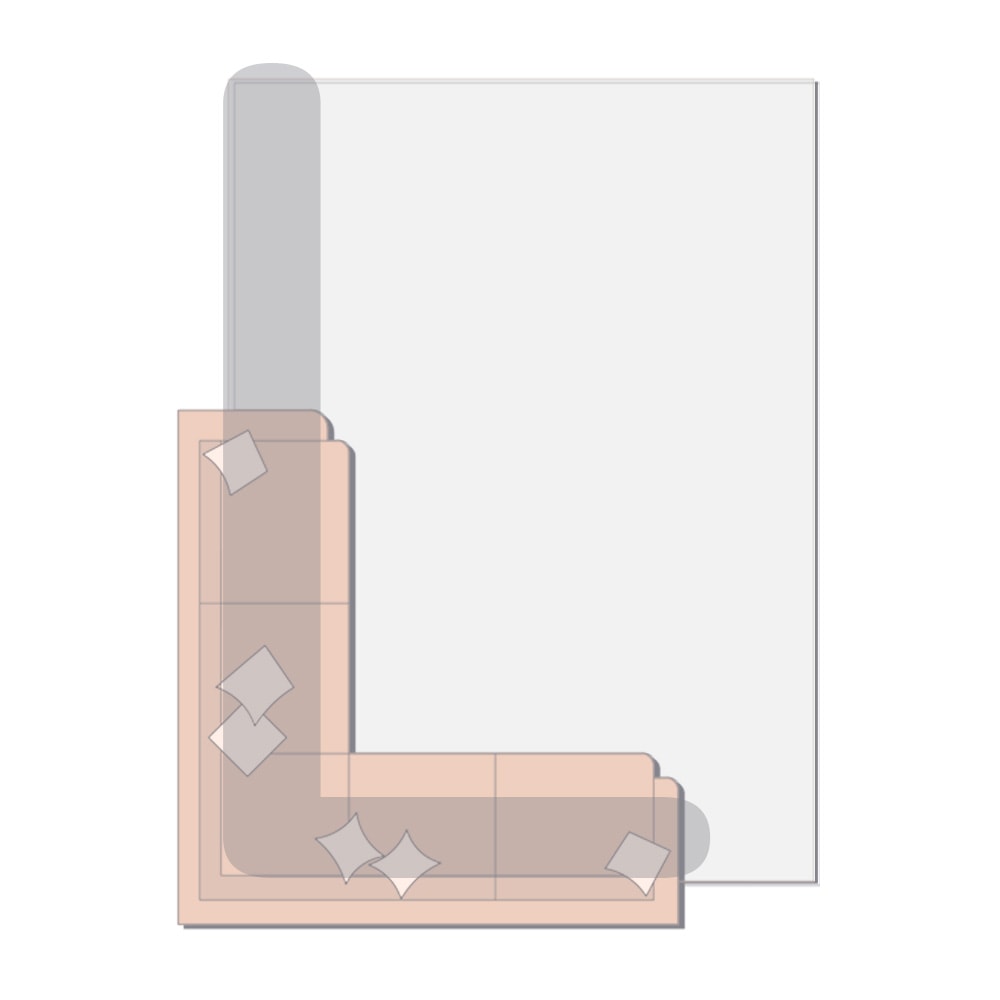 Finally, you may want to consider the L-shaped layout for your living room. If you are looking to move your sofa placement to the corner, this is the perfect seating arrangement for your living room.
Are you arranging a large living space that also includes a dining area or workstation? You can use an L-shaped layout to divide your space into zones. For example, the dining area may start several feet from the back of the couch.
It is best to use a sectional or divan sofa for this layout, or you can invest in an ordinary sofa with large footstools that are going to double as seating arrangements.
Also read; How to Layout an L-Shaped Living Room
Consider Other Elements
Of course, there is more to a living room than just your seating arrangements. You need to ensure your other elements are going to work with your sofa, from the decorative pillows to the side tables. To help you tie everything together, here are several other elements to consider in your living room setup.
Decorative Pillows
When arranging your decorative pillows on a sectional or divan sofa, it is best to form a triangle with your design. To achieve this look, you are going to combine pillows of different shapes and sizes into groups. When you imagine a line going from group-to-group, it should form a triangle.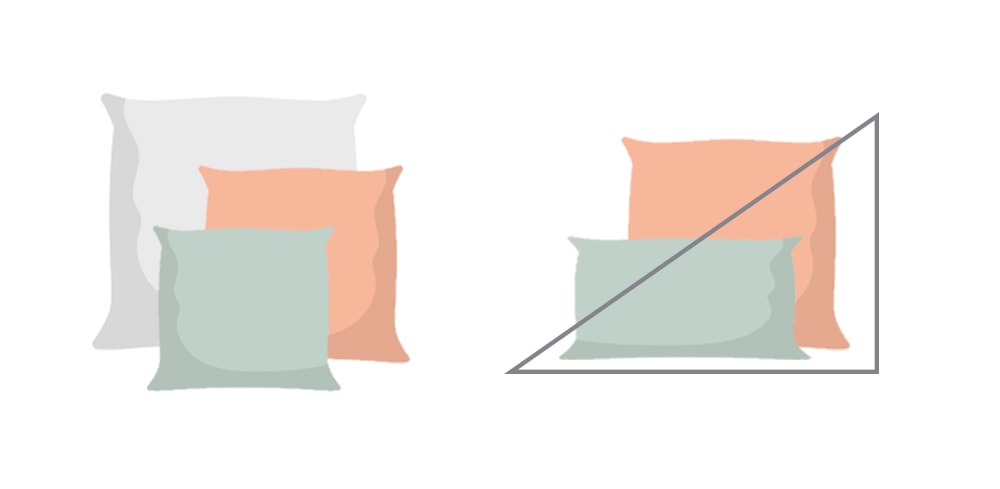 On an L-shaped sectional sofa, you are going to stick to the triangle form by placing a few pillows on the other end of the sofa and on the chaise lounge near the back of the sofa. As for the open-ended area of the chaise lounge, you are going to use a throw blanket instead of pillows to complete the triangle form.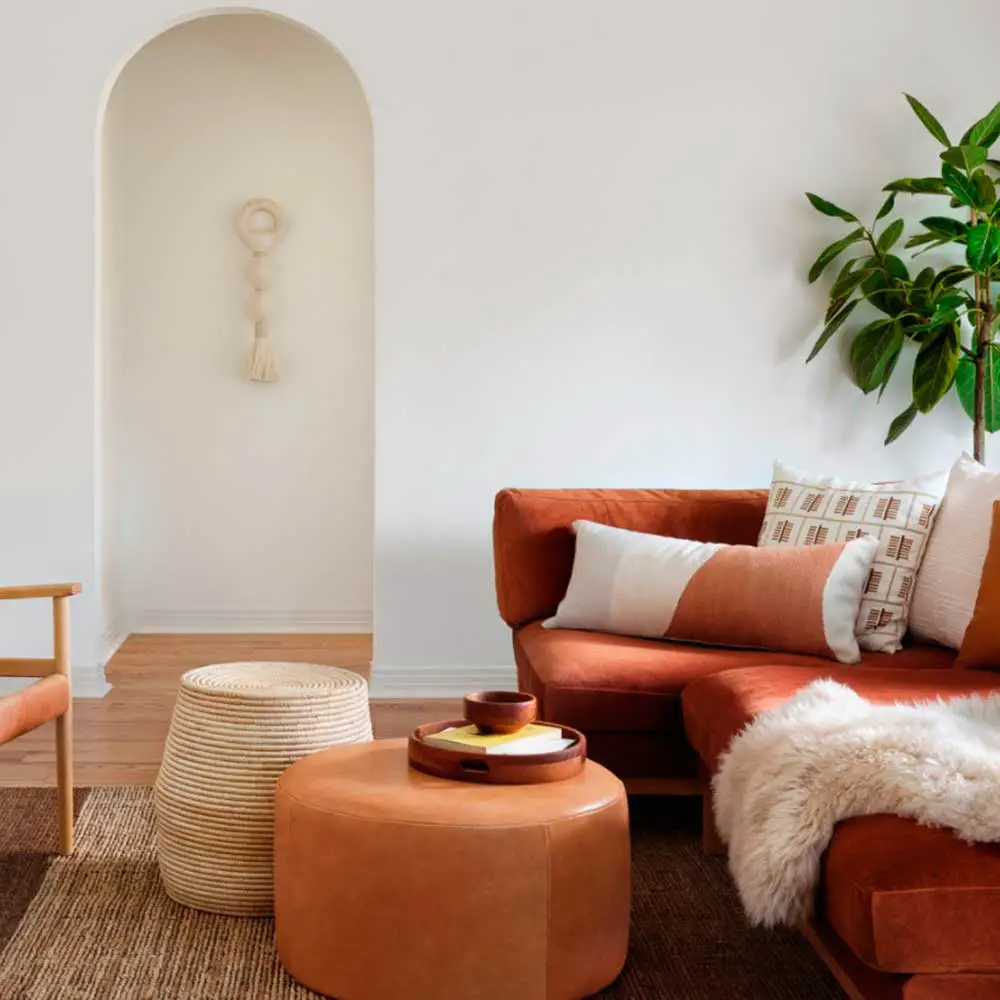 For the design itself, you can use an even number of fluffy pillows in each group to create a symmetrical arrangement. If you are working in an eclectic space, you want to use an odd number of pillows in various colors or patterns.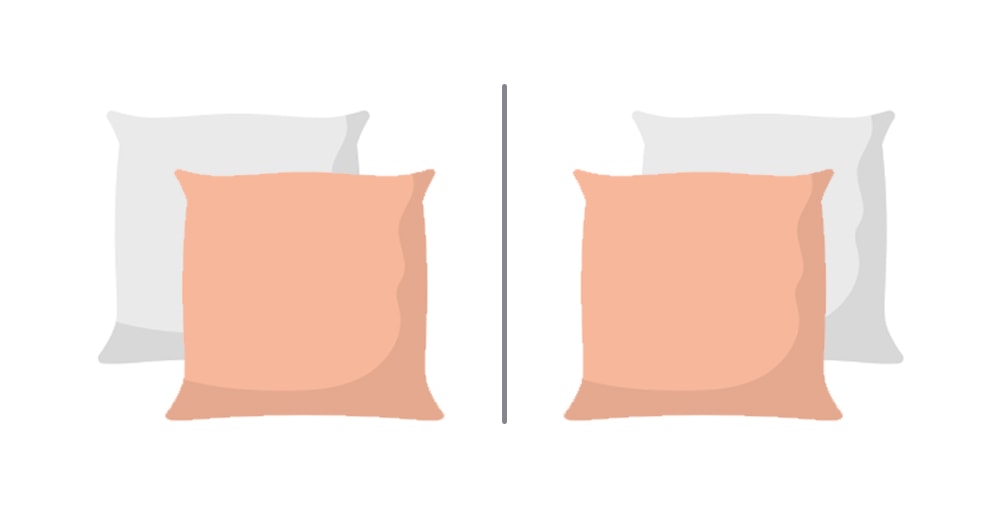 As for an asymmetrical arrangement, you are going to use various shapes and sizes rather than identical pillows, and you are going to stick to an odd number of pillows per group.
Coffee Table
Your coffee table should not more than two-thirds of the total width of your sofa. It should also be 4 inches more or less than the height of the seating rather than the exact height.
Finally, your coffee table should not take up the entire space in front of your sofa, but you should not have to stretch to reach it.
Side Tables
Side tables are more practical for sectional and divan sofas, as it gives those who cannot reach the coffee table a place for magazines, phones and mugs.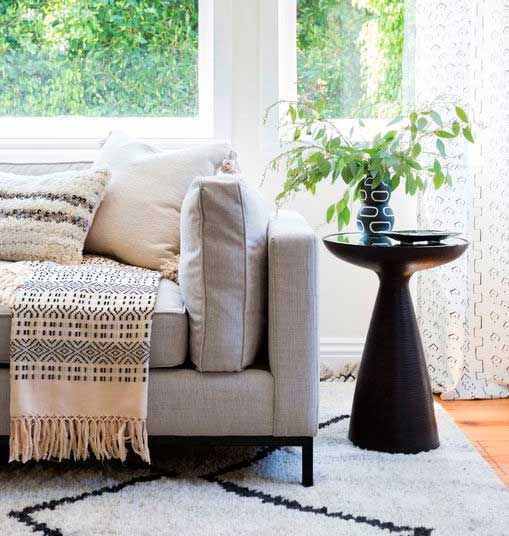 Area Rug
When it comes to your area rug, you want to choose a piece that is big enough to balance out the living room. A small rug throws off the balance because it makes the sofa look and feel too big.
Balanced Lighting
You are going to need more lighting around a large sofa than a small sofa, so you want to think about how many people your sofa can seat at once, and use the number of seats to decide how much lighting you are going to need for everyone.
Between the different layouts and various elements, it is possible to create a living room seating arrangement that is comfortable and functional for everyone.