The living room and dining room combo is a great solution for small homes and a perfect solution for space-saving. The room also ensures that each area equally benefits from the light and view coming from your window.
As for your family, a single space to eat, chill out, and relax is certainly a great way to encourage interaction and family bonding. If you love entertaining, a living room and dining room together is the most convenient set up to host a gathering for your friends and family.
It is no doubt that a combined space has numerous advantages. However, many people tend to avoid the setting, as it can be challenging to arrange the furniture into a single space. So how do you divide a combined living-dining room combo?
How Do You Divide The Combined Living and Dining Room?
Start by deciding if you want to completely separate the two functional areas or vouch for a more connected space. To separate your living and dining area, use your largest sofa to divide the room, with its back facing towards the dining space. For a visually connected living-dining layout, align the two spaces next to one other.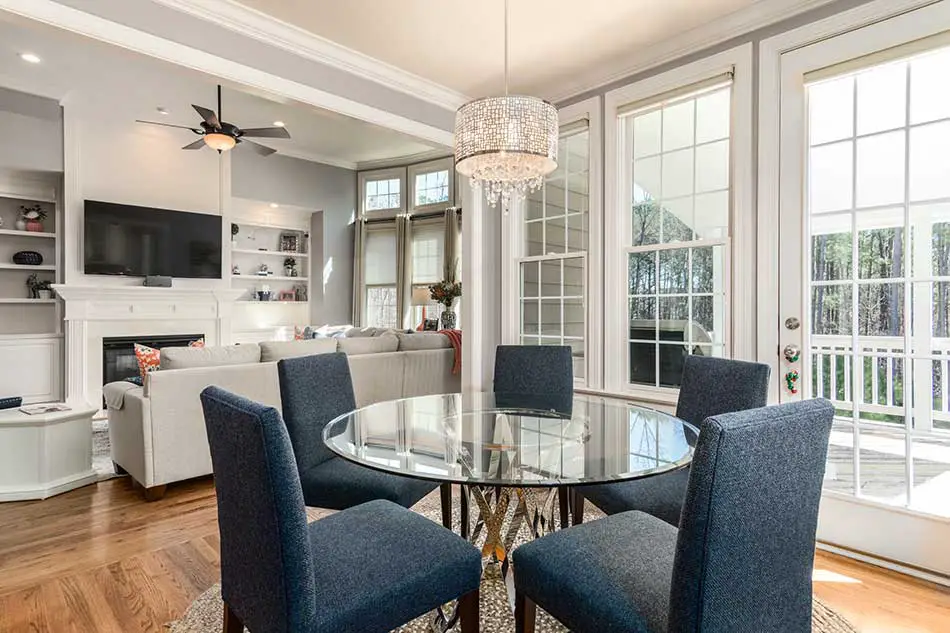 Next, you need to think about space's focal point, such as your TV, window, or fireplace. It is an excellent practice to orient your living area first and then consider placing your dining table. These are some basic guidelines to set up your living room and dining combo. You can build upon it according to your need and requirements.
Some elements to divide your room; large sofa, bookshelves, wooden or glass panels, storage, console tables. You can also use rugs, different wall colors, chandeliers, or wall galleries to divide your room visually. 
5 Combined Living and Dining Room Layout Samples
To accommodate different criteria for each combined space, we have designed five living and dining room combo floor plans to help you create your ultimate room layout.
While the primary focus is towards dividing the two functional spaces, we have presented a few living and dining configurations according to your TV, fireplace, and window placement and orientation. So each layout caters to a different need to empower you to design your own living-dining room combo.
A Versatile Open Space Layout Separating Living and Dining Area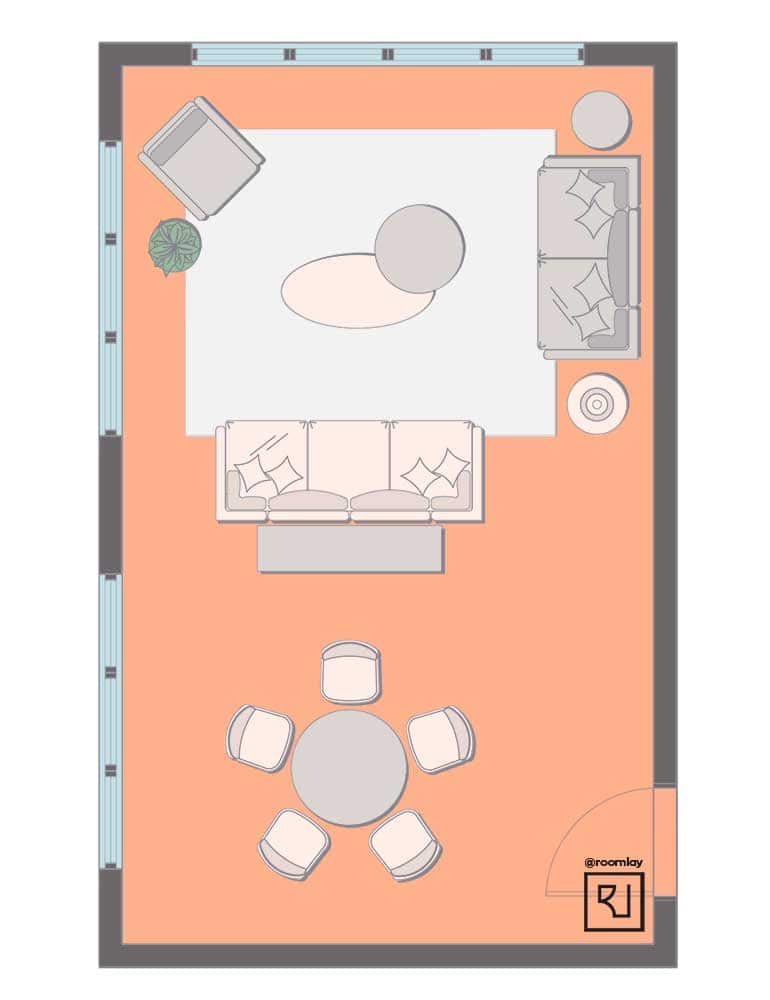 This open rectangular layout is one of the most effective ways to separate your dining and living area. The trick is to place the back of your sofa towards the dining table. This way, your sofa accompanied by a sleek console table neatly divides the room into two functional zones.
The dining space employs a round table to maintain an easy space flow while allowing for a spacious setting.
You have a generous amount of seating options in the living area, perfect for both gatherings and intimate conversations. Thus, the layout remains a versatile living-dining combo, where each functional space deems for attention.
A Well Balanced and Proportionate Layout with Multiple Focal Points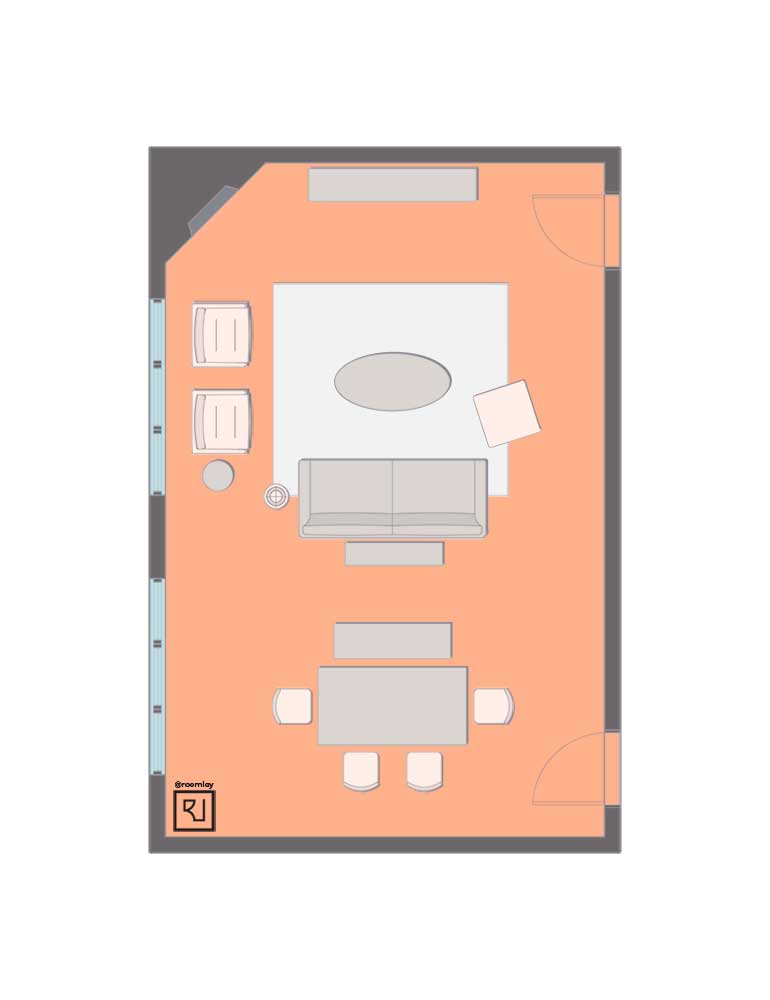 A living-dining combo generally allows for multiple functions, vouching for space where you can eat, watch TV or simply sit and relax by the fireplace.
This layout remains a great example of such spaces where your living and dining areas are slightly isolated. The sofa positioned away from the dining area tends to divide the space. But space remains visually connected with a rectangular dining table mimicking the proportions of the sofa.
The seating focuses on the living area's media unit while the fireplace positioned diagonally in a corner remains connected to space. Thus, this layout with a corner fireplace is a great way to deal with multiple focal points while maintaining harmony and proportions throughout the area.
A Warm Cozy Living-Dining Combo Perfect for Relaxing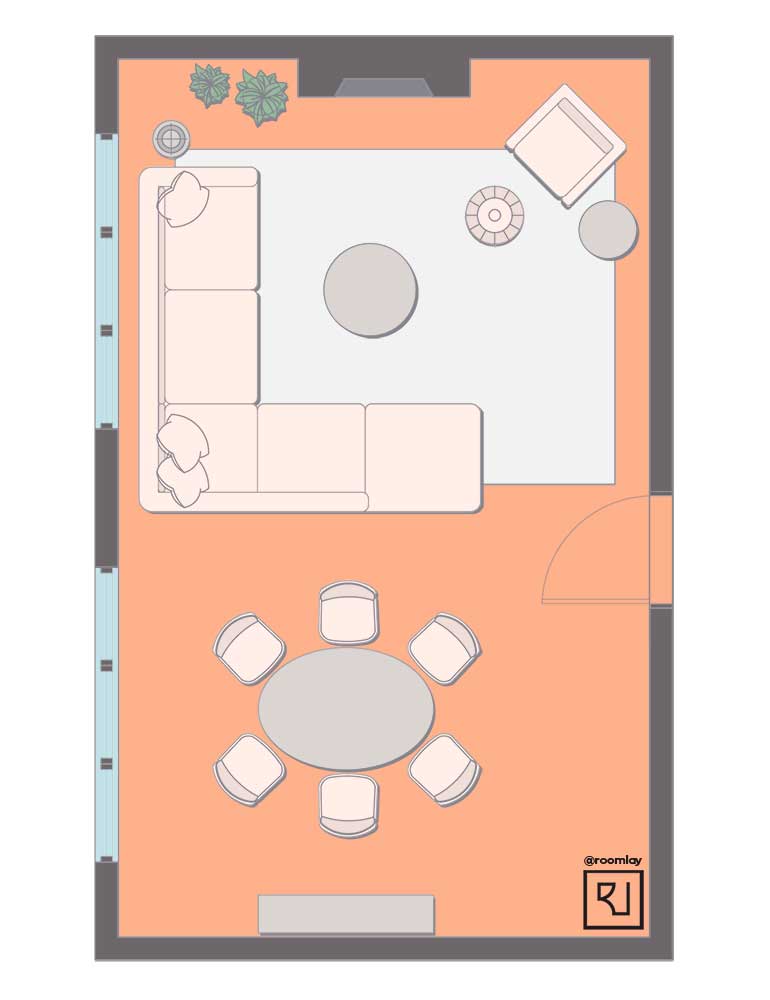 This layout with a fireplace also allows for separate yet well-defined living and dining spaces. The room maintains a good flow of space with an oval dining table and rounded edges.
On the other hand, an L-shaped sofa accompanied by an armchair and pouf allows for a sitting area for relaxing and lounging.
The seating remains centered around the fireplace for a warm and cozy room. Thus, this layout remains your ultimate living room, serving best as a chill-out space.
Visually Connected Living-Dining Combo to Hosting Gatherings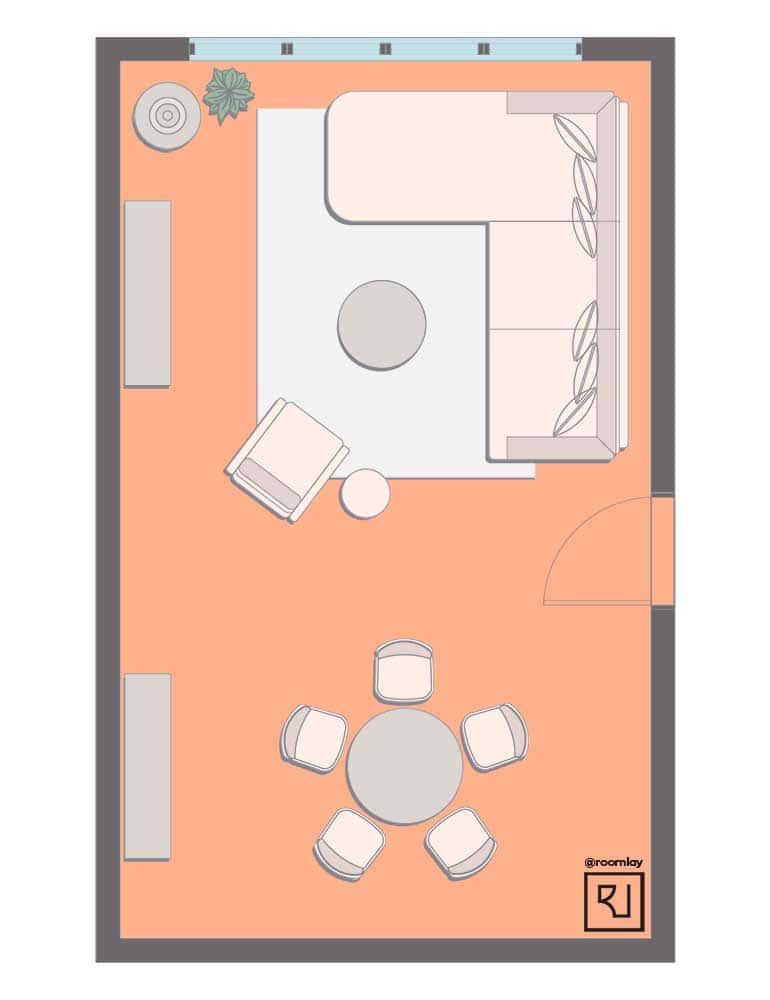 This living dining combo visually combines the two functional areas. The dining space is carefully aligned with the sitting area for a more interconnected space.
Such spaces are perfect for hosting a gathering, as the layout altogether provides the opportunity to communicate and interact.
The L-shaped sofa complements the arrangement by giving an extra place for everyone. This sofa, together with an armchair, focuses on the TV. To finish off space, both the living and dining areas combined with a storage unit that visually balances the space.
A Multi-Purposed L Shaped Living and Dining Room Floor Plan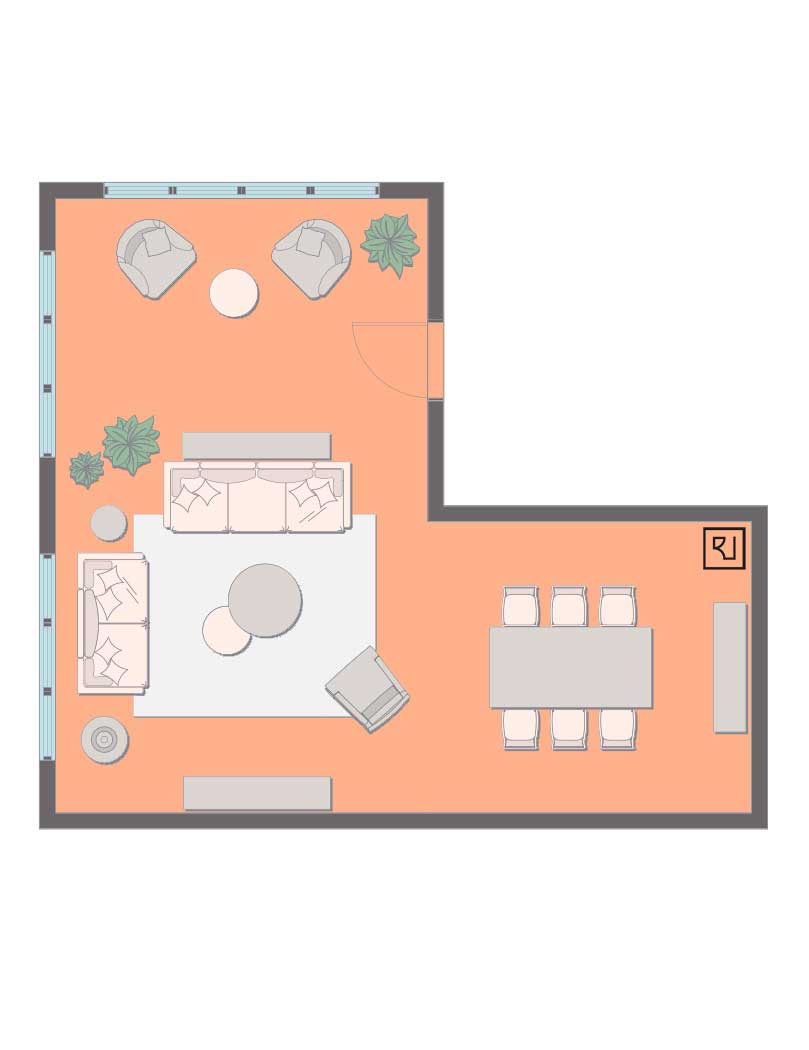 This L-shaped layout is divided into three zones. The central functional zone remains the seating area. With the sofa flanked by a loveseat and armchair, the living area allows for numerous seating options.
On the other hand, the dining area maintains a strong presence within the space while visually connecting with the living area.
Lastly, to accommodate intimate conversation, two armchairs are placed in one corner. With the sofa back facing towards the armchairs, this area remains isolated. Thus, this layout remains perfect for individuals who love to entertain. From conversational group to more closed-off intimate spaces and a dining table just a few steps away, this layout serves well as a gathering space.
Also read: How Do You Create A Room Layout? 
There are various options to design your living-dining room combination. It all depends on your space's configuration, how many people you are willing to accommodate, and your personal preference, which helps design the perfect room layout. Therefore, take inspiration from these layouts to set up space, and then bring your twist and turn for an utterly comfortable and stylish living-dining room combo.