The decision to redesign your kitchen layout is not one that should be taken lightly. You want to ensure you are designing a kitchen that is both comfortable and functional. After all, the kitchen is the heart of the home, so it needs to be a place that works for everyone.
A traditional kitchen plan is a work triangle that divides the sink, stove range and refrigerator into zones. As the years moved on, other layouts were introduced to create more of a "work zone" layout concept, which can make preparing meals a breeze.
You can get started on your kitchen redesign by checking out the following guide, which is complete with different types of kitchen layouts.
Related Popular Questions
What is the ideal kitchen work triangle?
The legs should not be less than 4 feet or more than 9 feet in a kitchen work triangle. If you add up all three sides of the work triangle, the total should be between 13 feet and 26 feet. This is the ideal work triangle for a kitchen plan, and it is used by many designers and architects who design residential kitchens.
How important is the kitchen triangle?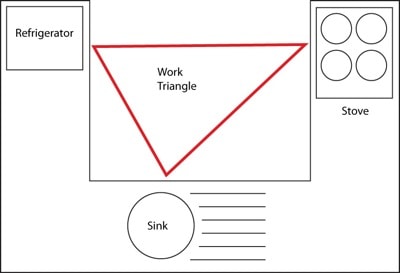 A work triangle is very important to a kitchen because it creates the ideal traffic flow. For example, you can start at the sink to chop and peel your food, move to the stove to cook your meal and stop by the refrigerator to put your food away. It is very important to keep elements such as your kitchen island from blocking the flow of traffic.
How much space do I need for an island in my kitchen?
Keeping your kitchen island from blocking the flow of traffic does not mean you cannot have an island at all. You just need to make sure there are 42 inches to 48 inches of open space in your kitchen layout with an island. However, it is best to skip the island if your kitchen is less than 13 feet wide.
What is a 10×10 kitchen?
You may have heard of a 10×10 kitchen, and you may be wondering how it is used in kitchen design. A 10×10 is a universal sample used to give you a general idea of the style and price of the cabinet doors in your kitchen.
Six Types of Kitchen Layouts
The following section is going to introduce you to the six most popular types of kitchen layouts, so you can find a layout that is right for your kitchen.
One-Wall Kitchen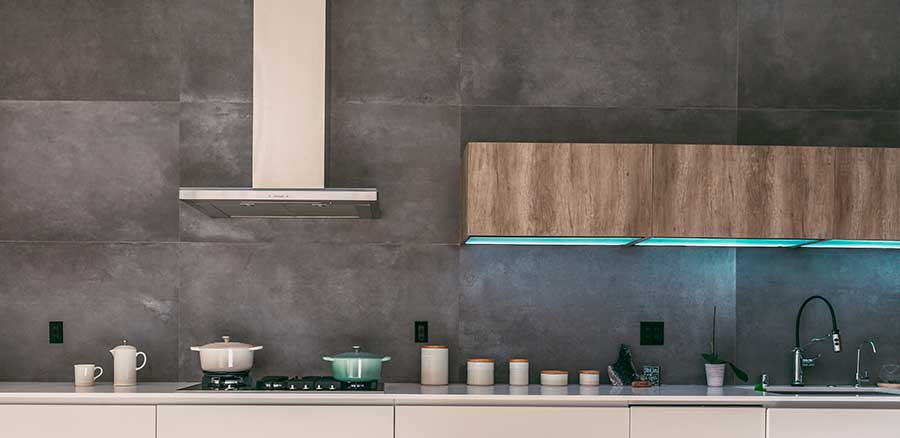 The one-wall kitchen is usually found in smaller spaces, such as a studio apartment or loft. In this kitchen, you are going to rely on vertical storage, such as your cabinets and appliances on a single wall, to make this layout work. This way, you can increase efficiency without sacrificing the function of your space.
Now, a one-wall kitchen may not include a traditional work triangle, but you can always place your sink at one end, stove range in the middle and refrigerator at the other end to create a similar traffic flow. Also, the modern one-wall design may include a kitchen island, which can evolve into a galley layout.
Galley Kitchen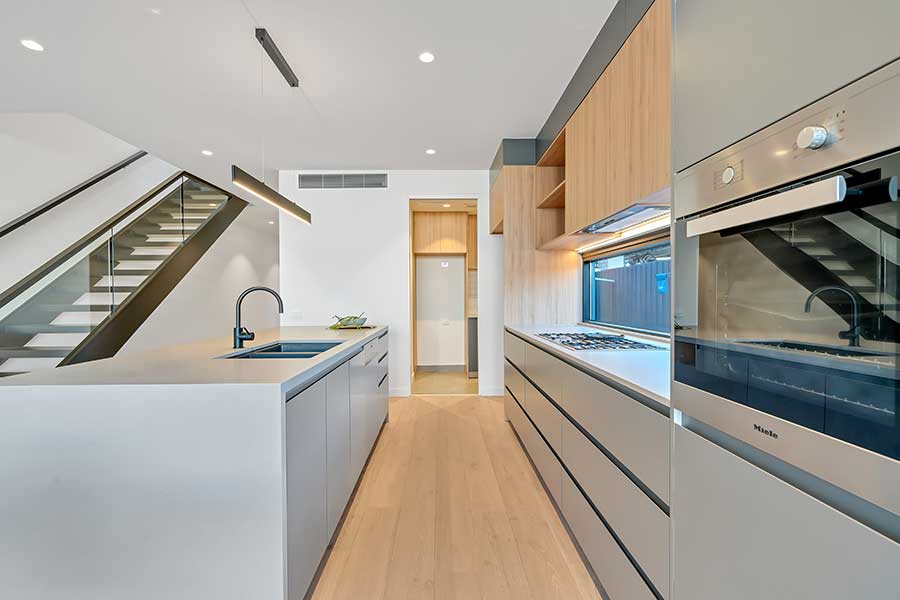 Speaking of the galley design, this is the next kitchen layout on the list. Also known as a walk-through kitchen, this simple layout features two parallel counters or opposite walls to create a walkway.
It is the ideal layout for smaller spaces because it maximizes every inch of your kitchen. You can even add an extra row of cabinetry to increase your storage space. In addition, you do not have to worry about a corner cabinet. While it may limit your counter space or foot traffic, it is a great way to create an efficient, functional kitchen without wasting space or money.
L-Shaped Kitchen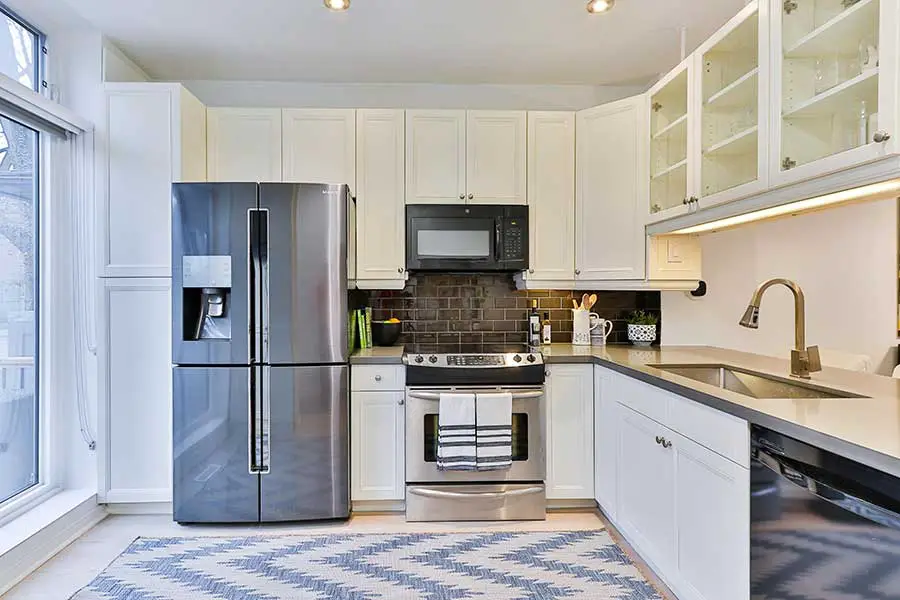 If you are looking for a way to maximize your corner space, an L-shaped layout may be the kitchen plan for you. It is an ideal design for a small-sized or medium-sized kitchen, as it features two walls with counters and/or cabinets that adjoin to form an L-shaped space.
The best part is the "legs" of your L-shape design can be any length, but it is recommended to keep them less than 12 feet to 15 feet to create a more efficient, functional space. You do not want a lot of unused space because the "legs" were too long.
Overall, it is a flexible design that allows you to be creative with your corner space, such as adding more cabinetry, a walk-in pantry or breakfast nook to your kitchen.
U-Shaped Kitchen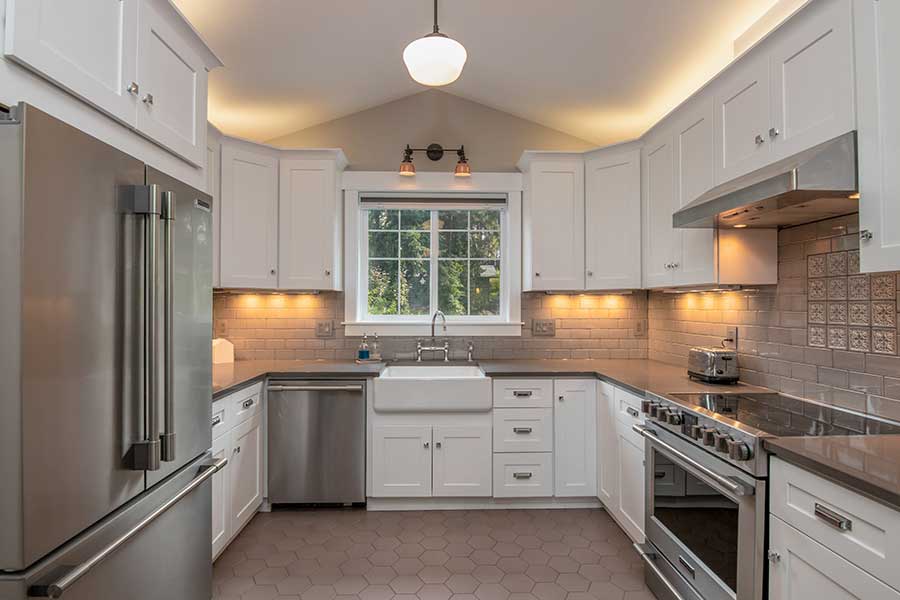 Another option for your kitchen plan is the U-shaped layout, which is also known as the horseshoe layout. It features three adjacent walls with counters and/or cabinetry to create a U-shaped space. You are going to place appliances and cabinets on all three walls.
This design is perfect for adding the traditional work triangle because you can easily create the sink, stove and refrigerator areas. It is recommended to keep the work zones on opposite ends of the back and entry doors to make the most of your space. While this layout does offer ample storage space, you do not want your space to feel closed in.
Luckily, you can create a kitchen that feels more open by placing upper cabinets on just one or two walls, as well as focal tiles, open shelves or a hob hood on the other wall.
Island Kitchen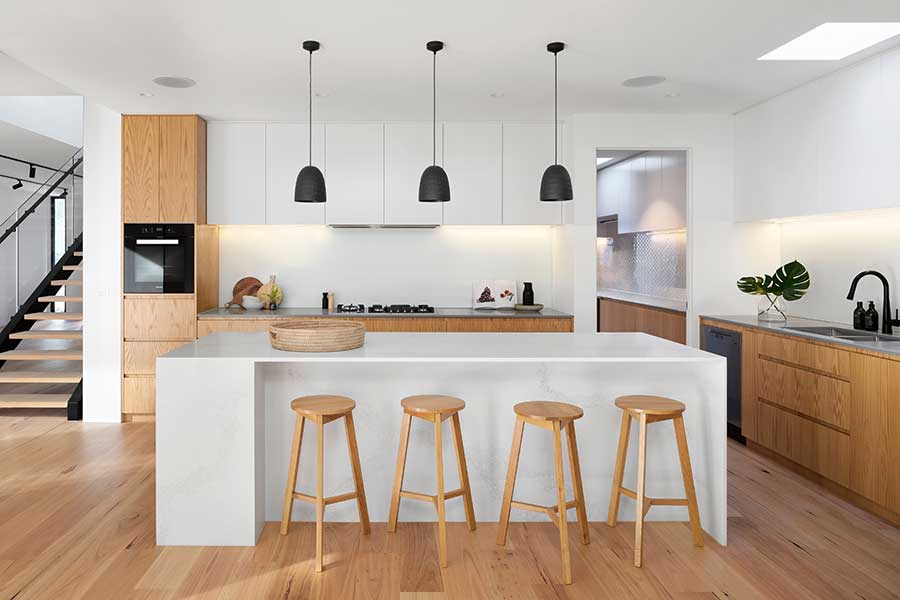 A kitchen layout with an island is a popular idea in homes with an open-concept layout, as well as homes with a spacious kitchen. The island provides another space to prep food, especially if it has a built-in sink or trash bin. With kitchen stools, an island can be used as a place to eat, socialize or do homework. It can also provide extra storage through built-in cabinets, drawers or open shelves.
In addition, it can also turn a one-wall layout into a galley layout, as well as an L-shaped layout into a U-shaped layout. Finally, placing the island in the center of the kitchen gives you another reason to add overhead lighting.
Peninsula Kitchen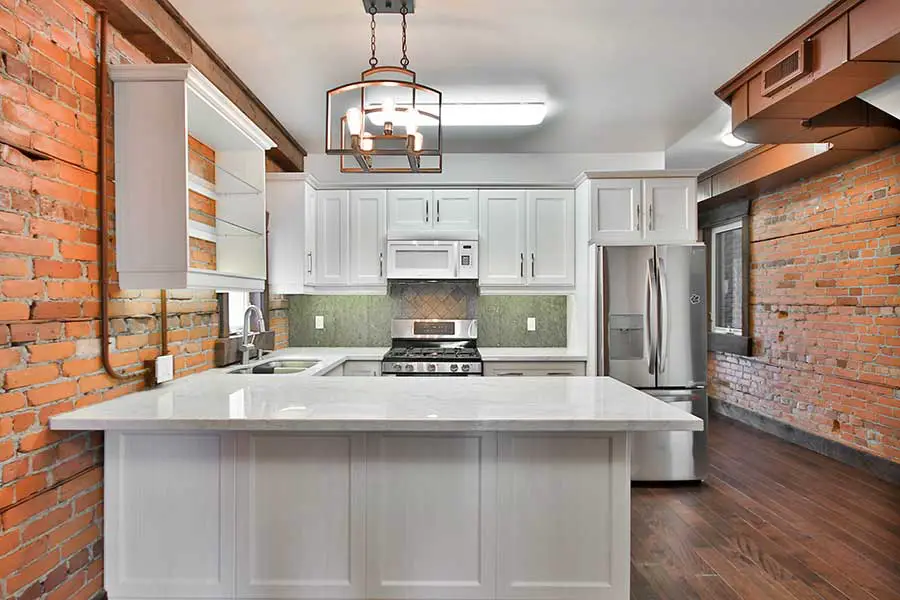 A peninsula kitchen features an island that sticks out from the wall or cabinetry, which makes it a great alternative if you do not have enough space for a traditional kitchen island. If you have a small, enclosed kitchen, you can always have a wall removed and replaced with the connected island to create a more open floor plan. Just like a traditional island, you can use your connected island to prepare food, enjoy your meal and socialize with family.
Finally, a peninsula island can turn an L-shaped layout into a U-shaped layout, as well as a U-shaped layout into a G-shaped layout. This means you can change up your design just by adding a connected island.
As you can see, there are several types of layouts to choose from for your kitchen. You may want a galley layout for your small kitchen, or maybe you are moving to a bigger home and looking to add a kitchen island. If you take the time to research the different layouts, you are sure to choose a layout that is comfortable and functional for everyone.