Whether you are designing a hotel, an Airbnb, or your master bedroom, you want to create the right hotel room floor plan. A hotel room is not a one-size-fits-all design, and you are going to find many ideas for your hotel room layout.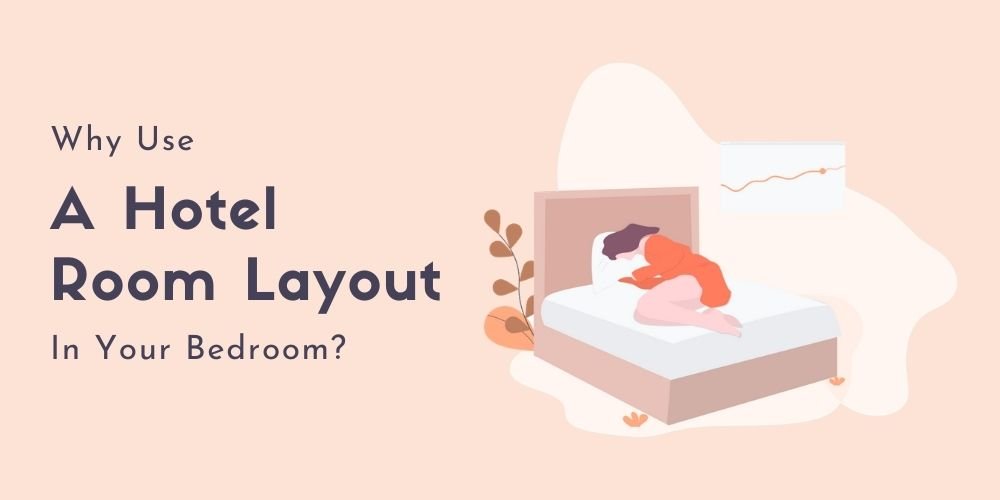 You may be wondering why you would want to use a hotel room floor plan for your own bedroom. A hotel room features a clean setup and cozy bedding, plus it meets your basic needs. This is why hotels are popular among many people, especially hotels that go the extra mile to offer style and comfort.
It is a design you may be looking to add to your own bedroom or guest room, and the good news is copying a hotel room design is not impossible.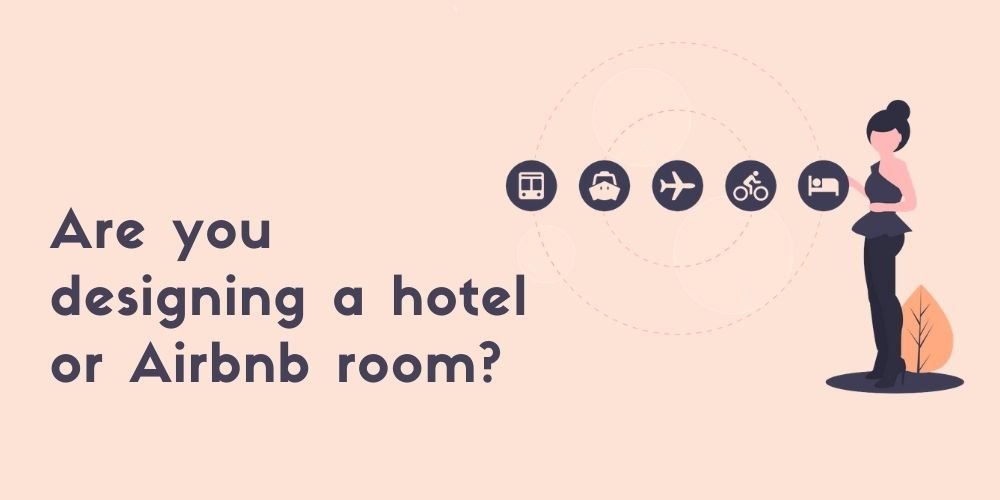 If you are designing a hotel or Airbnb room, it is important to take the layout of this space seriously. Your guests are going to be looking for a comfortable place to relax, as well as a place that allows them to be productive when necessary. When you take the needs of your guests seriously, you are encouraging them to do business with you in the future.
Also read; Small Boho Bedroom Design
Are you ready to create a comfortable, functional bedroom for yourself or others? You can start by keeping the following hotel room design tips and ideas in mind.
General Hotel Room Design Tips
Use the following ideas to design a guest room or master bedroom that boasts the same style, comfort and function as other hotel rooms.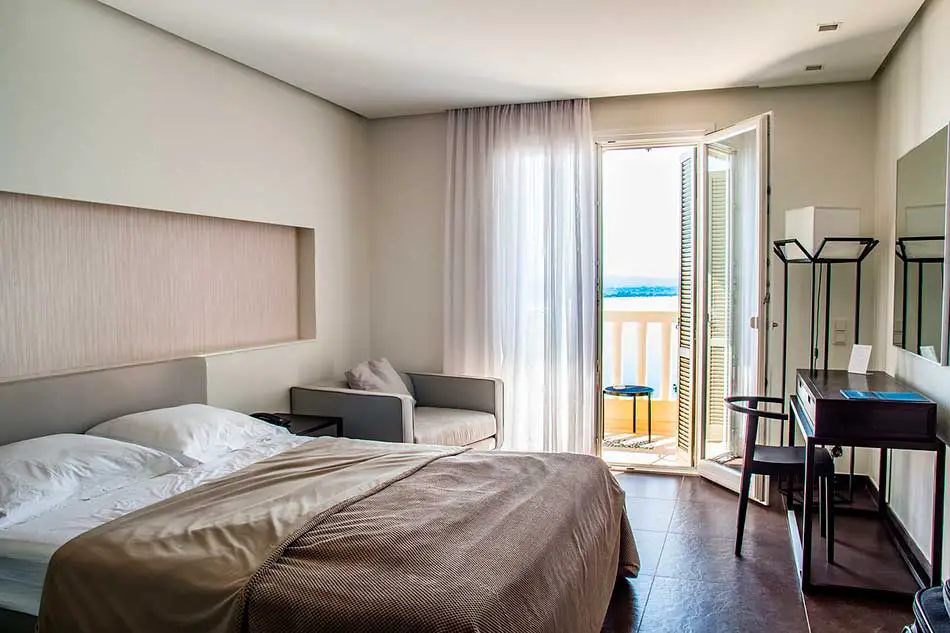 Make The Room Accessible
It is important to be sure your hotel-style room is accessible to everyone, and you want to start with wide doorways for loved ones or guests with wheelchairs, walkers or crutches.
You also want to be sure the walkways are wide enough for everyone, and you may want to consider lower furniture, handrails and other details that create a safe but comfortable environment.
Define The Sleeping Area
For any hotel room design, you want to take the time to define the sleeping area.
One idea is to create a wrap-around headboard above and behind the bed. Not only does a wrap-around headboard create a zone for resting and sleeping, but it can also be used to add texture and color to the room.
Consider A Platform Bed
Speaking of the sleeping area, you may also want to consider a platform bed.
There is something about raising the bed a few extra inches that changes the vibe of your aesthetic bedroom. In addition, it also separates the sleeping area from other areas of the room.
There are many hotels that use platform beds in their guest bedrooms.
Arrangement of Chairs
If you are creating a replica of other hotel room floor plans, you may want to look at your furniture arrangement.
For example, you can place an armchair on either side of the bed, or you can place an armchair on each end of a sleeping area with multiple beds. This is great for putting on shoes or watching television.
Also read; Bedroom Furniture Arrangement Guide
Arrangement of Nightstands
The arrangement of your nightstands is going to depend on how many beds you are including in your hotel room design.
If the room only has one bed, you want to place a nightstand on either side of it to create balance. In addition, you want to place a nightstand between two beds to make it easier for guests to access their essentials.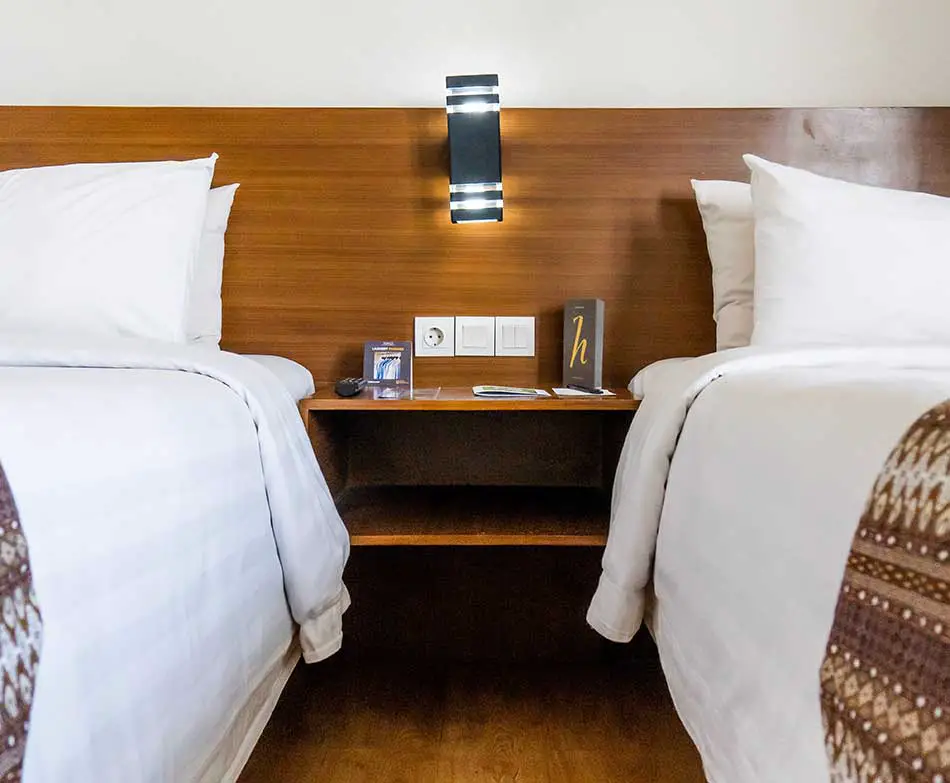 Add A Small Desk
It is also a good idea to add a small desk to your hotel layout, which can be used for writing or a laptop.
This is perfect for jotting down ideas or lists, working on an important project, or just surfing the Internet. A smaller desk also creates a functional area without taking up too much space.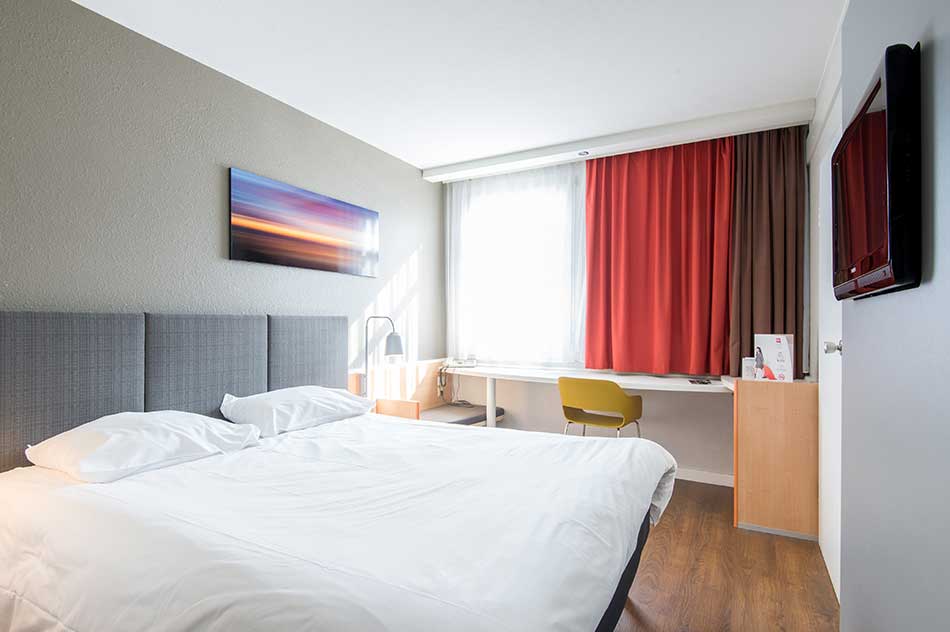 Create A Lounge Area
There are many hotel rooms that create a lounge area for guests who want to converse, read, watch television or check their phone in a spot other than their bed.
You can create a lounge area with a comfortable chair or couch and a small table. Of course, you want to keep the lounge and sleeping areas separate.
Types of Hotel Layouts
There are several types of hotel layouts to consider for your space, and we are going to provide information and samples to help you achieve the layout you have in mind.
We are going to start with the standard hotel rooms such as single, double, twin, triple, quad/family rooms, which usually work in small and medium-sized hotels. The size of the rooms is going to depend on how many occupants are being accommodated.
According to ADA (Americans with Disabilities Act), accessible hotel room wide is 12′-13′ ft, and every room must have at least 36″ of the clear passageway for movement. You can check the hotel room floor plan samples with dimensions on ADA.
Larger hotel rooms, such as Queen, King, Suite/Executive Suite, are designed for boutiques, resorts and bigger hotels, and they offer more space than a standard hotel room.
Single Room
A single room is designed with one occupant in mind, so the room only has one single bed. It also features basic amenities such as a bed and nightstand in the sleeping area and a cozy chair and small table in the lounge area.
Double Room
A double room features one bed for two occupants, and it is a great choice for couples, as well as a single occupant who is looking for more space. It has a similar layout to a single room, but it features more space, plush furniture and additional amenities.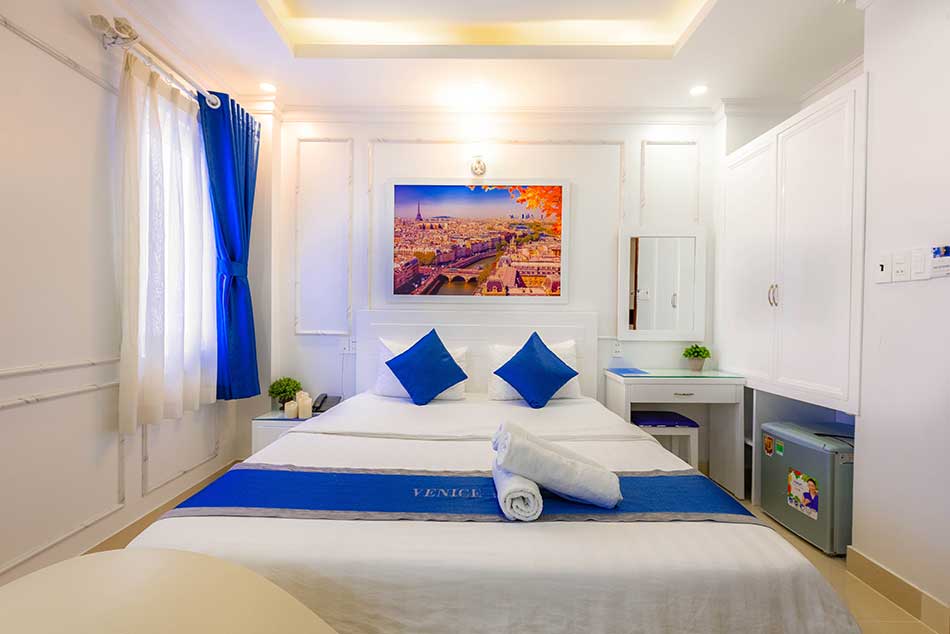 Twin Room
A twin room features two beds for two occupants, and each occupant has their own bed for maximum comfort. The layout is similar on both sides of the room, but there may be a few slight differences, such as a chair or greenery.
Triple Room
Designed for three occupants, a triple room features one single and one double bed or three single beds. The layout is similar to a twin room, but it is spacious enough to accommodate three people.
Quad/Family Room
The quad room, also known as the family room, is spacious enough to accommodate four people. It may feature two double beds or four single beds.
Queen Room
A queen hotel room features one queen-size bed, and it is designed for multiple occupants or one occupant who is looking for additional space.
King Room
The king hotel room is similar to the queen room because it is designed for one or more occupants. The main difference is it features one king-sized bed.
Suite/Executive Suite
A suite or executive suite offers maximum comfort and space for several people. It features a separate living space with multiple bedrooms.
Whether you are using a hotel room floor plan for personal or business purposes, you want to be sure you are taking the layout of the room seriously. As you can see, hotels use specific layouts to meet the needs of their guests, and you want to use those hotel room layouts for your own space.
Also read; 10×10 Bedroom Layout Ideas
If you take the time to learn the different types of hotel rooms, you can easily create your own hotel room design. And we are happy to provide several layout samples to help you get started on your project.