Designing a 10-foot-by-10-foot (305cm x 305cm) sized room without overcrowding can be especially tricky. It may seem like a very small space to design and decorate, and you may wonder where would be the ideal area to place the bed? What furniture should be included? Do you have too much stuff, and it's hard to squeeze all of them into that small room without looking like a mess? What should be the ideal or how to create a layout for such a tiny bedroom that will be effective and, at the same time, look visually appealing? Read on. 
10ft by 10ft (305 cm x 305cm) is a small-sized room and measured 100 square feet.
This blog will show you 12 layout samples with illustrated 10×10 bedroom floor plans and what type of bed you can opt in to maximize your space and add interest to your tiny bedroom. 
Let's get started!
With Queen-Size Bed
A queen-sized bed perfectly fits in 10ft-by-10ft bedrooms. There are many options for bedroom furniture arrangement. Below you can see three of our examples.
Layout #1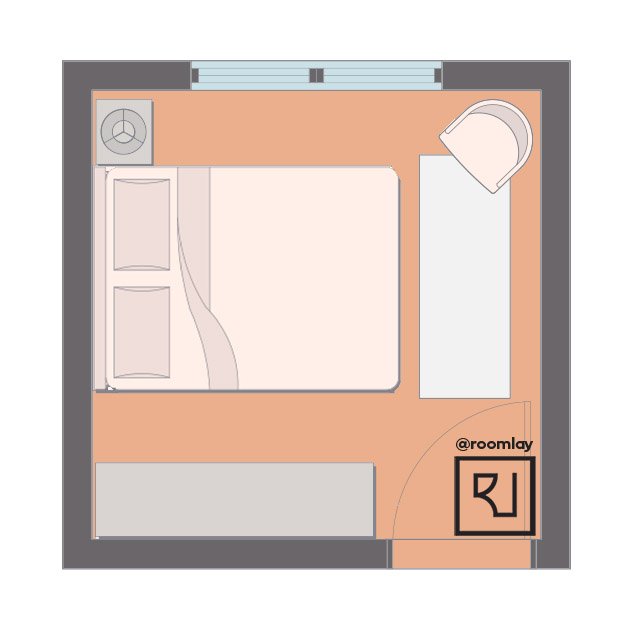 This floor plan shows how you can place a queen-sized bed in a 10×10 bedroom but still provide enough space to navigate around and put the furniture.
If you're in for a more modest and minimalistic bedroom, this layout will suit best for you.
A huge storage space fits into it as well, providing ample space for your things to keep them organized in one area.
Also, you can add in a small armchair near the window where you can lounge.
This layout will make your bedroom look and feel more spacious.
Layout #2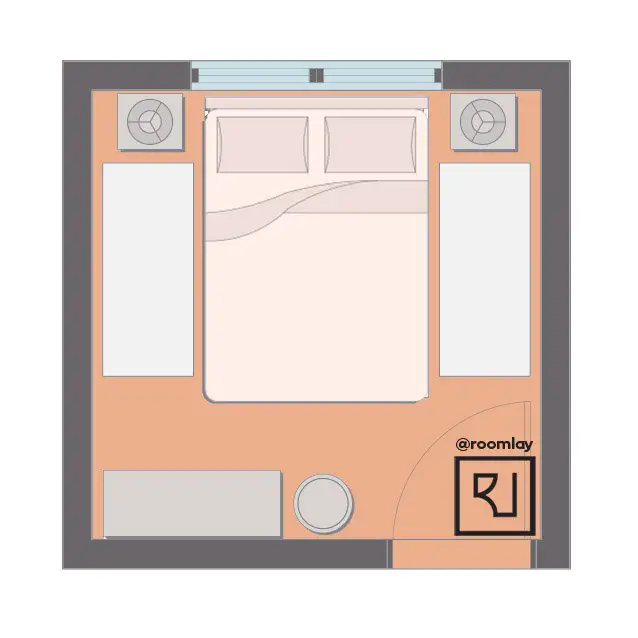 Make your queen-sized bed the focal point and arrange your nightstands and narrow runners symmetrically.
This type of layout provides space to move around the room and, at the same time, have enough storage space.
Instead of using huge closets, you can try to squeeze in a variety of small and narrow storage furniture to keep your things in order.
Layout #3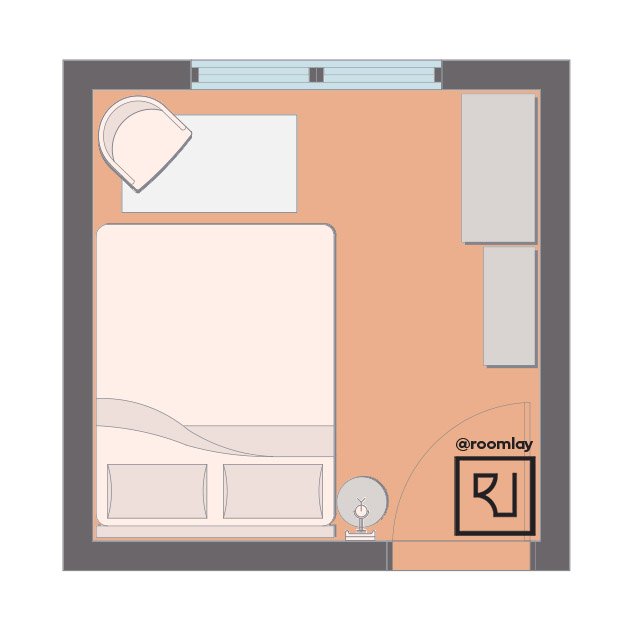 If you want to maximize your space, this layout may be an excellent option for you.
Place your queen-sized bed on the corner of the room and your closet and drawers right across the bed.
This arrangement allows ease of access from the door path area. Select furniture that saves space.
For this layout, choosing a rounded nightstand is a great design choice. It makes the room feel less packed and more open and efficient.
With Full-Size Bed
Selecting a full-sized bed will save you extra space in your 10×10 room. You can make use of this space for your hobbies, do yoga and exercises, or if you just like to prop down and play board games with a sibling or a friend.  
Layout #4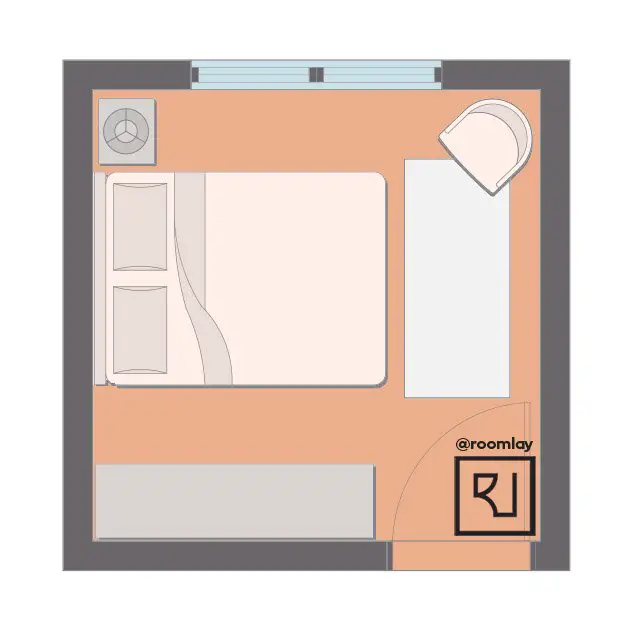 This layout has a large closet but still has plenty of space for an armchair and a nightstand.
You can put a narrow runner right across the door to define your room and add texture and interest to your layout.
Choosing a full bed instead of a larger one would be ideal for you if you want your room to feel more spacious.
Layout #5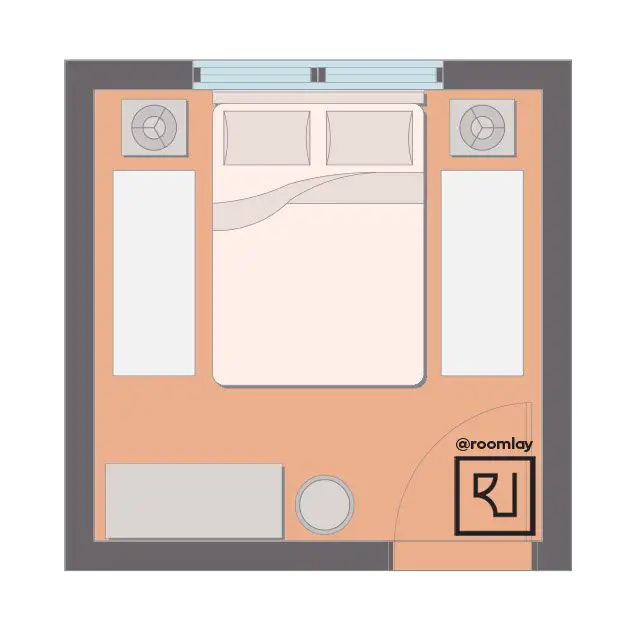 This is a typical master bedroom floor plan. But instead of a queen-sized bed, this plan shows a full bed placed right at the center. Choosing the sizes of beds makes a huge difference in the layout of your room. Here you can see how space has become more spacious.
Placing the bed right under the window also makes the room light and airy.
You can also have unique storage items to decorate and add personality to your room, such as placing wicker baskets beside your closet.
Layout #6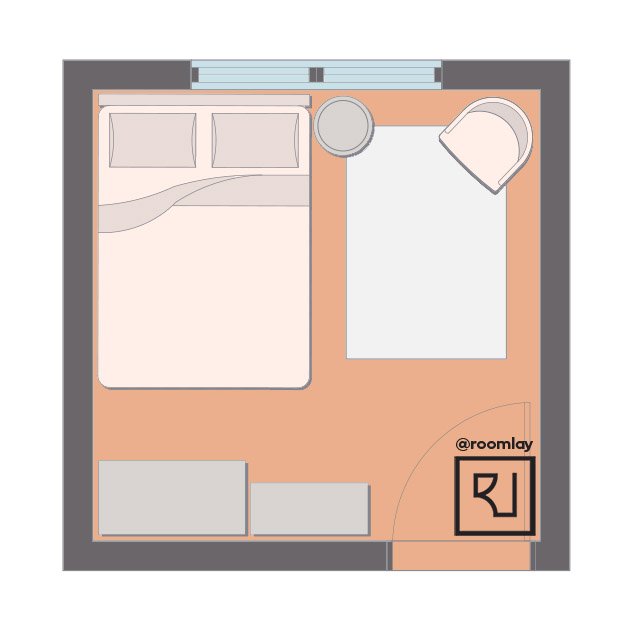 This layout is the best option to maximize your space with a full-sized bed.
The bed is situated on the corner of the room and across from it, you can place an armchair, drawer, or any kind of storage furniture and décor item that you love to put in your room.
This layout frees half of the bedroom area, which you can use to do whatever you like. Whether it be yoga, exercise, playing an instrument, or making art.
Layout #7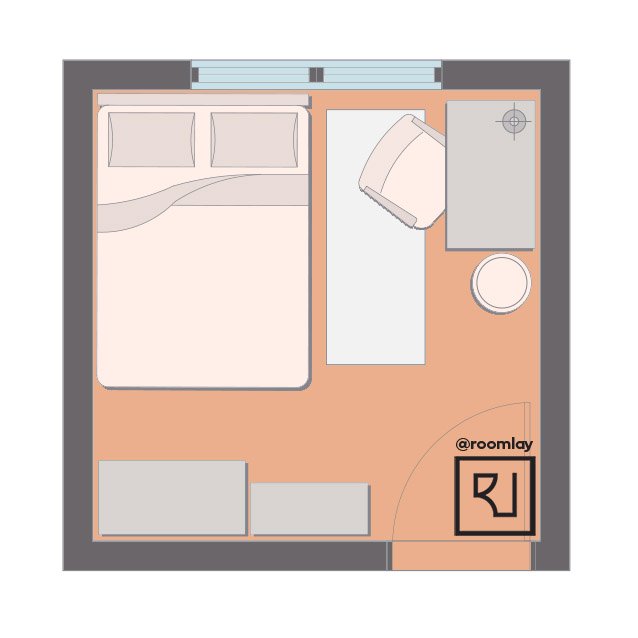 If you don't have extra room for your home office. You can create a working space corner. But according to feng shui, having a desk in the bedroom is not suitable for productivity and energy.
However, if you are a student, working from home, or spending a lot of time working on a desk, this might be necessary.
Placing the bed in the corner of the room will give you enough space to put on a desk and an armchair right across from it.
With King-Size Bed
A king-sized bed may not properly fit in a 10 x 10 bedroom because it can be a bit overcrowding. You can't put your king-sized bed in the center of your room because there will not be enough space for access and navigation. You can select a smaller bed to better maximize the space.
However, if you only have a king-sized bed there are still options on how you can lay out your to make the most of your room.
Layout #8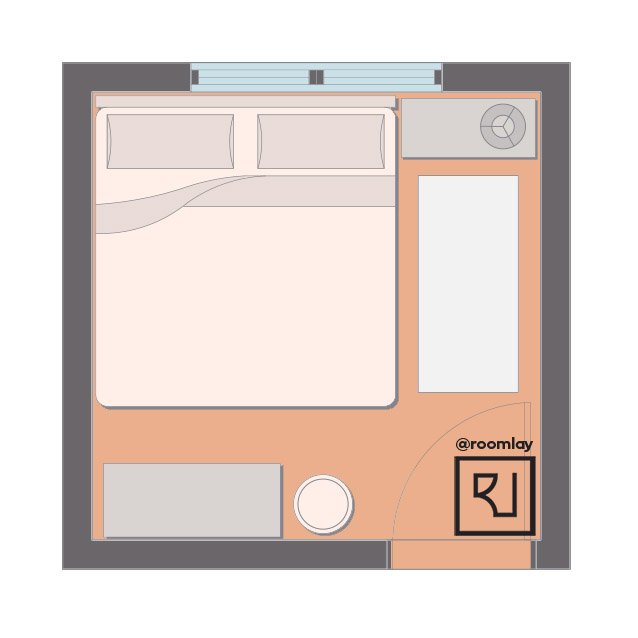 If you only have a king-sized- bed in your 10′ x 10′ bedroom, this layout might be a great solution.
You still have enough space for the footpath and your closet.
You can use a low high, narrow drawer instead of a nightstand.
To make this kind of layout work, carefully choose your dresser and drawers' size not to make the room feel crowded.
Place a mirror on your wall to create an illusion of space and add light to your interior.
Layout #9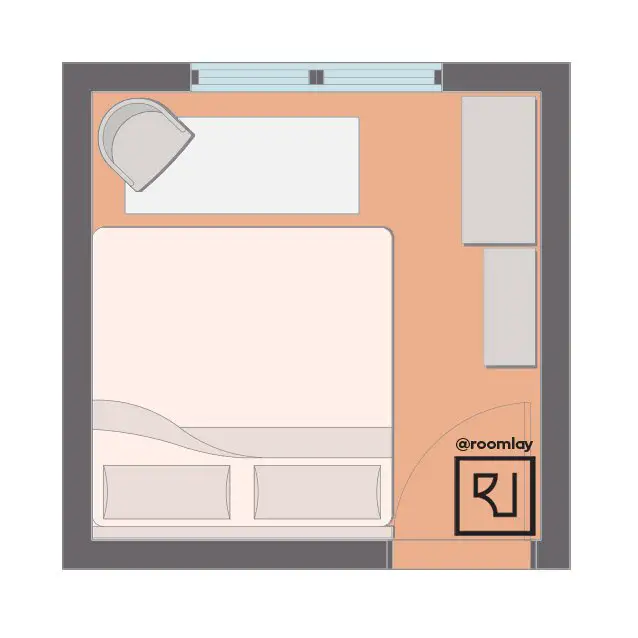 Since there is not enough place for larger furniture, you can place an armchair instead.
Don't try to shove in large furniture pieces because it can block your footpath and make the room congested with stuff.
Use wall shelves for your storage, a floating nightstand, or a shelf above your headboard instead of a nightstand.
With Twin-Size Bed
Below you can see three different floor plan options with a twin-sized bed. We tried to optimize space for teenagers or kids.
Layout #10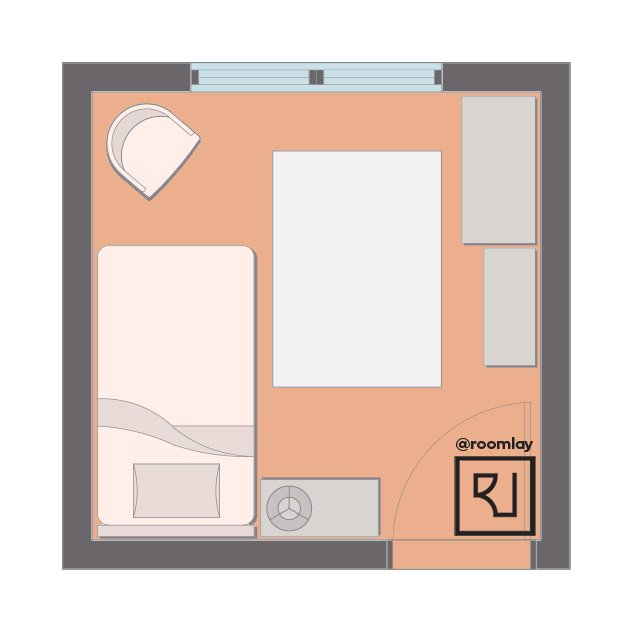 In this square-shaped bedroom layout, the bed is tucked up against the wall, as well as the drawers, closets, and a few furniture pieces.
This leaves the center of the room with an open space that can serve as an area for playtime.
Not having huge furniture beside or near the window is also a great design choice.
This will provide enough natural daylight throughout the room and prevent your kid from bumping into furniture edges while playing.
Layout #11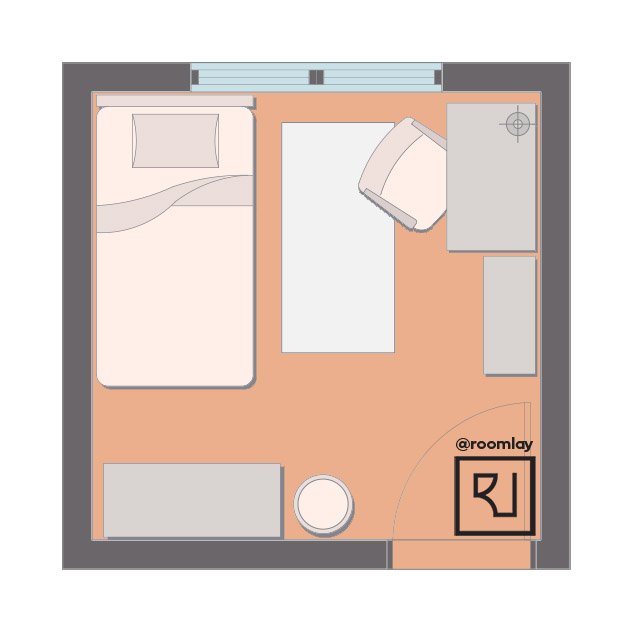 A 10×10 room is ideal for a kid or a teenager.
By pushing the bed against one side of the wall, more space is left for the study area.
Since kids can be messy in the bedroom, having enough closets, drawers, and storage spaces where they can keep their toys, books, and other belongings will help them keep their room organized.
A runner is placed on the open area between the bed and the desk which is a great space for playtime.
Nothing is blocking from the door footpath to the bed, which is a great design choice for a kid's room.
Layout #12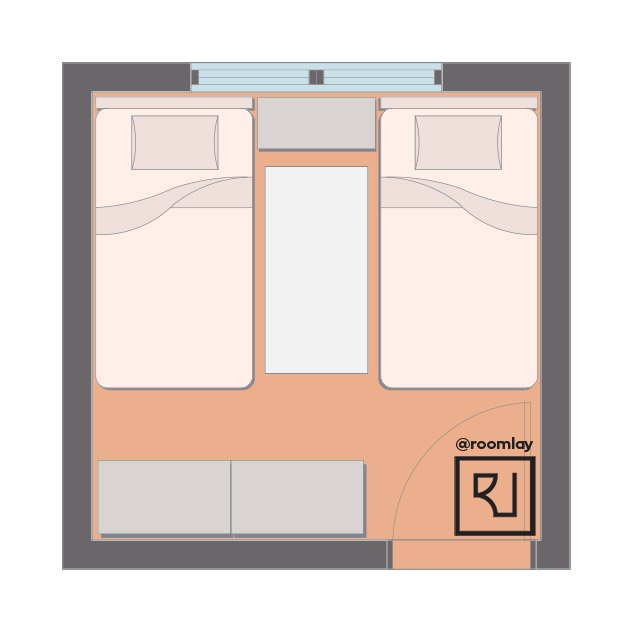 Who says you can't place two beds in a small bedroom? This layout perfectly fits two twin-sized beds, leaving just enough space at the center as an access route and can also double as a play area.
The table right below the window serves as a single nightstand for both beds.
To maximize the limited space, opt for a narrower closet or a low shelf for toy storage.
Conclusion:
You can decorate your own 10'x10' bedroom layout with the tips above. If you have similar samples such as 8×10, 9×10, 9×9, 11×10 sized rooms, it can be an inspiration for your bedroom layout too. If you need help with other rooms, you can check our floor plans archive.
Also check out these small furniture stores!