Working with a bedroom that has limited space does not mean you cannot create an appealing layout. You just have to know a few tips and tricks for arranging your furniture. Luckily, there are many ideas for creating the right bedroom layout. It is as simple as measuring your space to investing in multipurpose pieces.

To help you create a comfortable, functional bedroom, we are providing several bedroom layout samples, from small bedrooms to square bedrooms.

In addition to the layout samples, you can also check out our bed placement guide to find the best position for your bed.
How To Arrange Furniture In A Small Bedroom
Measure Your Space and Furniture
The first thing you want to do is measure everything from your overall space to your preferred furniture.
For your space, you want to measure every aspect from the windows and doors to the awkward angles and corners. You also want to get an understanding of your bedroom layout. Aspects such as your outlets, windows, doors and wall-size can impact your bedroom furniture arrangement. For example, you are going to need the areas closest to your outlets for your alarm clock, television or laptop desk, but you also want to ensure you are not blocking any doors or walkways.
As for your furniture, you want to start by making a list of which pieces you want to include in your bedroom. Then, you want to measure those pieces to ensure there is enough space for them. It is important to measure your furniture before you start moving the heavier pieces into your bedroom.
Read also: How Do You Create A Room Layout?
Keep Your Layout Simple
When learning how to arrange bedroom furniture in a smaller layout, it is best to keep your layout simple. Rather than filling it with excess pieces, choose a few pieces that fit your lifestyle, such as a comfortable chair for reading or putting on your shoes. As for your decor and accessories, stick to the pieces that make you feel good and forget anything that feels unnecessary. It is also best to limit your color and pattern varieties, as too many choices can feel overwhelming.
If there is any phrase to keep in mind when choosing your bedroom layout, furniture and decor, it is "less is more."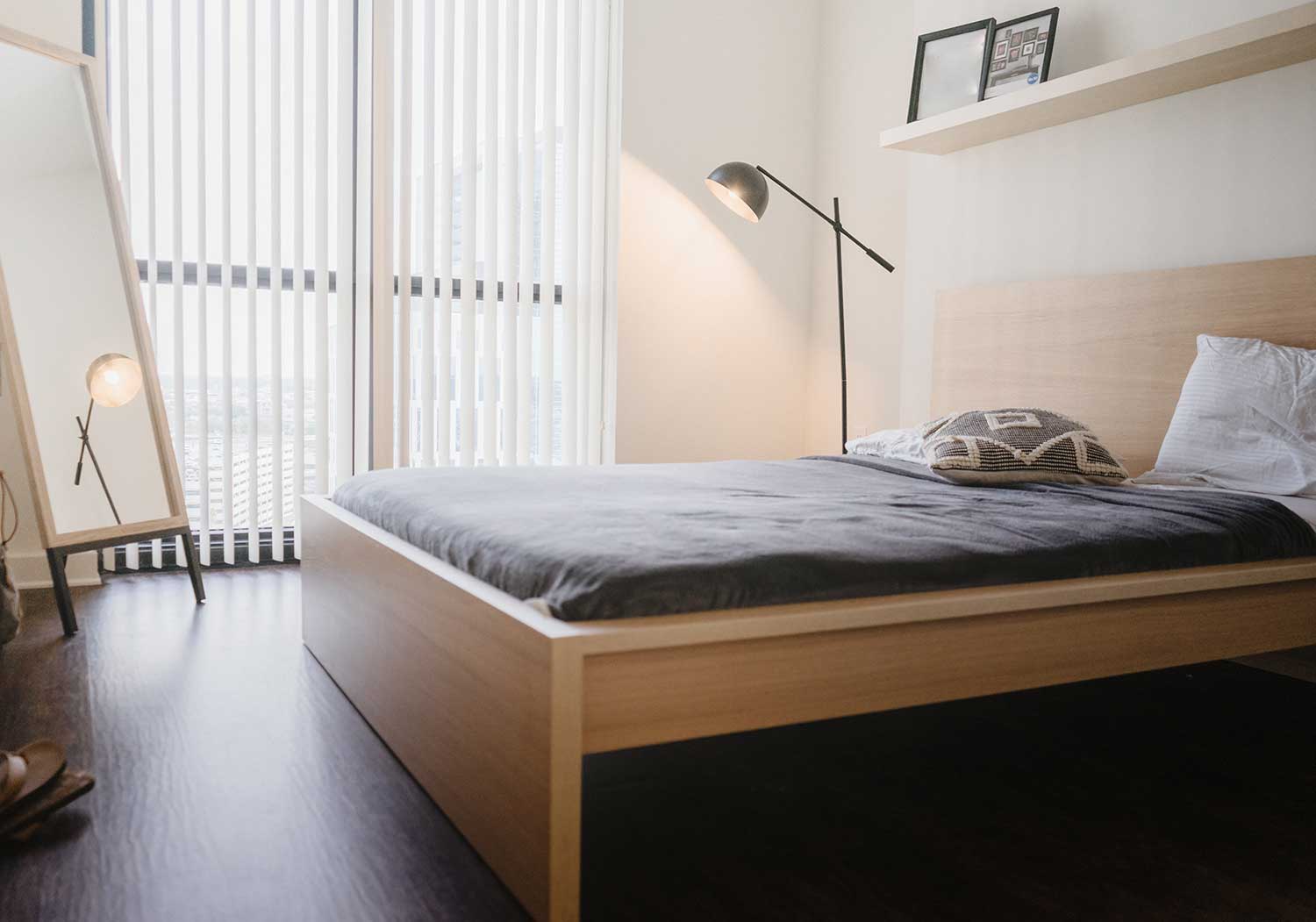 How To Make A Small Bedroom Feel Bigger
We also want to share a few tips on how to make your small bedroom look and feel bigger. It can be as simple as changing your storage solutions, or it can be as tricky as a mirrored reflection.
Embrace Vertical Storage
You are going to find that vertical storage goes a long way in a small bedroom. Not only are you creating more visual space by keeping the storage solutions off the floor and out of the way, but you are also creating more space without sacrificing the function of your bedroom.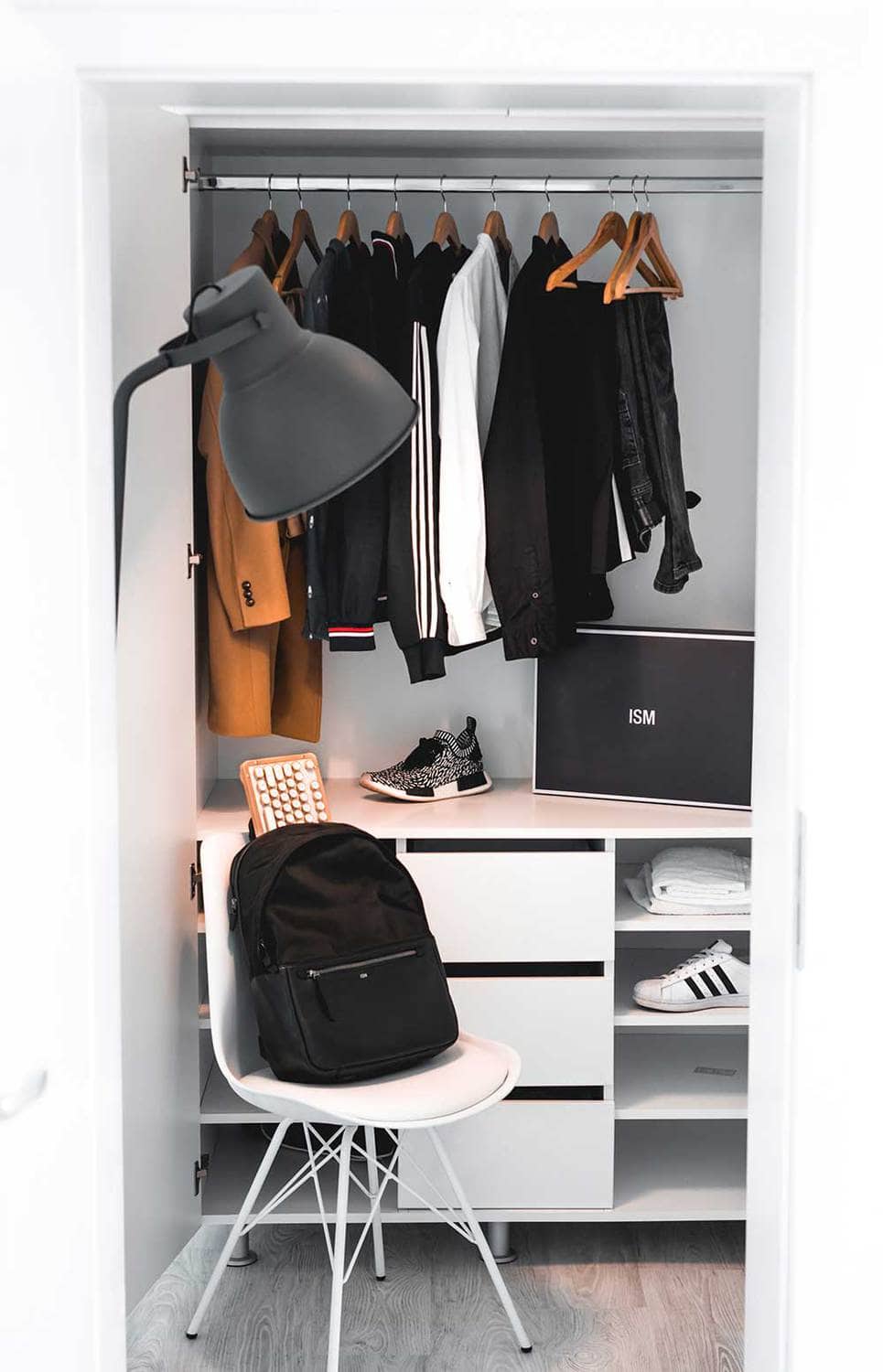 Examples of vertical storage include built-in or floating shelves for various items, as well as self-adhesive hooks for jackets, scarves, hats and jewelry. You can even hang the self-adhesive hooks on the side of your bookcase or dresser or inside your closet. There are also hanging organizers for clothes, shoes and small accessories, as well as over-the-door hangers. A bulletin board is perfect for your notes, reminders and appointments because it keeps everything in one place rather than scattered throughout your bedroom.
Reflect With Mirrors
If you are like many other homeowners, you probably use mirrors to make spaces such as your living room and bathroom feel bigger. The good news is you can use this trick in your bedroom as well. Mirrors reflect light to make your space feel brighter, plus it visually doubles the space to make it look wider or longer.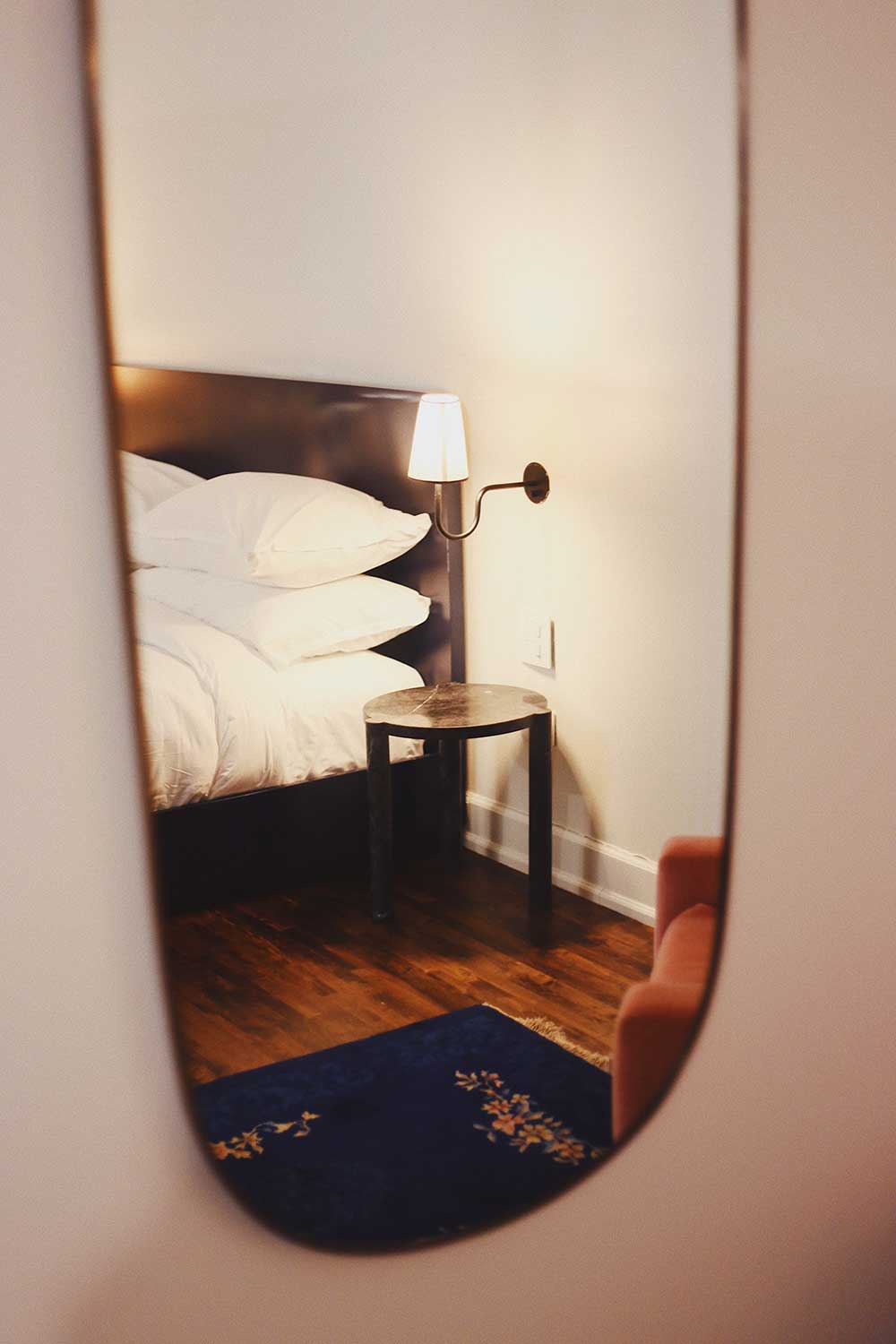 It is very easy to decorate your bedroom with mirrors, and if you want, you can do so in a subtle way. One idea is to hang a mirror above your vanity or dressing area, which allows you to choose between one large mirror or a group of smaller mirrors. Of course, you want to ensure the group of mirrors does not feel cluttered or overwhelming.
Read also: 23 Aesthetic Bedroom Ideas
Another idea is to place a long mirror on your interior bedroom door or exterior closet door. What can be used as a place to check your appearance also makes your bedroom layout feel bigger.
Ideas For Your Small Bedroom Furniture Arrangement and Layout
Now that you have learned a few tips and tricks for your small bedroom furniture arrangement and layout, it is time to learn a few ideas to get your project off the ground.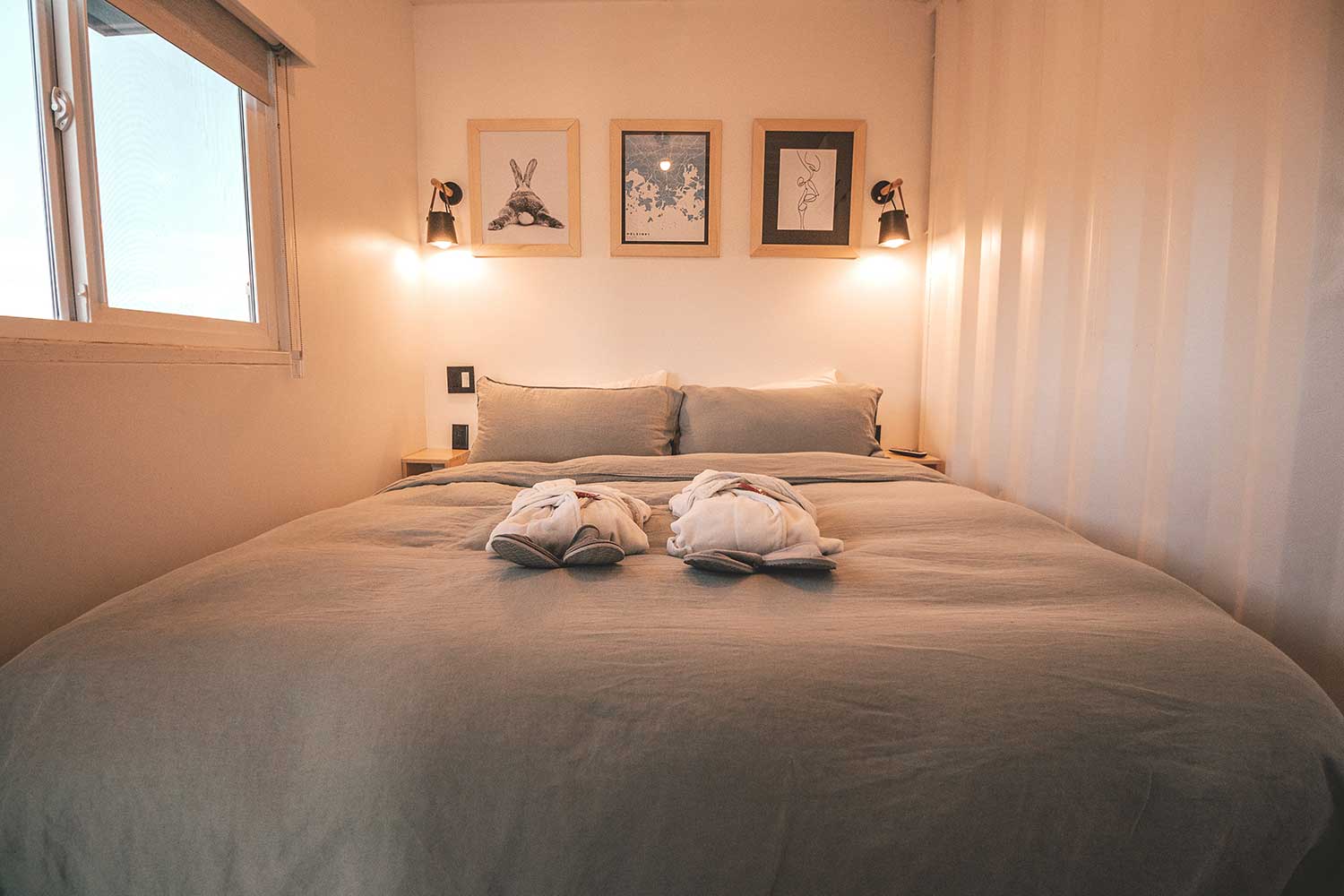 Use Appropriately-Sized Furniture
You have already taken measurements of your space and furniture, now you need to use those measurements to choose appropriately-sized furniture for your bedroom. The last thing you want to do is choose pieces that do not fit in your space, such as a bulky wardrobe or executive desk that makes it harder to move around the room. Luckily, you can find plenty of pieces that work for a smaller bedroom, such as a narrow wardrobe for your business attire or a smaller desk for your laptop.
Consider Multipurpose Pieces
You can also look into multipurpose pieces to save space without sacrificing function. A bed with underneath drawers can be used for pajamas or other nighttime essentials, while a storage ottoman can be used as seating for putting on your shoes and storage for your extra blankets. One idea is to look into a loft bed with a built-in workspace and wardrobe.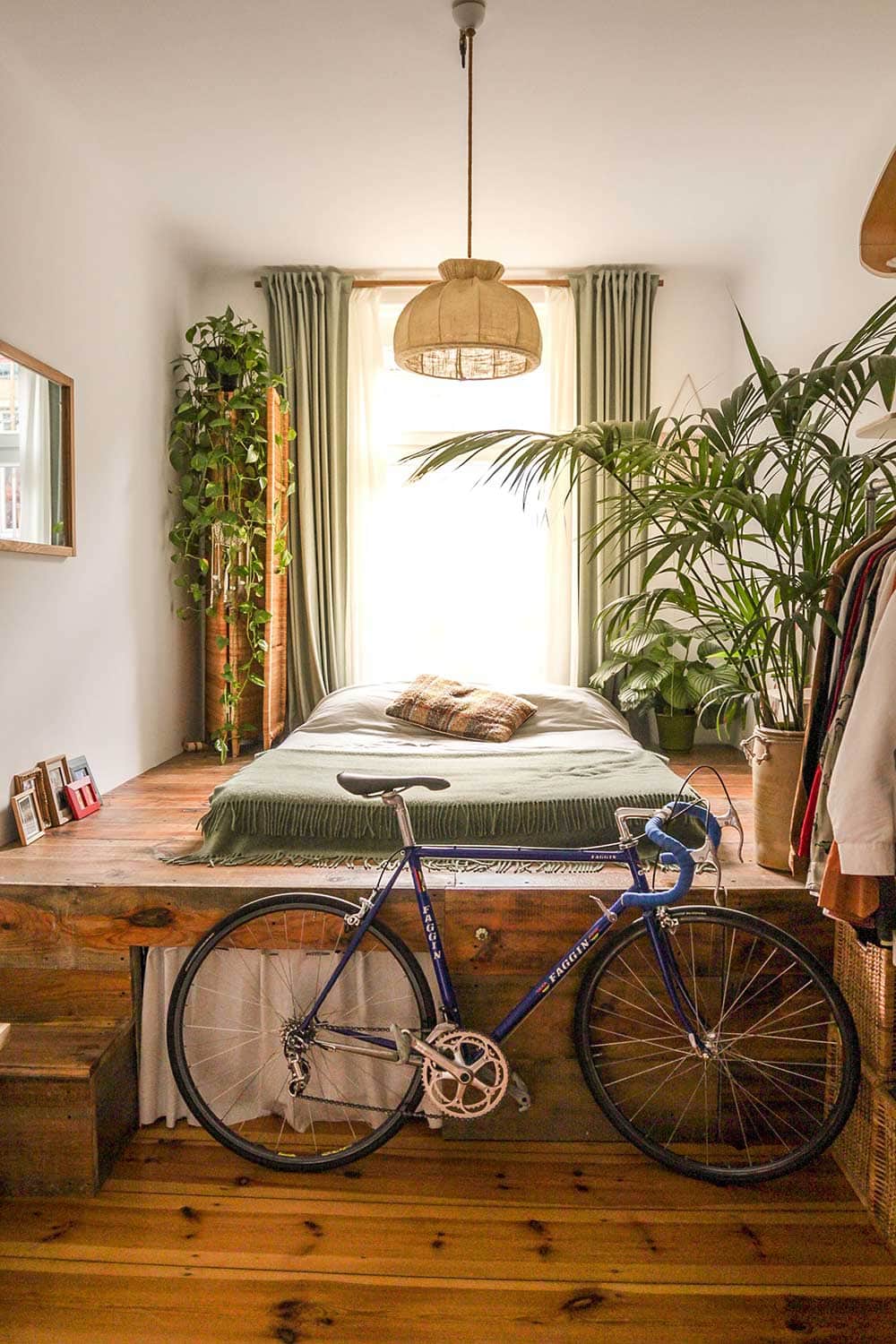 Arranging Your Bed
When it is time to arrange your furniture, you can start with your bed, as it is the most important piece in your bedroom. There are several arrangements that work for your bed, which are as follow:
Center of the wall, across from the door.
Along the longest wall of the room.
Along a wall; off-center.
Between two windows.
Regardless of which arrangement you choose, there should be enough space to easily and safely get in and out of bed. You should also avoid blocking the natural light with the headboard or footboard.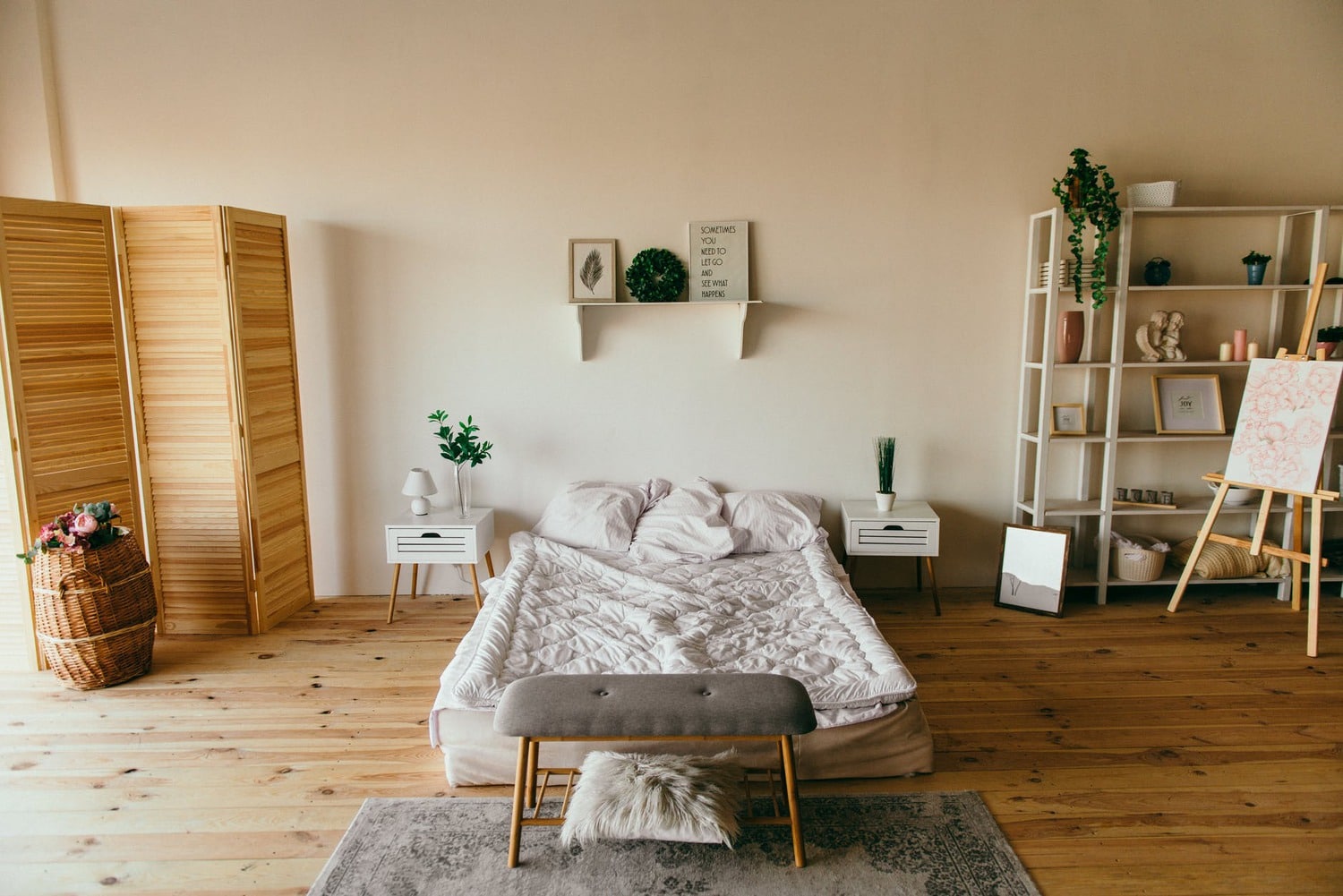 Arranging Your Dresser
The next piece you are going to arrange is your dresser, and you can choose a wide or tall dresser, depending on your space. Here are a few ideas for arranging your dresser:
Across from the bed to create a sense of balance.
If there is a TV in your bedroom, place it on top of your dresser.
If you would rather read, place your books on top of your dresser.
Place your dresser under your window.
Save space by placing your dresser inside a large closet.
Of course, your dresser should be placed across from your bed if you are using it for watching television or reading.
Arranging Your Nightstands
Of course, your nightstands should be on each side of the bed. This way, it is easier to reach your essentials. Nightstands come in a range of shapes and sizes to fit your space, but it should come up to the height of your mattress for easy access. If need be, you can downsize to just one nightstand to fit your bedroom layout.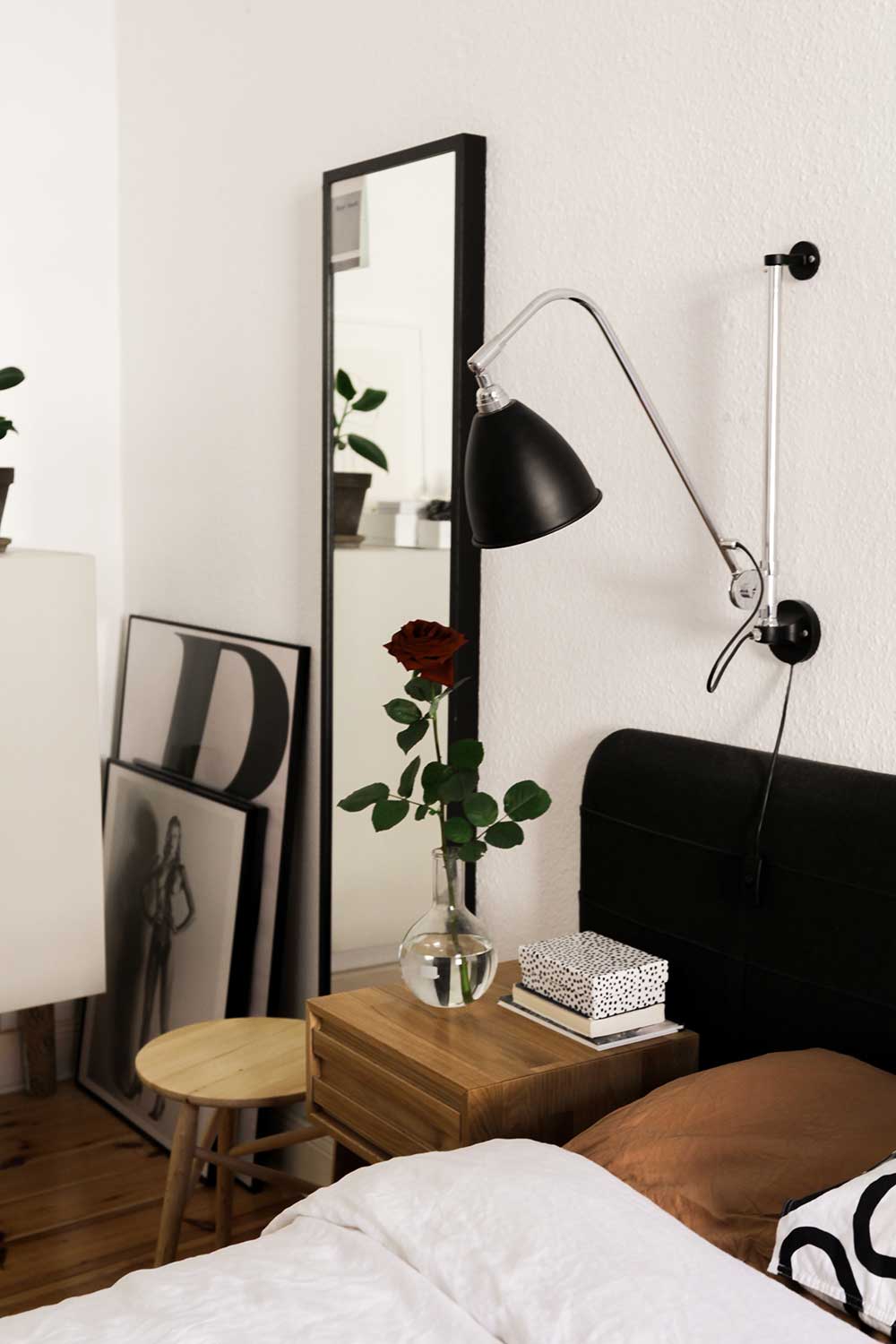 Arranging Your Lamps
While you want to ensure there is plenty of natural light in your bedroom, you should still add artificial lighting as well. Place your lamps in spaces for reading, dressing, working or watching television, and consider wall-mounted sconces or ceiling lights. It is best to avoid bulbs that are too bright in some spaces because you do not want your lighting to keep you from relaxing.
If you are looking to create the right bedroom furniture arrangement and layout, the above guide can help your project go smoothly.
Read also: Ideas for Small Living Room with Furniture Arrangement Tips