There is something about a Mid-Century modern style that adds a warm, cozy vibe, with a touch of elegance, to your home. Why not create this warm, elegant vibe in your aesthetic bedroom? After all, it is the place you relax after a long day. The best part is it is not difficult to create a Mid-Century modern design in your square bedroom layout. Use the following guide to choose the furniture, decor and layout of your Mid-Century modern bedroom.
How To Decorate A Bedroom In A Mid-Century Modern Style?
Choosing Your Mid-Century Modern Layout
We offer a six square bedroom layout samples for creating a Mid-Century modern space.
One example is a layout that features a bedroom with a door on the right side and the bed on the center-left side, with a nightstand on each side of the bed. At the foot of the bed is your wooden bench. A large area rug is underneath the bed, and your chair and greenery are in the corner across from the door. The dresser and cabinet are next to the door with the basket in between them to keep most of your storage solutions together.
Another layout features the door in the center with the bed on the left-center side of the door. You can place a nightstand on each side of the bed, with a houseplant between a nightstand and wall. Near the wall across from the bed are your dresser, basket and cabinetry, as well as the chair and another houseplant in the far right corner. You can place your wooden bench to the left of the door.
Choosing Your Mid-Century Modern Furniture
Start by choosing the furniture and decor for your Mid-Century modern bedroom. You can find several beautiful pieces that fit the style on our furniture mood board.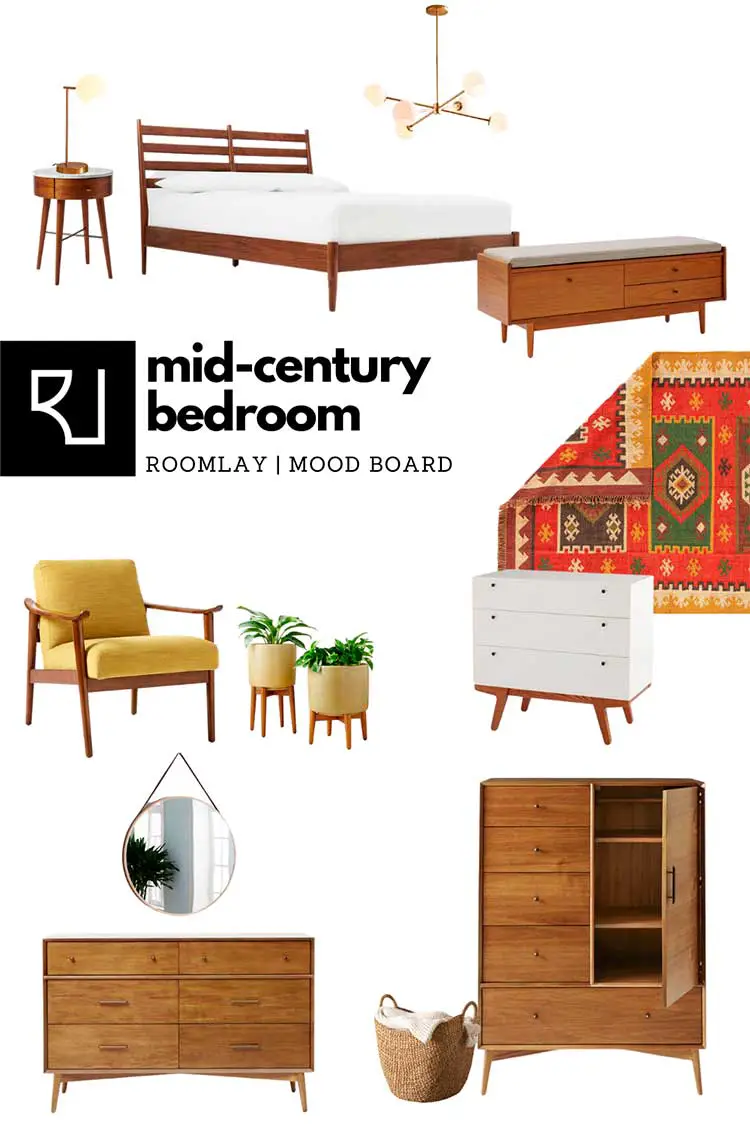 Wooden Furniture
Wooden furniture is a big part of the Mid-Century modern design, and your bedroom is no exception. Imagine a wooden bed frame with white bedding, as well as a wooden bench with a white cushion at the foot of the bed. A round wooden nightstand can be placed next to the bed, and you can also add in a wooden dresser. You can even add in a wooden chair with brightly-colored upholstery to create a fun but comfortable piece. Use a wooden cabinet for additional storage, as well as a white wooden dresser for extra accessories or linen.
Wicker Basket
A wicker basket is a small, simple accessory that can enhance your Mid-Century modern design. Just like your wooden furniture, a wicker basket can add a touch of nature and warmth to your bedroom. You can use it as a laundry basket, or designate it to accessories or extra linen. Another idea is to place a faux houseplant inside it to add some greenery without damaging the basket itself. You are going to find that most of our square bedroom layouts feature just one basket, but you can always add in a second basket if you need another storage solution.
Decorative Pieces
There are a few pieces that can add a bit of decor to your space, and you do not have to worry about taking up a lot of space in a square bedroom layout. Start with greenery in a light-colored planter on a wooden plant stand. You can also add in a splash of color with a multicolored area rug. Finish it off with your table lamp and hanging pendant, which are also wood-toned pieces that flow with your Mid-Century modern space.
If you want to create a warm, cozy Mid-Century modern bedroom, be sure to keep the above furniture, tips and ideas in mind.