You are going to spend a lot of time in your home office, so of course, it should be a room that you enjoy using for several hours a day. One idea is to decorate your home office in a boho style. This way, you are spending time in a unique but relaxing space, which may help to increase your productivity. Use the following tips and ideas to create your own boho home office.
Home Office Floor Plans
We offer eight illustrated home office layouts for square and rectangular spaces. The square spaces measure at 10×10 feet, while the rectangular spaces measure at 12×16 feet.
Square Home Office Layout #1
The first square layout features a desk and chair facing the wooden wall shelf on the side. On the other side of your desk is a wooden chair that is facing the door, and near the door is your wooden ladder shelf. You can find an area rug under your desk and chairs, with greenery behind and in front of your rug.
Square Home Office Layout #2
In the second square layout, your desk and chair are facing the front, and they are sitting on top of an area rug. However, the door is off to the side instead of in line with your furniture. Instead of a chair, a couch is found on the other side of the desk. Your greenery is next to your desk and chair, and a wooden ladder shelf is next to the door.
Rectangular Home Office Layout #1
A rectangular layout gives you more space to work with, and the first layout features a desk and chair facing the wall shelf near the door. Your ladder shelf is behind your desk chair. A guest chair is found on the other side of the desk, next to your greenery. On the other side of the office are your couch, coffee table, stool and wicker pouf, which all sits on an area rug.
Rectangular Home Office Layout #2
The second rectangular layout features your desk, chair and guest chair in the same layout as the previous rectangular sample. However, the greenery and wall shelf are behind your desk chair, while the ladder shelf and more greenery are in front of your desk. On the other side of the office, you can find a couch, coffee table and stool facing the door, with the coffee table and stool on an area rug in front of the couch.
How Do You Start Decorating A Boho Home Office?
Basic Home Office Tips
Before you start investing in your boho furniture and decor, you want to learn how to set up your home office floor plan. Here are a few things to consider for your home office:
How much space is needed behind my desk?
You need at least 23 inches for a modest-sized chair and 30 inches for a larger chair.
Should my office desk face the door or window?
You do not want a desk that is directly in line with the door, nor do you want to place it where you are directly facing the window. This way, you are not feeling irritated by the energy coming from outside the office, nor are you distracted by the view outside.
Should I sit with my back to the door?
While you do not want to be directly in line with the door, you can still place your desk in a spot to where you have a view of it. You may feel stressed if you are looking at the wall all day.
Also read: Mid-Century Home Office Design with Feng Shui
Boho Inspired Pieces
We offer a furniture mood board to help you determine which pieces you need for your boho home office. The following list is just a few of the pieces to consider for your space: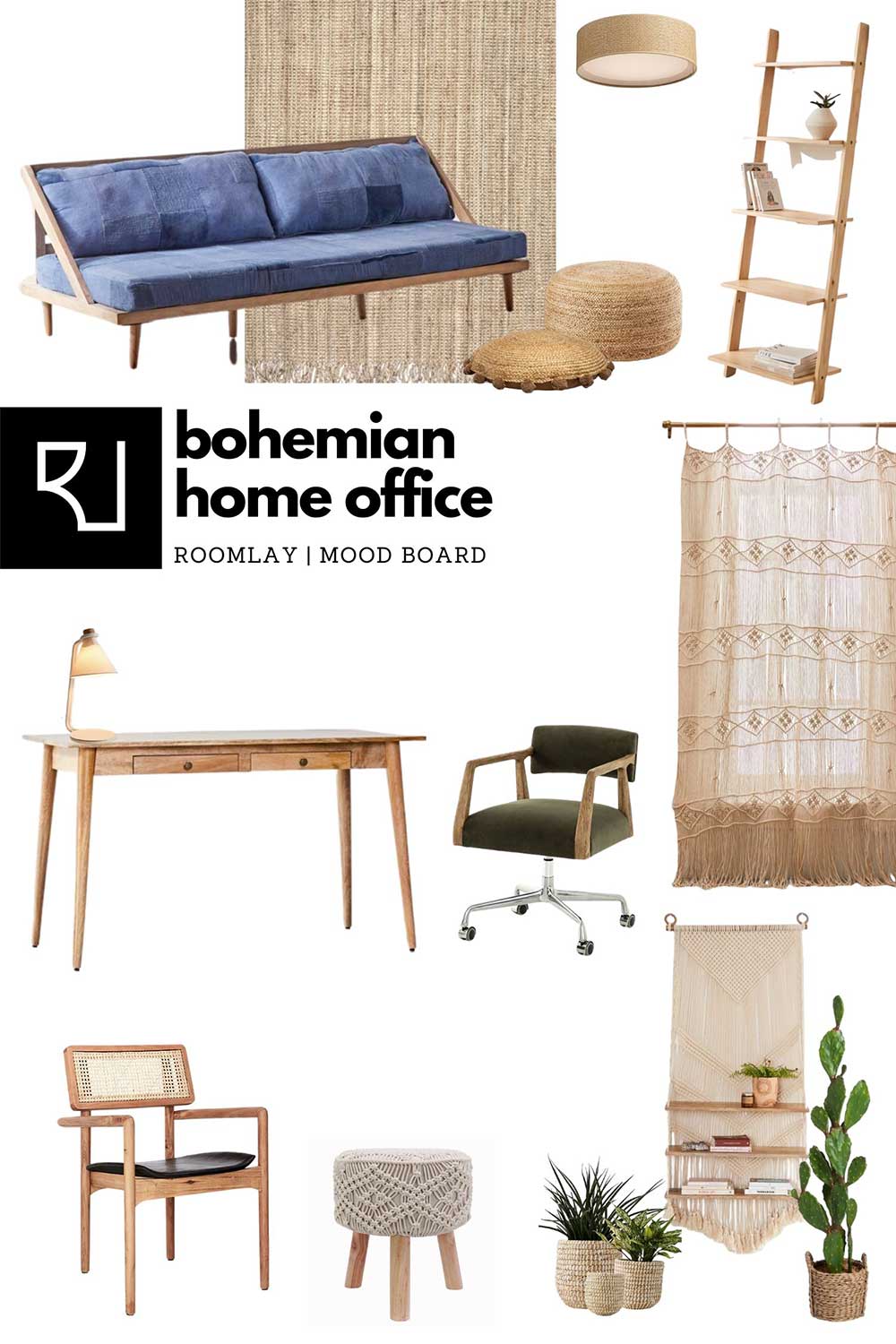 Couch | Jute Rug | Jute Pouf | Floor Pillow | Drum Light | Bookshelf | Desk | Desk Chair | Macramé Curtain | Armchair | Stool | Basket Planter | Macramé Wall Shelf | Wicker Basket
Desk with Lamp
Upholstered Office Chair
Wooden Ladder Shelf
Wooden Wall Shelf
Hanging Tapestries
Wood and Dark-Colored Cushioned Couch
Wooden Chair with Upholstered Foot Stool
Wicker Baskets, Poufs and Hanging Pendants
Greenery
Some of these pieces are in place for your comfort or your clients, such as the couch and wooden chair.
Also read: Creating A Small Boho Bedroom In A 10′ × 12′ Space
You can create a boho home office that makes every workday a great experience by keeping the above tips and ideas in mind.