Room layout is the making or breaking point of your home! Yes, either you are designing a new house or renovating your old one, room layout is something like the backbone of your house. 
You have to be very careful while designing and must avoid common mistakes that seem to be minor but impact your layout.
Wait! Are you following the rules while drafting and planning your room layout? If no, take a moment and go through all about room layout!
Let's start our guide!
Here comes the first thing on how to create a room layout? So, let me tell you it is all about your room looks, what space and dimensions it should have, the style you are following, and either your furniture is wisely placed without causing any disturbance. The unique layout adds beauty to the entire house!
How to Design a Room Layout?
A room is a place where you relax, work, store daily use stuff, have a fun time with friends, and serve your guests. You need to keep all the aspects of your mind while designing so that you can take the best possible benefits.
Here is how you can design your room.
Manage a Seating Arrangement
In the living or guest room, where you serve guests and spend time while chatting, you must place a big sized sofa with cushions. Place the center square table to have some coffee or snacks. You may also put some classy chairs or a bench to get a more modern sitting look. 
If you have to manage seating arrangement in an apartment or a small space, a corner L shaped sofa would be best for you. Comfortable armchairs give the best option for reading and conversation. You can also arrange these chairs in your bedroom or home office and enjoy your time. 
Also read: Ideas for Small Living Room with Furniture Arrangement Tips
Best Floor Plan
A nicely styled room with an odd floor plan will ruin your efforts. It is also worth wondering. Keep your floor compatible with the room look. Neither make it too dark nor make it vague. A rug adds neat, classical, and well-managed looks to the room. Give it a try!
Mostly light-colored rugs suit in the living room, but it is not the rule of thumb. You can match it with your theme or overall layout. When you have placed rug, arrange your sofas, table, and chairs so that the front legs of chairs and sofas should be on it. It will show proper harmony.
Plan your beautiful home floor, room layout, elevations, and interior designing with this Century House Designs book.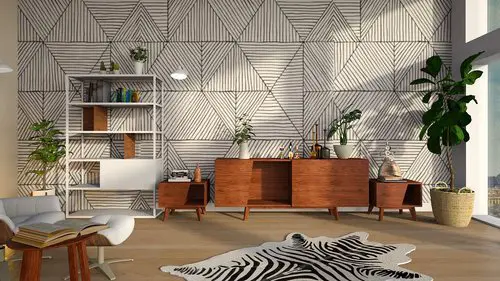 Wall Decoration
When you are done with all seating and floor plan, don't forget to hang beautiful wall frames or artwork.
If its kids' room, you can place funky and eye-catching wall arrangements like their favorite cartoon pictures, but in living or open space, a wall gallery or a wall painting will look more stylish.
Space for Cupboards and Storage
Designing a stylish room doesn't mean that you will not find a place to store anything. There are many storage options. You can either make a cupboard in your room or place a beautiful wooden storage desk with drawers that will give you more space.
6 Common Room Layout Mistakes You Must Know
Most people make big mistakes when designing, but what are some common mistakes made when creating a room layout?
You should be creative enough to avoid these mistakes for your dream layout. 
Here we have figured out the most common ones to save you:
Lighting System
Proper lighting brightens up the mood. Many people consider only center chandelier, but you have to create your lighting arrangement as per your need. Like, side table lamps in the bedroom not only suit but also help you find anything from a drawer at night.
No Mismatch, Please!
The most common mistake people do is they mismatch their lifestyle like make guest rooms on one floor and washroom at the other. It is quite odd! Try to avoid it.
Walking Disturbance
While making the seating arrangement, you have to consider the walking area so that it may neither disturb guests nor a walking person.
Sofa Arrangement Mistake
A sofa set beside the wall in a large living area doesn't suit either. If you have enough space, try to place it in the center rather than pushing with the wall. For a small space, you can go with it.
Wall Decoration Mistake
If you have a bulk of photos that you want to exhibit, you should go for a gallery arrangement or a collage rather than disorganizing them.
Plants Placement
Plants give the best atmosphere whether you place in your living or the bedroom. There is a thing you must not miss that one big plant in the corner looks most suitable than many randomly placed small pots. 
Room Layout Rules: 4 Best and Workable Rules
After finding your dream home, when comes its styling and furnishing, and there are some rules you have to follow. By working on it, you will get a more attractive space with all your desires fulfilled.
Have a look at the rules that need to be considered for the best room layout;
Keep the focal point of your area, and do not damage its integrity. A big TV screen at the corner of the room will disturb your focal point, and you will also miss the taste of your favorite series. 
Harmony is the key! Try to live the harmony of your house. İmproper and unmatched things will lose the attraction of your place. 
Do not overload your room with heavy furniture and try to keep it simple and elegant. 
Add natural architectural elements in your house. Keep windows in the room, fireplace in the living to enjoy the cozy atmosphere to the fullest. 
For more inspiration, you can take a look at the room layouts we have prepared.