Many factors can affect work productivity and quality work results. One of these is the home office layout. Furniture placements, paint color, natural light, ventilation, and other design features in a home office contributes to your overall work performance and outcome way more than you think. The way you set up your workspace matters whether you have a dedicated room as an office or a little corner in your house. Furniture layout directs the flow and movement while design evokes a certain mood.
If you are thinking of re-configuring your home office floor plan or setting up an open workspace, the first thing that you should keep in mind is the space. Is it big enough? Is it too small?
The rule of thumb when it comes to home office spaces is to follow the Goldilocks zone principle. Space shouldn't be too big, or else you will find it hard to navigate through your stuff. It also shouldn't be too small so as not to feel cramped and overpowered by work exhaustion. It should be just right.
We created a rectangular layout with dimensions 12'×16′ (360cm x 500cm), and a square small home office layout with dimensions 10'×10′ (300cm x 300cm).
Shown below are seven examples of home office floorplans with these dimensions that you can use as a guide to effectively set up a home office that will surely increase your work productivity rate.
Conventional Rectangular Layout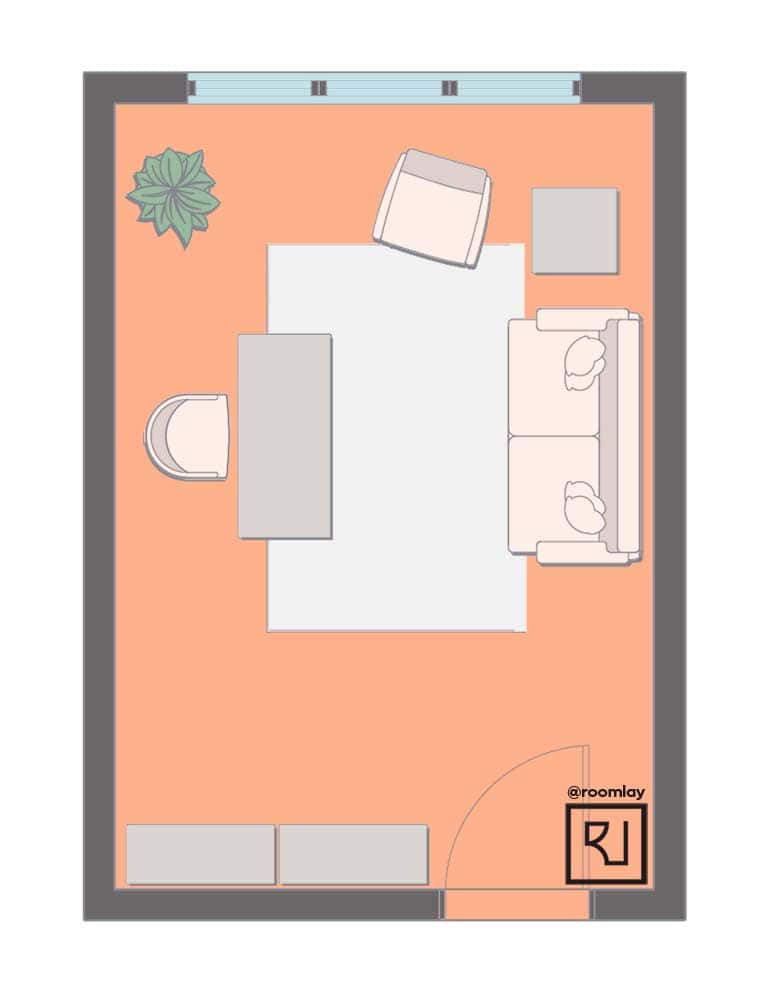 Most offices have this kind of layout. The desk is situated in a position facing the sofa or lounge where your guests can sit.
This type of arrangement evokes openness and collaboration and is effective when the work you do involves many discussions and dealings.
From the desk point of view, the window is on the far left, which allows just the right amount of natural light into the room.
Rectangular Open Plan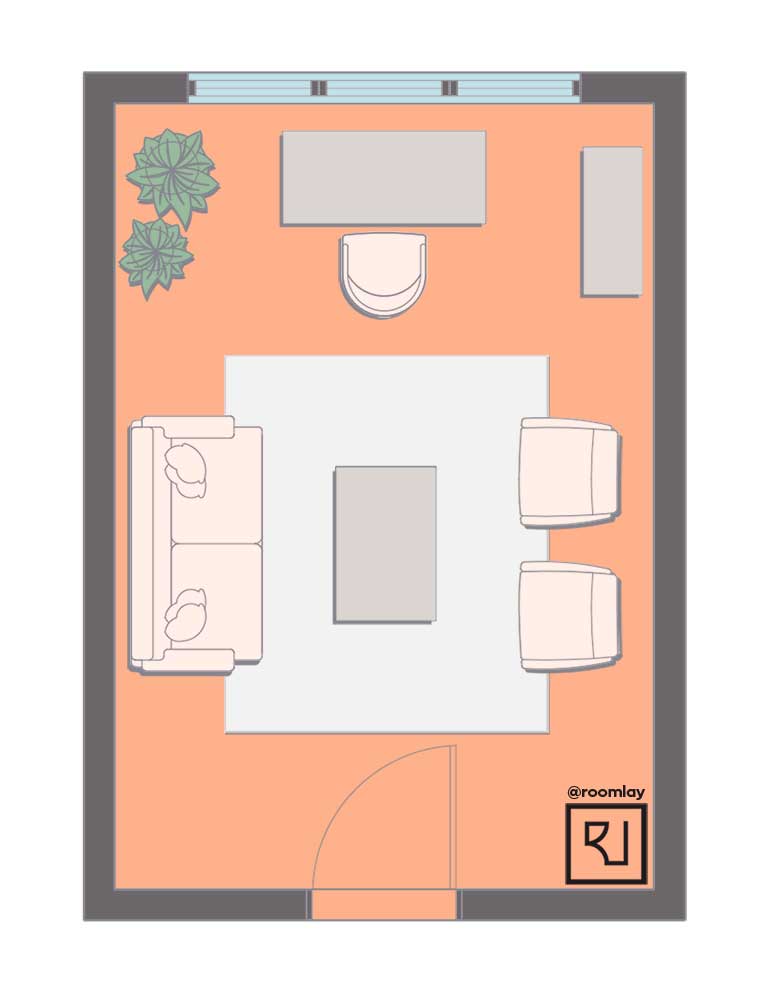 The layout of your office would most likely depend on the kind of work that you do. This rectangular open plan is different from the common floor plans you see, but it serves a certain function. When you enter the office, you see a lounge or a receiving area.
This plan is perfect for tasks that would require constant teamwork. It encourages transparency, trust, and rapport among colleagues. This type of plan also works in the function of a study room for the kids.
The desk is facing directly towards the window where natural light casts over the main working area. If you are an artist or a writer who loves to gaze out the window while you think of ideas, this desk placement is right for you.
Conventional Small Squared Layout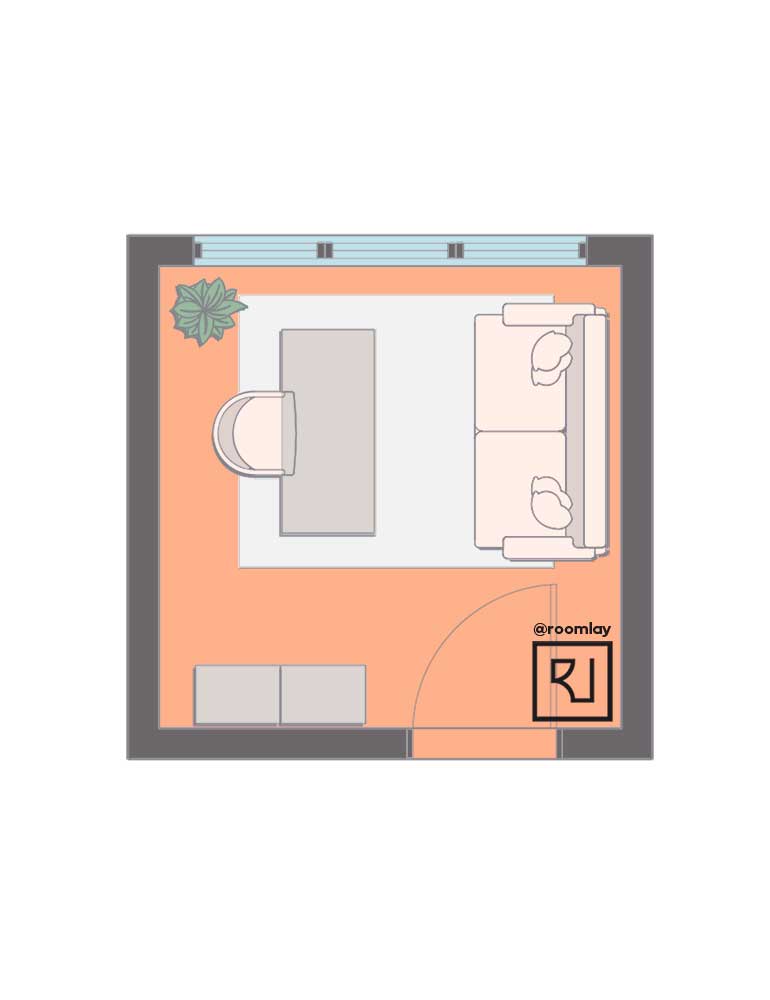 You should opt for a squared layout if your designated office space is small. This small discrepancy can affect the overall layout and function of the room. The plan itself speaks proportion and attentiveness.
A square room expresses symmetry, which is the right to create balance and establish order with furniture and décor placements.
This example of a floor plan below has the same layout as the rectangular plan except that the desk is moved a little more to the left, thus allowing more space to its right for easy access and navigation.
Also read: Eclectic Home Office Design Ideas with 8 Illustrated Home Office Layouts
Corporate Office Plan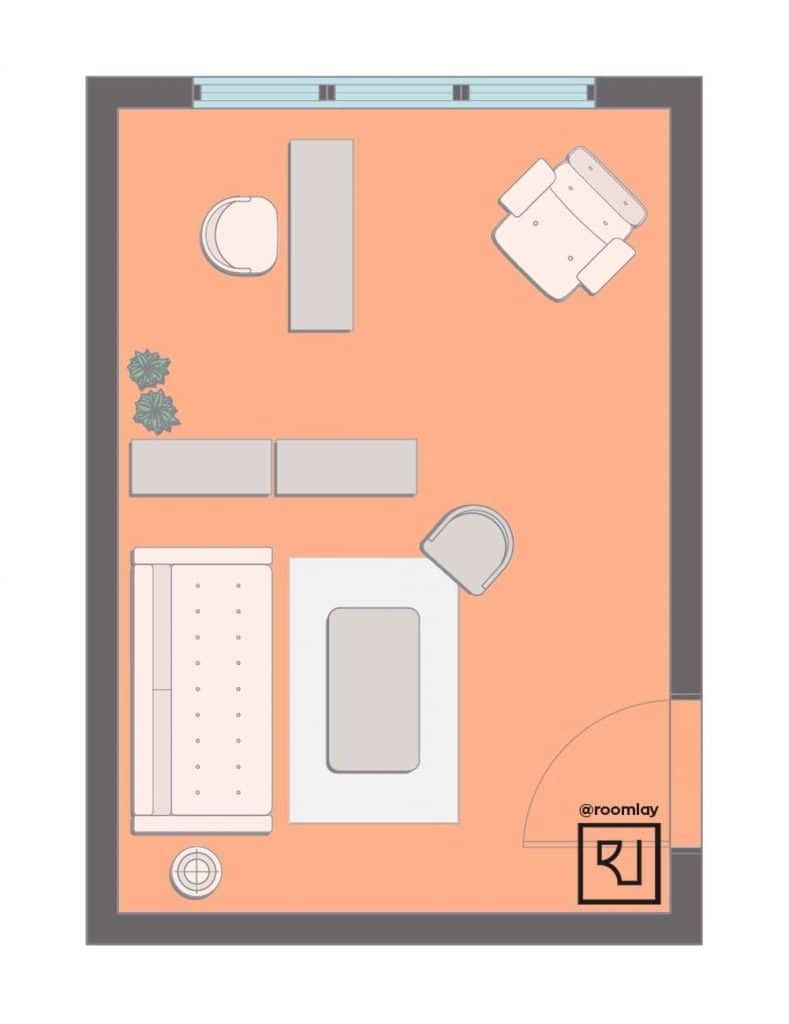 With the shift of business strategies from traditional to contemporary, which focuses more on creative collaboration and innovation. This type of layout effectively serves its purpose.
This rectangular layout has a lounge area where your clients can sit or where you can spend time brainstorming ideas with your colleagues. This setting encourages communication and allows people to connect, share, and experience being part of a team with the same goal. The partition between the lounge and the desk creates a balance between working with a group or individual study.
Convivial Layout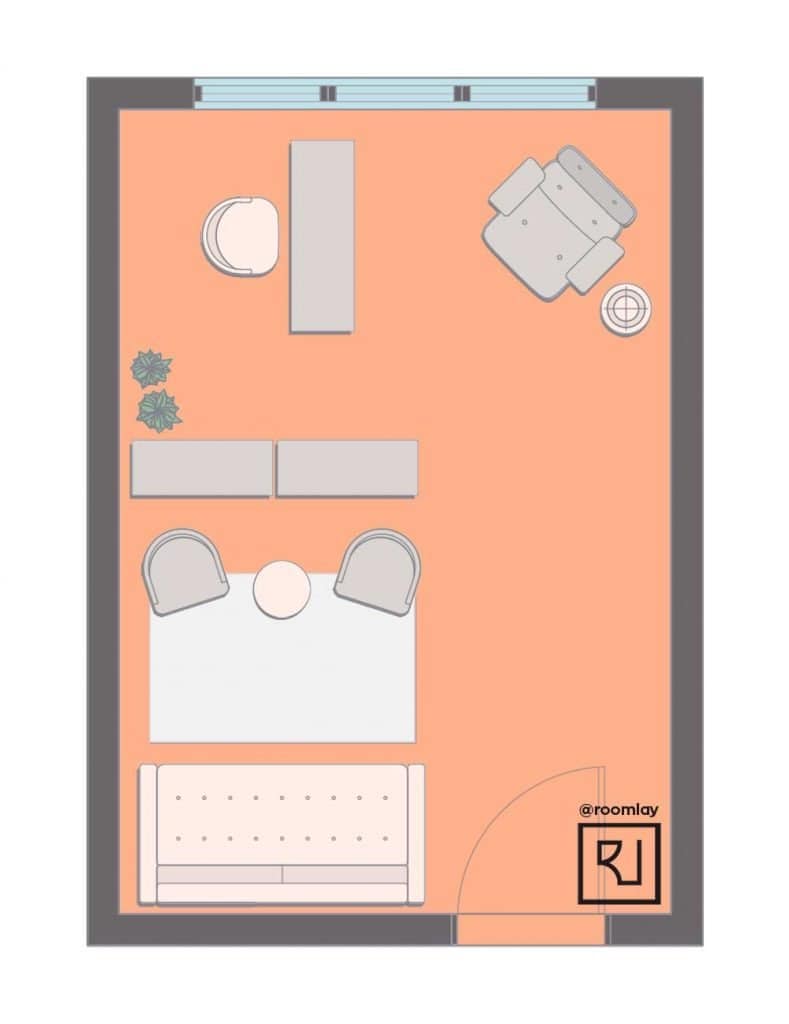 This rectangular layout creates a clear line between individual work and teamwork.
When you enter the door, the first thing that will greet you is a lounge that induces a welcoming vibe signifying that your office is friendly and designed specifically to cater to guests or clients.
The main desk cannot be seen directly from the main door and is separated from the lounge with shelves as a partition. This design conjures your value for privacy.
This layout allows you to multitask between receiving guests and getting some paper-works done without unnecessary interruptions.
Sleek and Straightforward Layout
If your home office's main purpose is to receive clients and discuss business, this type of plan would be perfect.
The layout is simple and straightforward. The desk is the first thing you see when you open the door, which directs your clients subconsciously to their purpose of visit.
Also read: Boho Home Office Design with 8 Illustrated Home Office Floor Plans
Flexible Open-Plan Layout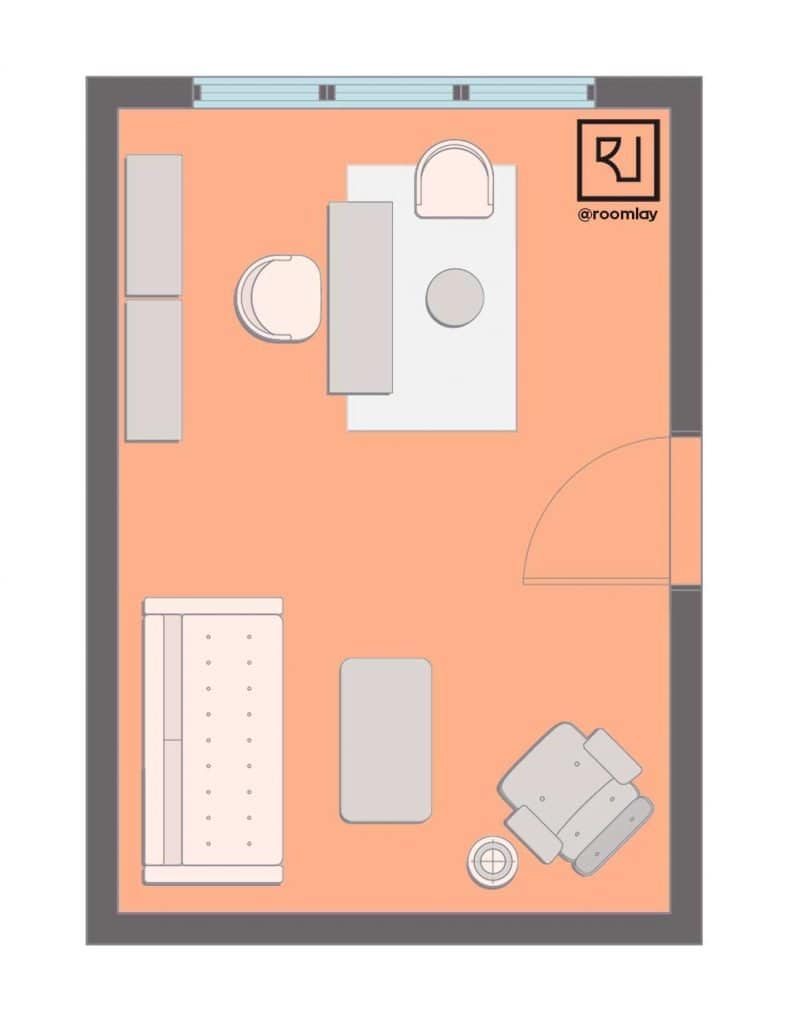 Working with diverse individuals helps a business find a creative and effective solution to a problem. One way to enhance teamwork is through the workspace's layout, where they spend their time forming ideas and coming up with solutions.
This particular plan is considered conducive to tasks that would require group effort. The plan is an open layout. There is no partition between the desk and the lounge, which gives off more space for movement. It allows a swift transition between different tasks making the office a hub for communication among coworkers.
Additionally, offices with open plans are more flexible. You can find plenty of ways to configure the space depending on what works for you best. You can work openly; thus, improving the relationship and trust between you and your client, workmates, or even your family.
Also read: Mid-Century Home Office Design with Feng Shui
You can create your home office layout by keeping our tips, ideas, and illustrated floor plans in mind.