Mid-century modern homes give the cozy corner to relax with classic looks and modern style. This evergreen style is evolving every day from mid of the 1930s with unique trends.
Mid-century modern design is a kind of style that equally allows traditional wood and non-traditional materials i.e., glass, plastic to exhibit the beauty of the modern design.
If you are also planning for mid-century modern interior design, this guide is for you that has all for the living room, bedroom, and home office mid-century style. Let real wood make a central stage to your mid-century modern home with antique décor and classic canvas.
What is Mid-Century Modern Style?
Mid-century modern design is well recognized for its juxtaposing lines with geometric patterns, organic shapes, and new materials that are not going to be outdated. It is back rooted in the 1930s with deep American, Danish, French and Italian influence. 2020 is the era for this style to make it more flourishing and modern.
Interiorly decorated modern homes with the mid-century approach are mostly designed with flat roofs that have regular and rigorous geometric lines. Large windows and sliding glass doors allow light to reflect at different angles and make rooms brighter and more spacious.
There is a huge difference between mid-century and mid-century modern design. Modern designs are all about the glorified passed while contemporary designs reflect the present and future.
Where to Buy Mid-Century Modern Furniture Online
Coming towards furniture, wood is the king of all. As today is the age of engineered wood furniture. But the mid-century modern interior design gives you the best chance to use your vintage wood furniture.
Here is the list of some online retailers to get great pieces of mid-century modern furniture;
How Can You Decorate Your Home Mid-Century Modern?
It is time for you to observe the things you have and what you need to buy to make your home mid-century modern. It is not an expensive task to accomplish as this style allows ornamentation of all materials, antiques, plus modern.
First and foremost, the color scheme is the key of house looks. You must be clear in the color selection as they are the making and breaking point of home decoration.
Blunt orange and brown are the colors of mid-century modern styling with vibrant looks. Gray and chartreuse with white walls also add chic to the design. You can pick your favorite color scheme.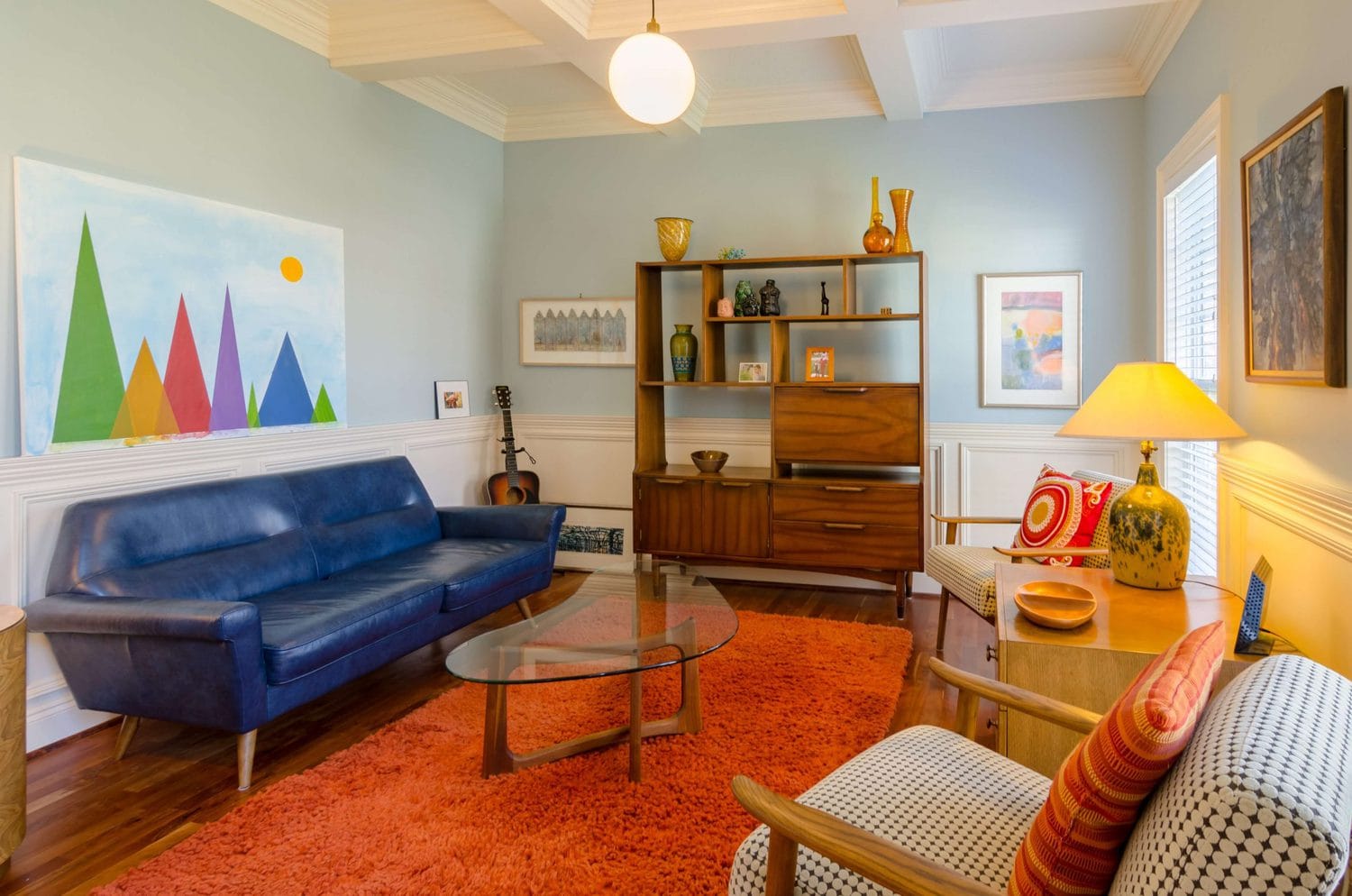 Living Room Decoration in Mid-Century Modern Style
The style and decoration of the living room must be consciously designed as it is the place where you relax, meet and greet with your friends. Natural wood with bold color furniture designs is great. Besides, the central fireplace in the living room brings character to the modern home.
The best thing about mid-century modern style is that it is free of any matching restriction.
Sofas must not be patterned, but you can choose a patterned cushion to add artistic effect. You can also set your grandmother's sofa set or table even they look more graceful in mid-century homes. Velvet curtains also add a royal touch.
Mid-Century Modern Bedroom Style
Your bedroom must be designed to get a bright cozier place. The mid-century walls covered in white paint allow high-quality furnishing to take center stage and white paint let the room show off its grace.
Antiques, wall art, and oversized mirror frames style the bedrooms elegantly and keeping its functionality. Large graphic oil on canvas or mirror is a must-have accessory in the mid-century bedroom as properly placed mirror brighten up space and make it spacious.
Wallpapers and wall galleries have also made a broad range of choices for your home décor that you can easily select and use peel-off wallpapers.
For having a bedtime reading, you must not forget the proper light arrangement. Mid-century modern homes bedrooms are fully bright with a combination of light set up.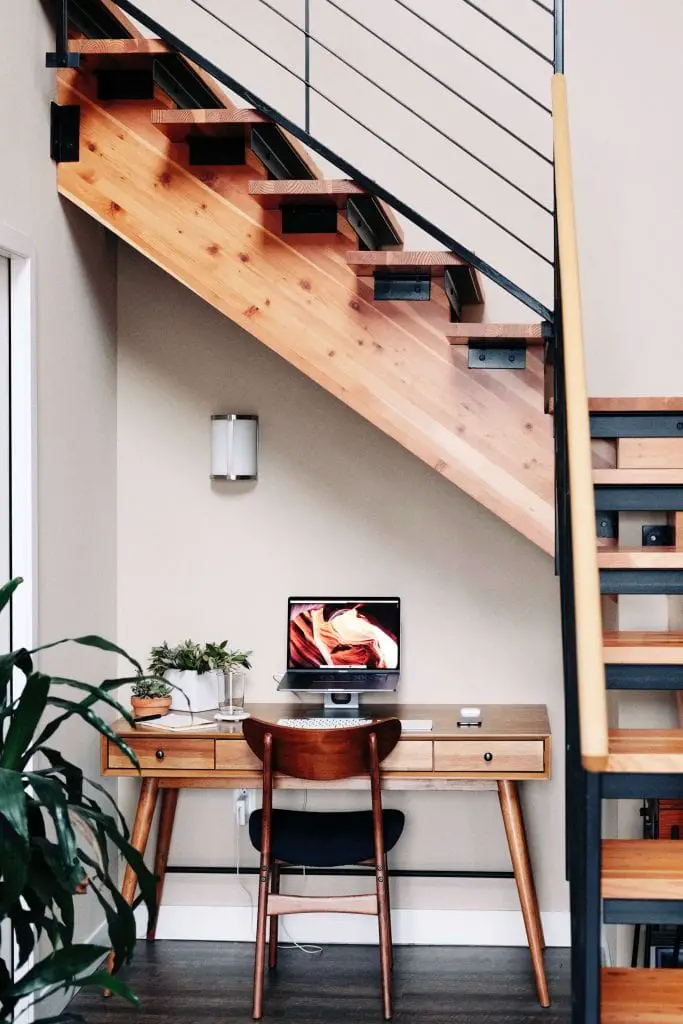 Mid-Century Modern Interior Designing of Home Office
Home office in modern homes is an easy workplace with a proper workout setup. You can have reclaimed wood furniture that is best suited for a home-based office and gives manageable space.
Proper lighting is also important in the home office to help concentrate on the tasks. Floor or table lamps are encouraged to have in a modern office and don't need to find lamp sets as mid-century modern style is match free. Try what you love!
Central rug under the square table with a geometric pattern or sleek lines gives the best work environment keeping the area artistically clean and tidy. While styling your home office, maintain all the accessories and add what you want but try to keep it uncluttered to prevent any fuss.